Looks Like University Of Illinois - Marc Mondesir
Robert
Jun 25, 2016
illini, illini-football, lluoi
illini, illini-football, lluoi
0 Comments
Two players commit on the same day - Vederian Lowe and Marc Mondesir. I write the LLOUI post the next day for Lowe... and now I'm covering Mondesir nearly two weeks later. When I do that, it's usually a sign of this: you'll like the post I write - you probably won't like the post I'm putting off.
Right to it: when I watch Mondesir on film, I just don't see it. Maybe it's just junior film and he's gotten a lot bigger/stronger/faster in the last few months. Maybe I don't really know what type of player Lovie is looking for. Maybe it's silly of me to say things like "he runs funny". But I'm struggling to see where Mondesir fits.
Here's a few gifs from his Hudl film that might explain what I mean. Remember when we would drop a defensive end into coverage in the Tim Banks scheme? And you could always pick out the defensive end in pass coverage because he ran differently than the linebackers and defensive backs (you know, because he was a defensive end in pass coverage)? That's what I see when I see Mondesir: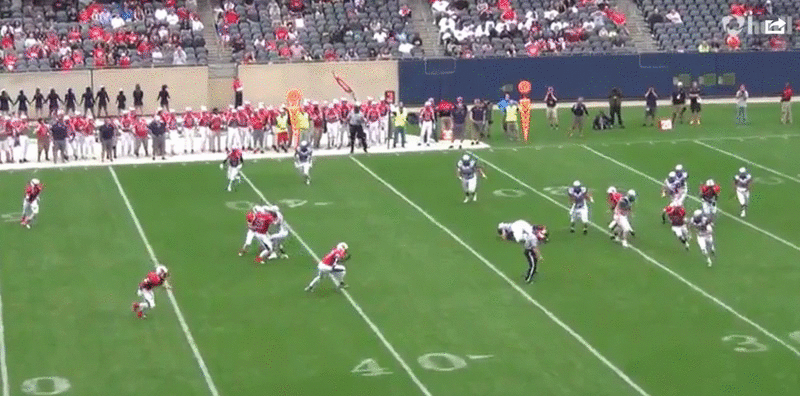 And this one as well - I want my linebackers to fly to the ball and deliver a hit, not rumble to the ball and wrap up: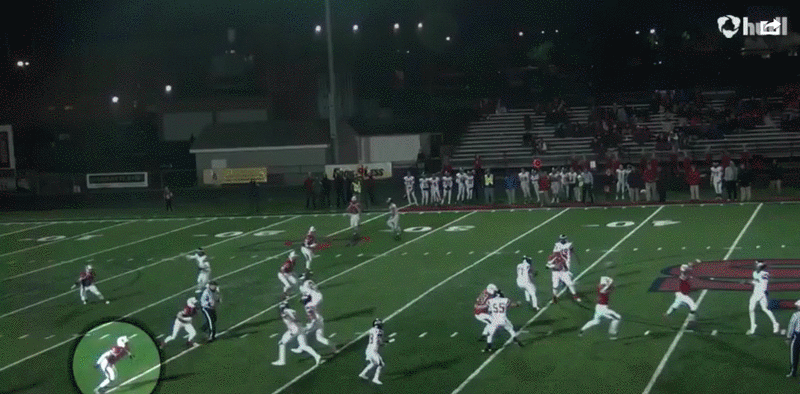 Problem is, I'm not sure Mondesir is tall enough to be a defensive lineman (unless he's still growing - growth plates!). Which means he'll probably be an outside linebacker. And when I watch this film, I just don't see an outside linebacker. Maybe an inside guy? Maybe this is what Lovie envisions for his middle linebacker? (No, probably not - that guy has to drop deep into coverage over the middle.)
So that's where I'm stuck here. I keep saying this, but until I know exactly what this defense will look like, it's difficult to evaluate film. I'm used to looking at film for kids being recruited to the Tim Banks defense (Henry McGrew looked like this on film, and high school linebacker McGrew found a home at Leo in Banks' defense and is hopefully growing into a weakside defensive end for the Lovie defense.) If Mondesir is only 6'-1", I just can't see him doing the same (McGrew is 6'-3").
We're his only Power 5 offer, so I guess I agree with the programs who haven't offered him. He's probably a project recruit, which means I'm not going to get my answer right away. It probably won't be until 2019 that we'll get to see what Lovie envisions for Mondesir.
There is one good thing here: a camp offer. You know I love camp offers. It's one thing to send your film to coaches and get a few offers here and there. But when a kid shows up at a satellite camp with zero offers, looks heads-and-tails better than the other kids at the camp, and gets an offer not only from your coach but five other schools in attendance, that's always a good sign.
Joshua Black (flipped to Syracuse in January) was like this. Unknown, showed up at our satellite camp, and suddenly assistants from six schools are offering him after the two hour camp. Tony Adams (from St. Louis, showed out at our STL satellite camp, got an offer on the spot) was like this as well (and I love his film). The best diamonds are found in camp rough.
But still, I don't think I can go very high on the Tom Cruises. I promise an honest evaluation of every recruit and an honest ranking somewhere between 1 (half a Cruise) and 10 (5 Cruises). When I watched Peter Cvijanovic's film, I gave him one Cruise (and his father wrote me a three page letter). I feel like my ranking was accurate there. I gave 2-star WR Dominic Thieman 3.5 Cruises because I think he's a sleeper superstar. I try to not look at stars and give my gut reaction to film.
And unfortunately, when I watch Mondesir's film, I can only give out 1.5 Cruises. Now prove me wrong, kid.