Looks Like University Of Illinois - Larry Boyd
Robert
Aug 14, 2016
football-recruiting, illini, lluoi, top-story
football-recruiting, illini, lluoi, top-story
4 Comments
What a difference 30 hours makes.
On Friday afternoon, I'm staring off into the void. Micah Awodiran has chosen Yale, Tony Adams is about to pick Mizzou, and we're still stuck on seven commits.  By Saturday night, Adams chose Illinois and then Mizzou's top offensive line target chooses Illinois.  I could get used to this.
I'll start by talking about St. Louis and recruiting. As most of you know, I live in the great city of St. Louis, Missouri. Grew up in the Metro East, and besides the five years I spent in Champaign, I've always been in the St. Louis area; the last 20 on the Missouri side, the last two in the city itself.
So my entire life has been lived as an Illini fan surrounded by Missouri fans. The last 15 years have been the best 15 in Missouri football history, and the last 15 have been pretty low for the Illini, so you can guess how it goes from there. Every St. Louis athlete is assumed to be a Mizzou lock, even on the Illinois side of the metro area. I don't even argue with coworkers anymore. If Miznoz wants the St. Louis kid, Miznoz gets the St. Louis kid.
And then the last 30 hours happens. On Thursday, Adams sets his announcement for Friday at 6:30 and two 247 recruiting experts - a national guy and a local Missouri guy - make Crystal Ball picks stating that Adams will select Missouri. Adams announcement happens and... he's Illini bound.
Larry Boyd's Crystal Ball was 100% Missouri. Five votes, all Mizzou. (Well, until Boyd made his pick at around 8:00 pm and two CB voters switched their pick to Illinois before 247 put the story up. That's not a Crystal Ball prediction - that's insider trading.) Talk to any Missouri person in St. Louis and they'll tell you that it was just a matter of time before Boyd picked Missouri. Yes, Arkansas wanted to get him in for a visit, and that was a concern, but Mizzou assistant Cornell Ford will come through for the 75th time in the St. Louis area and Boyd will be Miznoz bound.
Cornell Ford, meet Thad Ward.
That's why this is such a big deal to me. (Well, that and he's one of the best five linemen we've recruited in a decade.) After the Onion Horton thing in the early 1980's (local radio host who campaigned against the treatment of African American athletes at Mizzou), Missouri just didn't recruit St. Louis at all in the 1980's and 1990's. Other schools had a much better connection with St. Louis coaches and athletes, especially Illinois and Wisconsin. Henry Jones, Robert Crumpton, Jason Dulick, Carey Davis, Christian Morton - St. Louis was good to the Illini for a long time.
And then Missouri made their surge in the early 2000's and our connection with St. Louis dwindled. That's pretty much been the case since then - if there's a P5-level athlete in St. Louis, Miznoz has the inside track. Until, you know, Friday.
I should probably talk about Boyd a little bit. As far as recruiting ranking goes - and this is off the top of my head so I'm sure I'm missing someone - if I look at the last 10 classes (2008 through this 2017 class we're putting together), I think the ranking of offensive line recruits the last 10 years would go:
1. Gabe Megginson
2. Graham Pocic
3. Larry Boyd
That's why this is a really big deal. Craig and I were just talking on Monday at practice about the need for guards in the future. We have some tackles coming up, but where are the guards? Well, now we've added maybe our best guard recruit since, gosh, James Ryan in 2003? O'Donnell was a tackle recruit who ended up at guard, and he was that same 2003 class, but I can't think of any road-grading guards like Boyd since then. There were guys who turned out to be great there (like 2-star Jon Asamoah), but ranking-wise, on paper, this is the best interior linemen we've recruited in a long time.
And I don't think it's crazy to suggest that he could play next year. I know that's a 1 in 20 thing for freshman offensive linemen - they almost always need footwork and strength - but this kid has the footwork and the strength already. I don't think I'm nuts when I say that we might be able to plug him in at guard a year from right now.
Speaking of O'Donnell, he and I gathered last evening to watch Boyd film together. Perhaps my favorite highlight: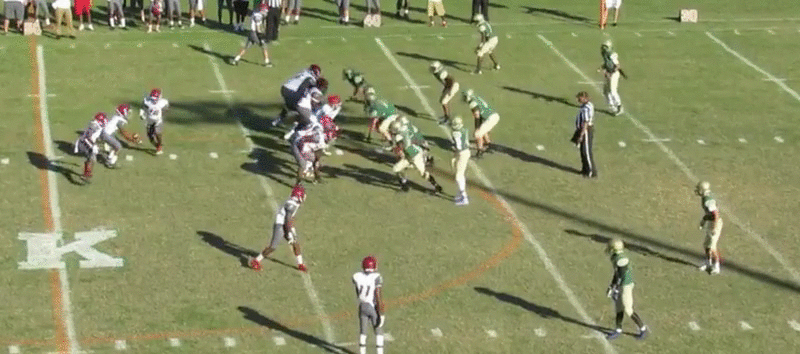 Martin's comment after we watched that highlight?
@ALionEye blocking to the echo of the whistle is a very good thing

-- Martin O'Donnell (@MartinOD64) August 14, 2016
That's what sticks out about Big Larry. He understands the nasty side of offensive line. Reminds me of Teddy Karras on film - always driving, always looking for one last shove before the whistle. Line play is not for the timid, and Big Larry (that's apparently what everyone calls him and what he calls himself in his Twitter bio) is ready to battle. You can watch his junior film here.
I also think this signals a shift in offensive line recruiting. Beckman grabbed several high school tight ends (like Christian DiLauro) and bulked them up to play offensive line. Good footwork means good pass protection. Lovie's first two recruits, on the other hand, scream run game. Vederian Lowe is around 340 lbs and Big Larry checks in at 310. Both are the nasty, get-after-it type of lineman (as opposed to the more nimble footwork guys like DiLauro and Austin Schmidt). Something to watch as Lovie builds his lines.
OK, Tom Cruises. Megginson got 4.5 Cruises and I don't think Boyd is quite at that level. But he's still one of the top three high school offensive linemen we've added in the last decade, and he's possibly plug-and-play ready with his size and strength, so I don't think I should consider 3.5 or 3.75 Cruises. Which means this one is clearly in the fours.
Larry Boyd. Four Tom Cruises.