Looks Like University Of Illinois - Nathan Hobbs
Robert
Jan 20, 2017
illini, illini-football, lluoi
illini, illini-football, lluoi
2 Comments
I'm two behind here, and the final flourish happens these next two weekends, so I'd better get caught up. Let's start with Nathan Hobbs and then I'll try to get to James Knight tomorrow before falling into a deep depression after we lose at Michigan to move to 12-8 on the season.
We have a scouting department now.  Like, a whole department.  With a head scout, hired from the NFL, who watches tape after tape and tries to find hidden gems (while also evaluating higher-ranked kids and looking for warning signs).  The whole thing is very NFL-like. Excessively NFL-like.
The idea: do what the NFL teams do. An NFL scout will see Kent State quarterback Julian Edelman and say "you know, I think he could be the perfect underneath receiver". They pick him in the 7th round, teach him a new position, and that scout gets a huge bonus when he catches 7 passes for 96 yards on Sunday.
All college coaching staffs do this. Listen to any coach on signing day and he'll praise his 2-star nobody recruits with "we think we found an absolute gem". And then that gem will get run over by a 325 lb Ohio State offensive lineman and you realize that 4-stars have won every important college football game for decades.
But there are still gems to be found. And I like our current system - having an NFL scout paid to pour over tape is the way I'd do it. I don't know if that's how they discovered Nate Hobbs, but sprinkled in with the blue chip commitments of Kendrick Green, Del'Shawn Phillips, Owen Carney, and Carmoni Green was a commitment from Hobbs. He was originally committed to Western Kentucky but jumped on his first Power Five offer from Illinois.
When you watch his film, the first thing that jumps out is his acceleration. I say "acceleration" instead of "speed" because I think it's a different thing. Most call it "burst". Great tailbacks and cornerbacks have this thing where they hit the nitrous oxide and go. Maybe they don't have top-end speed once they're going, but their burst sets them apart. They can be jogging, settling into a zone, waiting for the play to develop, and then BOOM they're off.
Here's an example from Hobbs' film: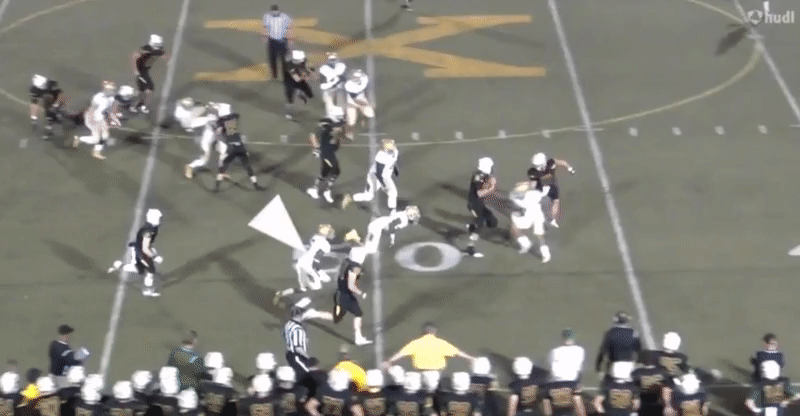 He's covering the outside receiver, the pass is completed behind him, and Hobbs hits the accelerator. Now, if that pass is completed to the Michigan tight end, Hobbs isn't catching him. Everyone is faster in college. But a play like this always pops off on film. Identify what's happening and you're full speed to the spot while other players are still trying to figure out what's happening.
So in that sense, I do feel like Hobbs is a bit of a hidden gem. I saw that Scout nearly made him a four-star the other day, which is highly encouraging after seeing his initial ranking (the lowest composite score of anyone in the last three recruiting classes). It gets harder to sell "hidden gem" when the scouting services all think a player is an FCS-level talent.
I also like Hobbs' ability as a returner. In fact, watching his film, that's my first thought. "Offer this kid as an ATH/DB but see if he can't be your punt returner". I'm not sure he's big enough or strong enough to be the physical corner that Lovie wants on his defense, but even if he never measures up there, maybe you can make him into a solid, dart-y punt returner.
Still, I don't think I can go crazy with his Tom Cruises here. I like his burst, and I like that he might compete for punt returner as soon as September of this year (we need one, badly), but I still hesitate on some other measureables. There's a reason he was headed to Western Kentucky originally.
So I think I'll settle on 2.5 Cruises. Not near the range of Carney/Green/Phillips, but still better than a complete project recruit. Nate Hobbs - two and one-half Tom Cruises.