Looks Like University Of Illinois - Alex Palczewski
Robert
Jan 24, 2017
illini, illini-football
illini, illini-football
2 Comments
We don't do any news stories here, but it occurred to me that many of you might be finding out that Alex Palczweski committed to Illinois by reading this headline. He committed at 10:15 this evening while many of you were already snug in your beds with visions of sugarplums. So if you're just now finding out, surprise! Got our tackle!
Let's start by talking about hit rate again. It's the thing that has so impressed me this recruiting season. My recruiting concerns this year have always centered around numbers. We entered December with 11 commits and a composite score 14th out of 14 Big Ten teams. With so many scholarships to give, we were going to have to hit on, like 75% of our targets to have a successful class. I'd say the normal hit rate is maybe 20% at this time of year.
We've had three big recruiting weekends - December 9-10, January 13-14, and January 20-21. In those three weekends, because of our numbers situation, we needed to land nearly every player. Not counting fringe guys (we had Daniel Callendar in for a visit but he didn't have a committable offer and ended up picking South Dakota State), and not counting guys on unofficial visits (like the three East St. Louis kids), here's who we hosted those three weekends:
DE Owen Carney - picked Illinois
WR Carmoni Green - picked Illinois
OL Joshua Fedd-Jackson - picked NC State
DT Kendrick Green - picked Illinois
LB Del'Shawn Phillips - picked Illinois
DE Zion DeBose - has yet to commit to anyone
DE Jalen Harris - committed to Arizona but still taking several visits
TE Louis Dorsey - picked Illinois
OL Alex Palczewski - picked Illinois
Landing six of the nine - and two have yet to make a decision, so theoretically it could be eight of nine - is a ridiculous hit rate. These weren't MAC players we were bringing in, hoping to flip them from Akron. This was holding off Florida State for a defensive end and North Carolina for a wide receiver. This was shutting down Iowa, Notre Dame, and Miznoz for a defensive tackle. Flipping a linebacker from Arizona. Keeping a tight end from taking his Baylor visit. And now, tonight, beating out Syracuse and Vanderbilt for Mr. Palczewski's services.
This class had a need for a tight end and an offensive tackle, and we had narrowed down to one target at each spot, and we landed both. Iowa is out there offering every tailback and wide receiver in the country and here we are, calmly focusing on two recruits for two positions of need (and landing both). It's such impressive closing.
Let's talk about Palczweski. I think my best comp here would be Malik Turner and Stanley Green. Not in terms of players but in terms of senior breakouts.
Turner missed much of his junior season at Sacred Heart Griffin with injuries. We landed him in the summer (over a few small offers) before he had a fantastic senior season and then saw Ohio State and Oregon come through his school. Coaches love senior break-outs.
Green played his junior year at Miller Career Academy in St. Louis, far off the college radar. He then transferred to East St. Louis for his senior year, had a big breakout season (even though the season was shortened by a teacher strike), landed the Illinois offer, and by the next October he's our starting safety. Totally off the radar as a junior, offered after a great senior year, and then starting by his sixth game.
Palczweski is similar. Couldn't play as a junior because of a neck injury. So if you look for him on any recruiting list in September, you won't find his name. He's completely off the radar.
But then a huge senior year and schools start taking notice. He landed offers from Illinois, Syracuse, and Vandy, visited all three, and picked Illinois tonight. Had he done this as a junior, he'd probably have 25 offers by the end of his senior year. Instead, he's a sleeper we uncovered (and didn't allow anyone to steal).
And as you know, I love sleepers. The term gets overused - we flip a guy from Eastern Michigan and suddenly he's a certain "sleeper" - but I'm a 0-star >>>>> 2-star guy. A senior break-out player with good film who came out of nowhere in the last three months: 65% chance of being a solid college player. A two-star recruit with offers from Eastern Michigan and Tennessee Tech who has run the whole camp circuit and only received those two offers but we need a CB so we offer him late: 21% chance of being a solid college player. Last year's senior breakout players: Dominic Thieman and Stanley Green. Both were solid to great as freshmen.
And that's not the only reason to be excited about Palczewski. His film is really solid. Great burst for an offensive lineman. Explodes off the line. And you can tell he's a wrestler because of the solid footwork.
I'll go with this highlight for the gif just because of the neck thing at the end: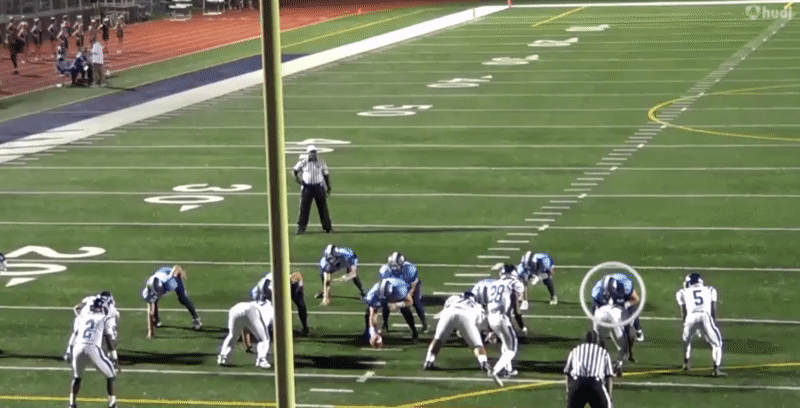 So really, this is another great find in this class. Really great film, a senior breakout we discovered and then held off Power Five competition. We absolutely needed a tackle in this class, and this kid - who I think is a legit 6'-5" or 6'-6", fits the bill.
Tom Cruises. Although he's ranked lower than Louis Dorsey, I think he's probably the same Cruise-level as Dorsey. 2.5 Cruises in the middle of the road, and this kid is a solid three I think. As I said with Dorsey, stack up three Cruisers behind all of the blue chippers you're bringing in and you'll have the roster to win football games in a few years. Really well done by the staff.
Alex Palczewski - Three Tom Cruises.