Looks Like University Of Illinois - Tony Adams
Robert
Aug 13, 2016
[]
[]
2 Comments
You have currently viewed 1 story this month.
IlliniBoard now offers two free stories per month, for more please subscribe.
I don't do LLUOI's for kids who choose other schools (although maybe I should).  So there won't be much mention of Jordan Goodwin. SLU hired his former AAU coach, he picked SLU. The end.  Instead, let's focus on SLUH, which is SLU's high school.  That's where we beat Missouri for 3* ATH Tony Adams.
I could watch Adams run for days. He's just that smooth, long-striding fluid athlete. Is he a football player? We'll have to wait and see. But Tony Adams possesses the raw materials necessary for Lovie Smith to build a football player.
Let's start with a snippet from his high school film. Once he breaks this tackle, he just has that long, pull-away stride. Compare his running style to anyone else on the field and you can see why he's the Division I athlete: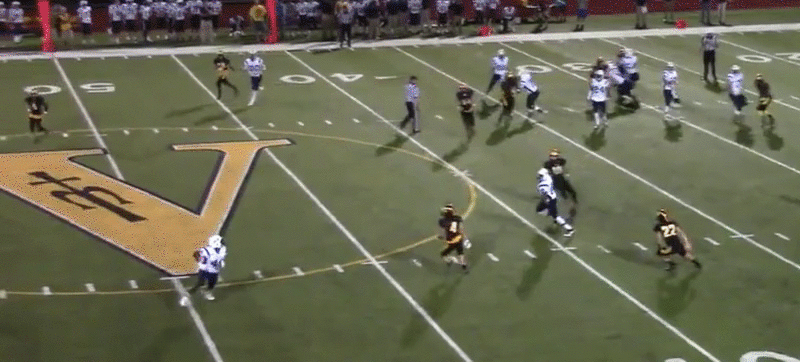 The full film is here if you'd like to watch. You'll see a lot of long, fluid strides. And then some more long, fluid strides.
Which I think is important to Lovie Smith. As I've said several times in the last few months, Lovie appears to prioritize track recruits (Adams is a hurdler). Speed, yes, but I think it's more than that. I think he wants a bunch of fluid athletes that his staff can mold into football players. Some coaches will look for physical players, or they want to see aggression, or size/weight ratio is everything. I think Lovie is looking for track athletes whose football knowledge is immaterial because he'll teach them everything they need to know.
And from what we've seen so far in his first class, raw material is everything. Ricky Smalling is almost certainly a wide receiver, but guys like Adams, Kendall Smith, and Antwan Collier are all "could be a receiver, could be a cornerback, could be a safety" raw athletes. Plus a guy like Vederian Jones - they offered him because he's a 350 lb giant who can run. That's raw material for building a lineman. The quarterback? A raw athlete. Seeing a theme here?
This is more similar to Zook than it is Beckman. Beckman wanted to recruit to each position - need three cornerbacks, find the best three high school or juco cornerbacks. Not safeties, not wide receivers - cornerbacks. Zook would recruit a bunch of bigger-stronger-faster athletes and then figure out the positions later. So far, Lovie appears to be similar to that, with (hopefully) the exception that he's a tiny bit better than Zook at coaching 'em up.
So a guy like Adams fits perfectly into that. You know I love camp offers, and Adams was a camp offer. Performed well at the St. Louis satellite camp and earned an offer on the spot. (Why do I love camp offers? Because it's not film - it's the coach standing watching players practice and saying "that kid can play for me".) He also earned a Mizzou offer, narrowed to only those two schools, visited both, set his announcement date, saw his Crystal Ball trend towards Mizzou... and then picked Illinois.
Which had to happen. Adams lives in Illinois (618 represent) but crosses the river to attend high school at St. Louis University High (SLUH). SLUH is in the Metro Catholic Conference where most of the talent matriculates - CBC (who has a four-star WR next year), Chaminade (who maybe has a five-star DT next year), DeSmet (current Illini freshman Griffin Palmer), Vianney (the school everyone beats), and SLUH (gave us Henry Jones, Mark Kornfeld, and Matt Sinclair).
And being a St. Louis guy, well, there's really nothing better than beating Miznoz head-to-head for a player. 15 years ago Missouri really struggled to recruit St. Louis. In the last 10 years, that changed significantly as Missouri not only reconnected with St. Louis, they made a push across the river into Illinois. So to go head-to-head with them and win - to put our first stake in the ground and say "hey, we're going to recruit St. Louis well again" - that's extremely satisfying.
So let's try to land 18 more players just like him. It's no secret that we're way behind in this class (at least compared to our Big Ten peers), so we need to fill those open rides with kids right at this level (and hopefully above). Quality is starting to show up; now it's quantity's turn.
On to Tom Cruises. I think this is another fastball right down the middle. He's a very fluid athlete with mid 3-star rankings and a rating on 247 Composite of .8422 (middle of the three-star pack). Solid film. We went heads up with Miznoz and won. That's not a 4.5 Cruiser nor is it a 1.5 Cruiser. It's right in the middle of that.
Tony Adams. Three Tom Cruises.