Looks Like University Of Illinois - Kerby Joseph
Robert
Dec 29, 2017
[]
[]
2 Comments
Kerby Joseph is one of those names where you think the comma is missing. You read the name and think it's supposed to be "Kerby, Joseph" instead of the other way around. He's gonna get some many phone calls from doctor's offices saying "yes, Mr. Kerby this is Donna from Dr. Thornhill's office..."
Joseph is an ATH recruit who we're going to try at defensive back (according to his signing day profile on FightingIllini.com which says "DB"). Other schools offered as a wide receiver (like South Florida). According to this article, he got offers from South Florida, Mississippi State, Syracuse, and Florida Atlantic back in the spring. (Keep in mind that many of those local articles are written by reporters who don't really follow up on the offers - the recruiting sites will usually try to verify if it's an offer or just "they're recruiting me", but local reporters often just take a kid at his word.)
He seems like the type of recruit who might be tried at all three "ATH" spots - cornerback, safety, and wide receiver. That's what we did with Trenard Davis. I saw him practice at corner and safety one year, then he went to quarterback after the Lunt and Crouch injuries during the 2016 season, and then this past spring moved to wide receiver where he caught 10 passes for 152 yards in the fall. Joseph might walk that same path - could end up at any of those spots.
Where do we need the most help, you ask? Probably receiver right now with Sam Mays and Dominic Thieman transferring out. There will only be six scholarship receivers on the roster during spring ball - Dudek, Smalling, Green, Reams, Davis, and Smith. Some help arrives next summer in the form of Carlos Sandy and Edwin Carter, but if more help is needed, Joseph might be the guy.
Or, he might end up at corner. We go into the spring with five cornerbacks: Hobbs, Adams, Watkins, Sumpter, and Jones. Oh, and juco corner Nick Walker if he enrolls early. But we have three cornerback spots (field, boundary, and nickel), so they'll want to go into the season with six corners ready to play. I'd guess that the starters will be Hobbs, Adams, and Watkins. But we have to find three backups.
Is Joseph the type who looks ready to play right away? I don't think so. In fact, I just don't see a corner when I watch his film. I think I see a safety (or maybe a wide receiver. He just doesn't seem to have the quickness for corner.
Here's what I mean by that. Watch this interception return. Feels just a touch slow, right?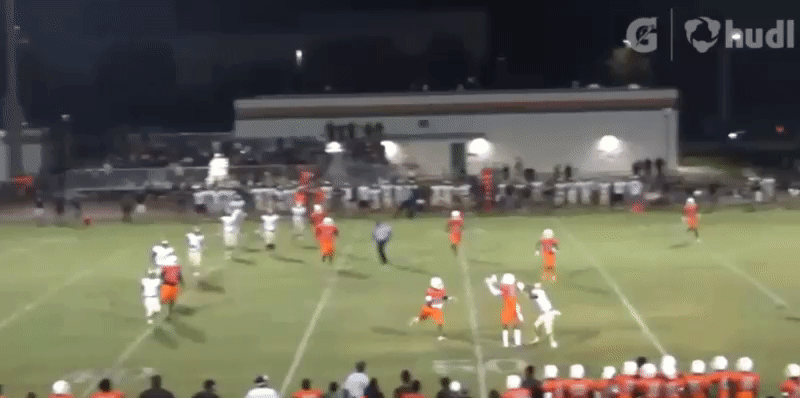 Now, "slow" is a relative term. This kid is faster than 97% of all high school football players nationwide. If he played at my high school, he'd be the best athlete to come through in the last half-dozen years. But this is recruiting for the Big Ten and future matchups against athletes from Ohio State and Michigan, and in that sense, he feels a bit "slow".
Let's compare him to someone else in this class: Jartavius Martin. Here's a play from Martin's high school film where he runs down a guy from behind: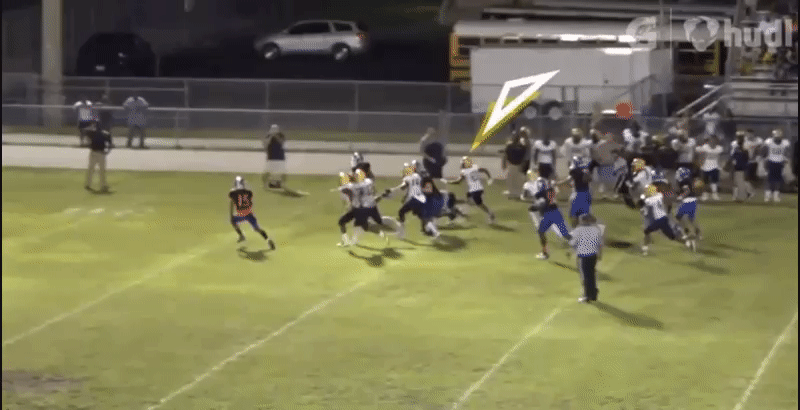 You can see a difference there, right? Just feels like Martin has an extra gear and Joseph is just short of that. Like, Martin would run the 200 in high school track and Joseph would be more an 800 guy. Does that make sense?
So add this one to the "ATH project" pile. We'll try him at several positions and see where we like him the best. More of a "what do we have in 2020" guy than a "can he play right away next year?" guy. (I said the same thing about Bennett Williams and then he was a freshman All American so ignore me when I say this.
Tom Cruises - I think I'll go 1.5 here. Project, more of a long distance runner gate than a sprint guy, need to teach him one position for a couple years until he perfects it.
Joseph, Kerby - one and one-half Tom Cruises