Looks Like University Of Illinois - Nicholas Walker
Robert
Dec 29, 2017
[]
[]
0 Comments
OK, prepare for a burst. I took today off of work (my first vacation day since August I believe) and now I have some time to get caught up on LLOUI posts. So after one post all week... four posts today (hopefully). Starting with the juco cornerback who grew up in St. Louis but was playing juco ball in Texas.
I don't know this for a fact, but I'm guessing the connection to Walker came through Stanley Green. Green played his first three years in high school at Miller Career Academy, a public leagues school here in St. Louis. Those three years he would have played with Walker at MCA. For Green's senior year, in an attempt to get noticed by college recruiters, Green transferred across the river to East St. Louis. It worked - Bill Cubit offered, he accepted, and now he's our starting safety.
Walker was still at MCA that year and was easily their main guy. Here's an article where he racked up 492 all-purpose yards in one game (ran for 216, threw for 76, put up 201 return yards, and that was against a St. Francis Borgia team that went to the state quarterfinals that year).
Walker went the Juco route to get noticed - Cisco College in Texas. He comes in with three years of eligibility, which means he only played one year of juco ball. This puts him on track with the recent freshman class of 31 (21 true freshmen who played last season plus 10 redshirt freshmen). If they all stick around (they won't), that's now 32 players who will graduate after the 2020 season.
My friend Carmen sent me a text last week saying "love his film - flips hips, speed, attacks the ball" and I have to say, after getting a look at it, I agree. You'd expect juco film to be better than high school film (if we're comparing him to guys like Ron Hardge III in this class), and it is. My research shows that Walker led MIller Career Academy into the playoffs for both football and basketball and his athleticism really shows on film.
Take this play for example. I've always said you want a cornerback to look like a robot that can spin 360 degrees at the waist. Once football becomes robot-only in 2073, you'll see what I mean. The corners will all be running one direction (while their face watches the quarterback) and their legs will switch directions constantly, flipping 180 degrees on a dime, while their head still squares to the quarterback. Like this: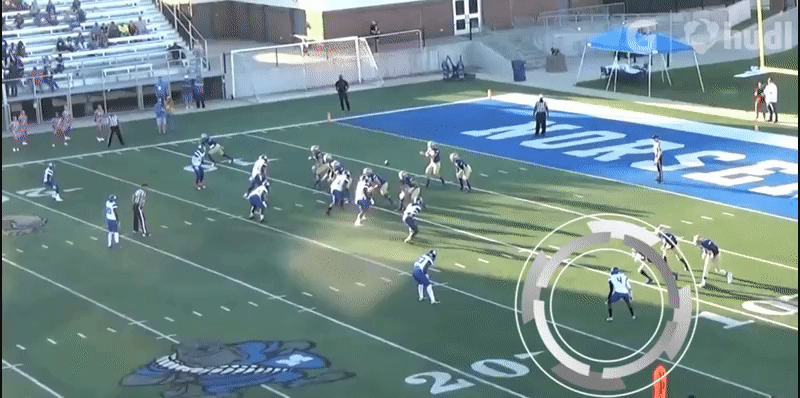 A play like that tells me this kid can play in the Big Ten. He's small (looks to be around 5'-9" there), so I don't see a future NFL guy here, but this is still solid film. Really surprising the first time I watched it (he's currently the lowest-ranked player in the class). According to one thing I read, he got calls from the new coaching staffs at Nebraska and Arizona State (new coaching staffs are always looking for juco DB help), and I can see why. Once juco film like this hits the street, it will gather phone calls.
The biggest drawback on that film - tackling. There are a couple surf tackles in there (jump on and surf the guy for five yards until you bring him down). If he doesn't improve that, he won't play. But athleticism and hips-wise, it's all there.
Tom Cruises. If he had prototypical size, I might go 3 or even 3.5 based on that film. Really fluid defensive back - great find I think. But he's tiny, and it's really hard to overcome tiny when you're one-on-one with a 6'-4" Ohio State receiver and it's a running play and you're the edge and if you don't beat the WR and make the tackle it will be a 31-yard rushing play. So that knocks him down a bit.
Still like this pickup though. Two and one-half Tom Cruises.