Trevor
Apr 29, 2017
[]
[]
4 Comments
All aboard the hype train!!!! If you follow Illinois recruiting obsessively (you're reading Illiniboard so you likely do), then you've spent the last week gorging yourself on highlight videos of Mark Smith dropping hammers and firing away eff-you-artillery-rounds from the volleyball line. You're totally hyped about a big bodied get buckets lead guard to pair with an already exciting incoming duo of Da'Monte Williams and Trent Frazier. A lead guard who does stuff like this: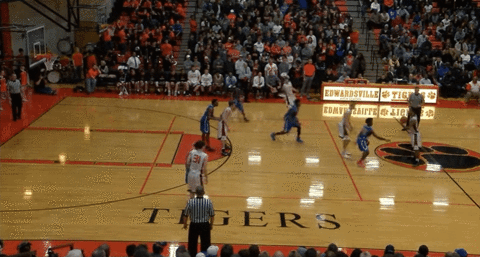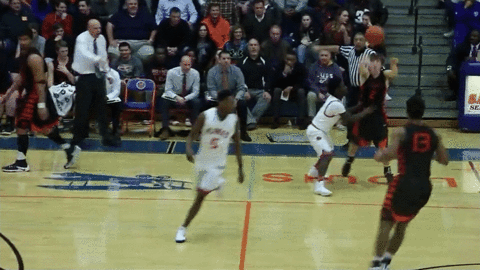 Robert's talked about how big of a recruiting get this was with the likes of MSU, Duke, and Kentucky all involved. What's more exciting to me is how well Smith fits into Brad Underwood's offense.
It's easy to look at the BU game plan and project all players doing well in the scheme. He routinely puts up the best offensive numbers in the country. Who wouldn't do well there? The point I want to make is that the system works best for players that do a lot of things well. The offense opens opportunities to for guards to shoot, drive, post, and pass. Guys that do a little of everything confound defenses popping up on multiple spots on the floor with different options in every space.
With that frame of reference, let's break down Mark Smith.
Labels first. To the extent that a point guard is a player who can take over primary ball handling duties and create for himself and others, Mark Smith is an out and out point guard.
Let's start with ball handling. Mark Smith owned the primary ball handling duties for Edwardsville. He sports a tight handle with both hands, and can get to most places on the floor without assistance.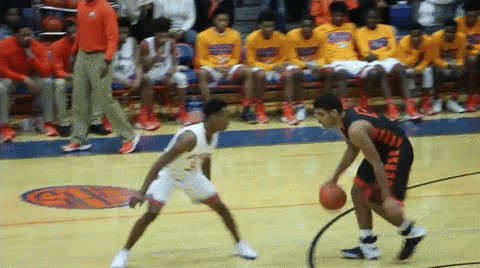 Interestingly, Mark seems to be more comfortable going left than right at this point. This may be because he's got more counter moves getting back to his right hand.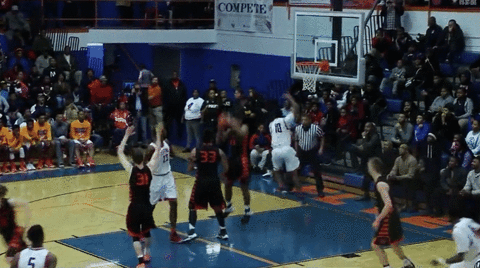 Team's could do a lot worse than Mark Smith being their primary ball handler.
While Smith is a plus athlete who can beat his man off of the dribble, he's not going to regularly cruise to the bucket. The way he's going to unlock defenses is his dynamic passing ability. Mark routinely punishes help defenders when he penetrates.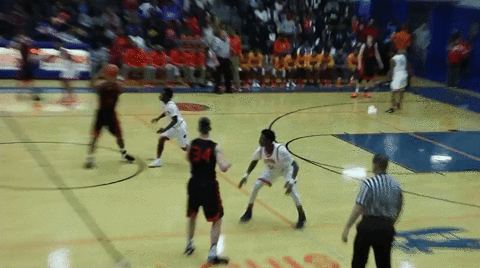 Mark also reads the game extremely well. He sees one move ahead of the players around him.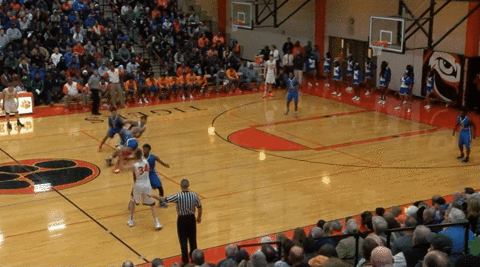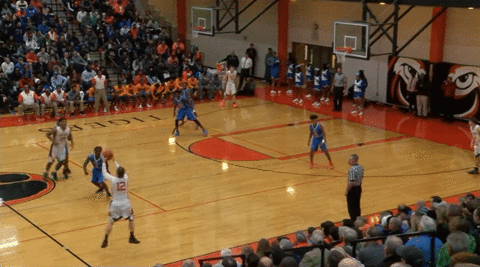 I get skeptical when I see a high school player averaging big assist numbers. Do we really believe that Mark chips in 20 points AND his teammates manage to cobble together 8 additional field goals solely off of passes from him? After watching a couple of games, I think I actually do.
Oh he also hits a ton of cutters in Edwardsville's offense. Something I'm sure you'll see plenty of in Underwood's offense.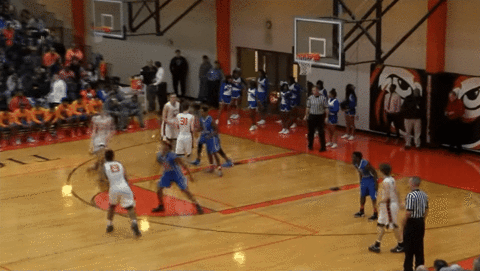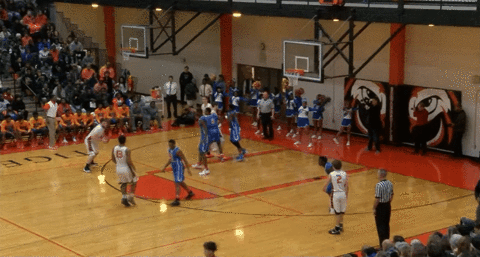 So far we've got Mark with a tidy dribble and extremely good floor vision. How's he going to score the ball?
You've seen plenty of the jumper in highlight videos (or just go drool over the clip at the top of the article). The mechanics look clean. To be honest, when looking at jump shots it's really about not doing anything terrible from a form perspective. From there you have to look at results. Guys at all levels succeed with jumpers of all shapes and sizes. I haven't been able to track down Mark's 3 point numbers, but I believe he made something on the order of 44 threes for Edwardsville. He also shot 82% from the line, which is a decent indicator of ability.
Here's a clip of a free throw to give you an idea of mechanics.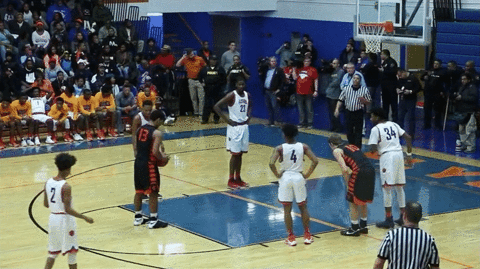 His upper body here is actually much quieter than clips from earlier in the season. This indicates that despite being a good shooter to begin with, Mark takes feedback and coaching.
Smith didn't really get catch an shoot opportunities at Edwardsville since they needed him to create. Taking fewer long jumpers off the bounce will likely make him a pretty solid from three in college.
I can't evaluate his mid range shooting because in the games I watched HE DIDN'T TAKE A SINGLE MID RANGE JUMPER!!!!
So the three ball looks like a way for Smith to add to the team's scoring output. We knew that coming in. What I didn't know about was his ability to post. Edwardsville frequently got Mark quick post touches, and he showed enough footwork and savvy around the bucket to bully smaller players.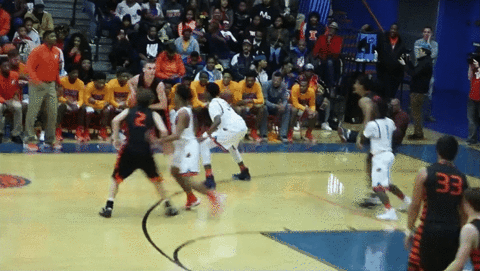 This is a great dimension to have in his game. You already know he's dangerous with the ball in his hands, but if you sleep when he gives it up then he can take you to the post. Given the Underwood offense regularly asks guards to go down to the block, his ability here will be well utilized.
Ok, so Mark can score from deep and do some work with his size in the post. Now the last area to explore is his ability to get to the rim and finish.
I believe Mark's layup shooting is a bit over hyped. He struggles at times staying on balance when driving to the rim. It's like he often needs to extend himself just a bit too much to get past his man, and then he can't effectively gather to put up a composed shot.
Now when he does stay balanced, he can use his superior size and strength to shrug off defenders, and get a clean look.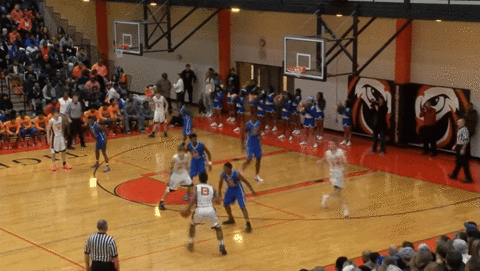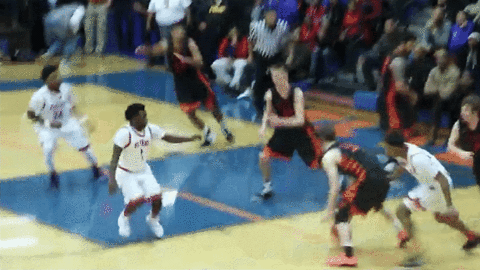 When he's not out ahead of his feet, Mark can look like a running back rumbling to the rim with players bouncing off of him left and right. The key for him is being selective on when to drive and try to finish and when to use one of his other skills. I expect he'll be much more successful going to the rim than any player on the existing roster, but he's not going to make his living there like a Ray Rice.
So from an offensive perspective, you've got a player who does that little bit of everything we talked about being perfect for the BU scheme. His standout skill, in my book, is passing, but he could very well blossom into a big time scorer in college as well. He gives Brad Underwood a ton of options with his size and versatility. It will be interesting to see what types of lineups we try come fall.
I should quickly touch on defense here before we wrap up. In the two games I watched Mark did basically nothing on that end. He stood around in the lane and doubled Tilmon when the ball went in. He regularly stood 5 fee back on jump shooters, and it's hard to tell if that's out of sloth or design. At any rate he's got the tools to be a good defender, his high school coach believes he can guard, and his basketball IQ should help him play up on that end.
All that said, Mark Smith is a very exciting player. He's not going to come in and D'Angelo Russell the Big Ten, but he looks like he'll be in competition for major minutes from day one. Long term, Mark is the most likely all conference performer on the team. With Malcolm heading out to try to make his way in the world, I couldn't be more excited about getting another versatile 618er to fill in the squad.