Looks Like University Of Illinois - Kievan Myers
Robert
Jun 30, 2017
[]
[]
1 Comments
My very first thought? If he sticks with his commitment, I'm going to spend the next five years saying "it's not Meyers, it's MYERS - M-Y-E-R-S". I don't know why I'll care, but I know I will. Everyone's name should be spelled correctly.
Remember Erique Robertson? How many said Eric (or even Enrique?). I'm not talking Myles Leonard or Luther Powell Jr. here - these aren't conflated names. There's just a long list of "consistently misspelled Illini names" and Kievan Myers will be added to the list with Daniel Dufresne, Joe Beavis, and Suppo Sani.
(I really need to carve out more time to write. Here I am, after 48 crazy hours, finally finding time to sit down and write about the recent recruits, and THAT'S what I launch with? A rant about misspelled last names?)
OK, Kievan Myers. One cannot discuss this commitment without discussing the words he included with his commitment. Specifically, "my recruiting process is still open to all coaches and schools". Translation: "I've reviewed my offers from Arizona, Colorado, Illinois, Mississippi State, Missouri, Texas Tech, Utah, and West Virginia. Of those schools, I choose Illinois. HOWEVER, if, Oklahoma or LSU wanted to recruit me, I'd totally listen".
Which, I should note, I don't have a problem with. I don't think Lovie does either. Last year Lere Oladipo committed to Illinois in August while still planning to go to a Penn State game on an official visit in the fall. AND, he visited during the Penn State/Ohio State game for Penn State's massive upset. He got to walk around on the field for that celebration but then (thankfully) stuck with the Illini. That's just how these go sometimes. I'm happy that Lovie doesn't share Pat Fitzgerald's "if you look elsewhere, we will drop you" policy (all while recruiting players verballed elsewhere all the time).
I would expect Myers to absolutely visit other schools this fall and winter. And if a Tier A school gives him an offer, I'd expect him to flip. If no better offers come, I think he'll wind up in Champaign. So mark this one down as a reservation, not a commitment. Not that there's anything wrong with that.
Will he get a Tier A offer? I kind of don't think so? Watching some of his film, he seems to be a "bend but don't break" lineman. He's a massive dude (6'-5" 330 lbs), and massive dudes don't really need to do much besides overpower the guy in front of him.
Here's a clip from one of his high school practices. He's in red. He takes the guy in blue and pancakes him. Great, right?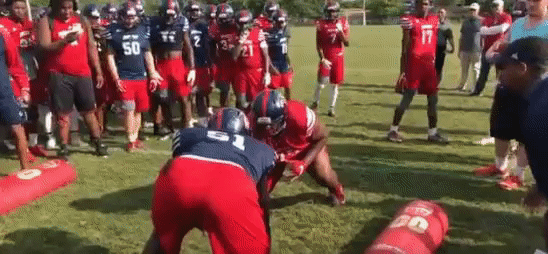 Sure, but how many times in a college football game do you see a player win by going over the top? Drive drive drive until the guy is off balance and then put him on his back - those are some tasty pancakes. But move your center of gravity up until you overpower a guy from above and drive him down into the ground - those are those multigrain pancakes with too many nuts in them. Fixable with good coaching, but still a concern.
I'm not saying "this guy sucks". Just saying that there are other linemen whose film I watch (like my boy Billy Dunks) who seem to understand leverage more. And yes, I've been aware of William Dunkle's existence for approximately 72 hours and he's now "my boy" who is a sure-fire Big Ten starter so please know that this is all one big crapshoot.
The common thread here, as we've been discussing since Vederian Lowe verballed: on the offensive line, Lovie wants massive human beings. Larry Boyd checked in this summer at 360 lbs. Vederian weighed in at 340. Jordyn Slaughter is currently 310 and will likely be 325 when he arrives on campus next summer. Dunkle, an offensive lineman from San Diego who we've offered, weighs in at 350, and Myers checks in at 330. We really are attempting to have the first 1,700 lb college offensive line.
Now, bigger isn't always better. The player has to be able to move a little bit - size and strength plus agility makes an offensive lineman - and when I watch film for guys like 350 lb William Dunkle I don't see much agility. So there's sometimes a tradeoff. Do you take the lower-ranked guy who seems to understand leverage and balance but who doesn't have the best agility, or do you take the higher-ranked guy with worse technique but who can run a little bit? Here, we've taken the higher ranked guy with worse technique who can run a little bit.
Tom Cruises. I gave Larry Boyd four Tom Cruises last year. Boyd was ranked a little higher by the scouts, but had a bit worse offers than Myers has (partly, I'd assume, because Myers plays for a well-known Texas high school program). They're both massive human persons who overpower their opponent. So do I see the same number of Cruises for Myers? No.
But that's not an insult. I'm just a little concerned about that film and all of the "playing high". Lots of technique to learn between now and that 2021 game against Wisconsin. So I don't see this as a Boyd-level recruit. Still a solid get, really hope he sticks with us, but I can't get to four Tom Cruises. Not even 3.5. Gonna land on 3.
Kievan MYERS. Three Tom Cruises.