Looks Like University Of Illinois - Ron Hardge III
Robert
Jul 01, 2017
[]
[]
1 Comments
After the Turner and Zook experience, I have a friend who is all "no more Rons in Illini football". Well, he's going to be a bit disappointed, because now there's another Ron. Ron Hardge will be joining his high school teammate Carlos Sandy in Champaign.
If you're looking for a theme developing here, it's "find ATH's in Florida". That's three in this class (Hardge, Sandy, and Jakari Norwood), plus several in the last class (Carmoni Green, MIke Epstein, Dawson DeGroot). ATH's can end up just about anywhere on the field - RB, WR, CB, S - and while Sandy and Norwood look like they're headed for the offense, Hardge looks to be a defensive player.
He has some size - looks like a legit 6'-1" on film - so that means either a Jaylen Dunlap-like tallish cornerback or a safety. My gut says safety, but that's because my gut believes in the likely outdated "under 6' he's a corner, over 6' he's a safety" mantra. Lovie really likes tall cornerbacks, so perhaps that's where Hardge will end up.
From reading his recruiting profiles, it appears that our main competition was Mississippi State and Pitt. In fact, he had just returned form a Pitt visit the day before he verballed to Illinois.
(Side note - it's always weird to see those recruiting articles when something happens like this. When Hardge verballed, the first article that came up when searching around for info was an article from a Pitt site. And it was all "he loved his visit and wants to return very soon and Pitt feels like home" (all while he was verballing to Illinois). Just another reminder that kids will say anything in an interview. "I love Pitt so much (and I'm planning to call the Illinois coaches in two hours and commit to them)".
I spend a lot of time watching his film and.. there are some concerns. First a disclaimer and then the concerns. First, it's football recruiting, so you're recruiting athletes. You're projecting what kind of athlete they'll be in 3-4 years, and you don't care all that much about their technique just yet. You want a player, but really you're recruiting the size/strength/speed.
But here's the thing that bothered me about Hardge's film. He's clearly a solid athlete and fluid enough to be a defensive back (some of his film even just shows him on plays where nothing happens besides him flipping his hips to run with the receiver). I absolutely understand why all of the other schools offered. But when he tackles people like this...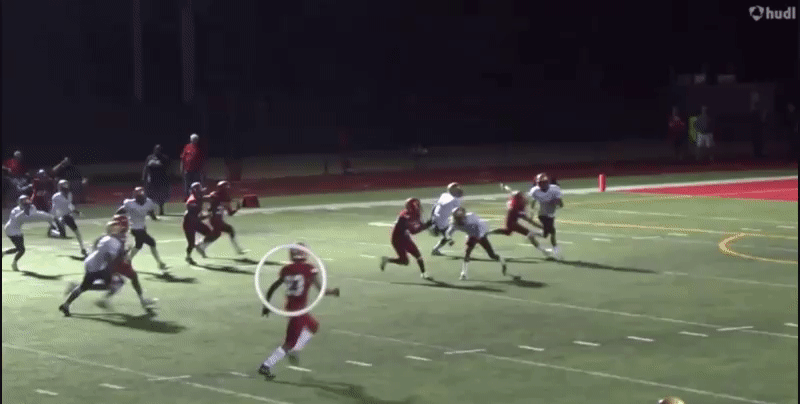 ...I get a little concerned. Yes, 100% "fixable" - good coaches will teach good tackling technique. But when watching any film of any defensive player, I always want to see someone who grew up tackling low. The best defensive player on the 5th grade pee-wee league is usually the best tackler on the high school team because he just has this innate sense of how to bring someone down. When I see film of someone grabbing a player by the shoulder/neck in order to bring them down, a raise a red flag.
Which is what keeps Hardge's Tom Cruise rating subdued a bit. On offers and athleticism, I think this is probably a three Cruise kid. But several times on his film he tackles someone by their shoulders, and that's enough of a concern to reduce his ranking to a 2.5. This is very similar to Kienlan Myers, to be honest. Two athletes who look the part, but their ranking is a bit lower because, on film, they play high.
Ron Hardge III - Two and one-half Tom Cruises.