Looks Like University Of Illinois - Daniel Barker
Robert
Jul 04, 2017
[]
[]
2 Comments
I was so confused at first. I'm watching Daniel Barker's film a few weeks ago, and I know he's a high school teammate of Illini recruit Jakari Norwood, and I'm trying to find a clip of Barker blocking for Norwood, but I can't find them in the same frame. And then I can't find them in the same uniform. And then I realize that Barker played at a different high school last year. So we'll have to wait for that combo shot until the senior film comes out.
And if you've ever wondered why players transfer to bigger and better high school programs, I think this is a good example. I've referenced this with Stanley Green before - he's at Miller Career Academy in St. Louis with no offers playing in a tiny stadium with no college prospects. He transfers across the river to East St. Louis, gets an Illinois offer based on that exposure his senior year, and then he's a starting safety in the Big Ten by the middle of his first season.
I don't know these two high schools like I know Miller Career Academy and East St. Louis, but I'm guessing Barker's transfer to Deerfield Beach was about this summer exposure. The Deerfield Beach coaches took a big group of players on a summer camp "tour", camping at all of these schools. Who's to say if Barker gets the offers he got without that exposure - perhaps his old high school coach could have sent some film around - but never begrudge a kid for transferring high schools. Sometimes, it makes all the difference.
In our case, it meant he got on campus and met the coaches (right after getting an offer at the Kentucky camp), and, after a few weeks to think about it (it appears he was down to Kentucky, Illinois, Pitt, and Utah), he pulled the trigger on the Illinois offer.
Now, sometimes that's just a reservation. If this spring/summer exposure got him those offers, what if a huge high school season at Deerfield Beach brought offers from the big boys? As we discussed with Kievan Myers, if offers from a higher tier come along this fall, expect him to listen. But such is the life of recruiting at Illinois, and this is a solid pickup for this time of year.
He reminds me a lot of Louis Dorsey, the tight end in the last class. I think it's fairly clear what kind of athlete they're looking for at tight end - the tall high school wide receiver who can add bulk and maybe block a few people. Barker doesn't have the same path as Dorsey - he was a high school WR recruit as a sophomore (with Florida State and Miami offers), then he was going to be a basketball recruit as a high school junior, then he was a high school tight end recruit as a senior, picking Illinois over a final four of Baylor, Indiana, UCF, and Illinois. Dorsey was ranked higher (Barker has only been ranked by one service so far, so his ranking is incomplete), but I think those are similar final offer lists.
And their film is similar as well. Dorsey is taller, but both are pretty fluid for tall guys. They're similar athletes who will now hit the weights (and the refrigerator) and hopefully emerge as pass-catching, linebacker-blocking tight ends in a few years. And similar to Dorsey, my favorite part of his film was the blocking, not the pass-catching: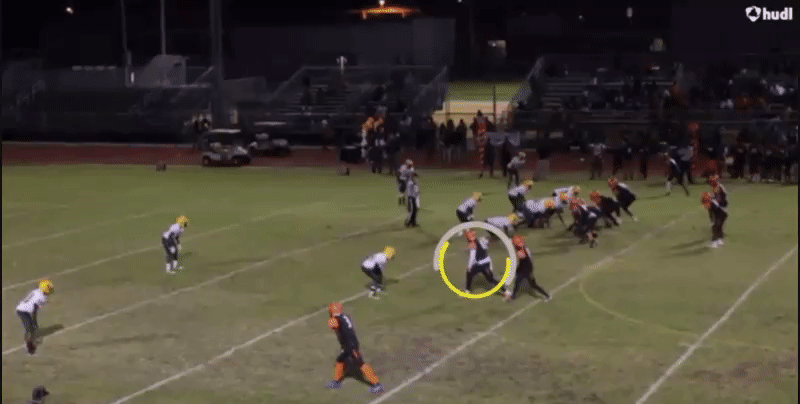 So where does that leave us with Tom Cruises? Well, I cheated and went back to look at what I gave Dorsey. Three Cruises. They look similar, their final cut list was similar, their film is similar, both are projects who we're projecting out what they might be in 2-3 years... I think I need to just shut my brain off and give them the same number of Cruises.
Daniel Barker - three Tom Cruises.