Robert
Dec 19, 2018
[]
[]
10 Comments
You have currently viewed 1 story this month.
IlliniBoard now offers two free stories per month, for more please subscribe.
I have a secret.
Every year on football Signing Day, I tell you that it's my blogging anniversary. That my very first post was February 4th, 2009, talking about Terry Hawthorne and Justin Green and the 2009 signing class. But that's not true. My very first post was on November 21, 2008. A few years after starting the site, I un-published the first post since it was so embarrassing. I mean, it's bad. I'll show you just how bad in a bit.
When I joined A Lion Eye with IlliniBoard, Brumby brought the entire archive over, so the Very First Post was revived. It's been living out there on the internet and I've been too embarrassed to point to it. But since I've now officially been doing this for ten years, and since this is the football signing day post (which is always my "anniversary" post), well, let's link to it.
My very first post - after my friend Brian set me up with WordPress and I composed something and then hit "publish" for the very first time - was a post about basketball signing day. Here's the link, but you don't have to follow it (unless you want to bookmark it to throw it back in my face at a later date, which you should). Here's the post in its entirety. The photo is no longer attached - it was a photo of Brandon Paul, DJ Richardson, Joseph Bertrand, and Jereme Richmond hanging out on campus after they had all verballed to play in Champaign.
The post:
Since we're just getting started with this thing, it's time for a "when the Illini win the Final Four in 2011, I'll link back to this post and everyone will be all worship-y" post. Here's hoping that, when I link back to this one, Scout.com doesn't get all pissy about me stealing their "Behold the Future" image.

See those gentlemen in pink over there? They're about to lead Illinois to it's first National Championship. The first, third, and fourth gentlemen (DJ Richardson, Brandon Paul, and Joe Bertrand) all signed last Wednesday, along with 6'-9" Tyler Griffey (gotta have pick-and-pop big men to go with great guards). The other gentlemen, Jereme Richmond, will sign next November, along with another great guard and another great big.

It'll break down like this: The 2007 recruiting class was full of several solid 4-year players. The 2009 recruiting class contains a few 2 or 3 year players (and then off to the NBA). The 2010 recruiting class is full of a few "they might be one-and-done" players. So right when Demetri McCamey, Alex Legion, and Mike Davis are reaching their peak during their senior season, and just as DJ Richardson and Brandon Paul are coming into their own, fab freshmen like Jereme Richmond will be enjoying their only season in Champaign. Stars. Aligned.

See you in Houston.
"Since we're just getting started with this thing"?. That's the "when I thought about what I was going to say today" wedding toast opening of blogging. 222 words? What was my goal? 10 posts per day? It's so weird to look back at the style. Not to mention the optimisim.
Well, the optimism is still there. It's been 10 years and nobody really understands it, but it's still there. People think I'm just a wide-eyed optimist, so when I say negative things, I get tweets and emails saying that I've "changed" and people are "truly disappointed in me". And when I say positive things, the accusations are that I've "sold out for my credential" and "refuse to say negative things about the coaching staff". Only my wife truly gets me (and, honestly, that's the way it should be).
I should talk about this. That guy above saying "see you in Houston"? He's also convinced that he can get from St. Louis to Kansas City in 3 hours and 13 minutes because he did it once before (in the middle of the night with no traffic) so no, we're not going to be late (we're always late). He believes that the City of St. Louis can return from it's 63% population decline from 1950 to today (it won't), that the MLS will pick St. Louis for their next expansion team (they won't), and that Illinois can become what Wisconsin football became starting in 1990 when they stole our "trying to lay claim to the Third-Best Big Ten Program spot" (we won't). There's nothing wrong with hoping against hope in my brain. I can handle the letdown.
But that often gets misunderstood (again, I really think that only my wife truly understands). I'm also very practical. When I say that I expect an 11-21 basketball season, people say "what happened to optimistic Robert?" and I get confused. I'm still optimistic. I'll still hope against hope that Brad Underwood is the guy to lead this turnaround. I've simply looked at the Big Ten, looked at the current roster makeup, and only see 11 or 12 wins. I still have blind confidence in Underwood. People smarter than me hired him to be the head coach, and I'll trust them that he can lead this turnaround. Also, btw, it looks like we might only win 10 games and our only recruit didn't sign during the early signing period.
That is usually viewed as expectation setting. I'm just saying "10 wins" so that when they win 13 games I can say that it was a great success. No. Again, talk to my wife. I'm weird. The new restaurant in our neighborhood got bad reviews, and we promised to try it out with friends, and all of our discussions that day were "this is probably going to suck", yet walking through the door I'm excited because maybe they got a new chef just that day and things will be better than all the reviews. I live my life on this level of "given all the statistics, here's what's almost certainly going to happen, but maybe it will be better than that?".
I don't know any other way to sports. I'll be discussing the Cubs with my fellow Cardinals fans and I'll state that the Cubs have clearly passed the Cards now and everyone gets angry with me and asks how the eternal optimist could say such a thing. What's wrong with saying the obvious thing? I don't like it, but that's the reality, and it doesn't bother me to talk reality. And then I'll tell those same people that I think Illinois can win 17 of their next 26 football games and everyone looks at me dumbfounded. That appears to be highly unlikely, so why talk about it? Well, when a coach plays this many freshmen and sophomores, if everything goes right, this should be the result.
Is that hopeful? Yes. 63-0 in game number 35 would suggest that things aren't anywhere close to being on track for 17 wins and 9 losses in the next 26 games. That sounds insane. But I'm a "never doubt in the dark" kind of guy, so I'm clinging to hope until they pry it from my fingers. My expectations are fading, but my hope never will.
Just like that guy up there talking about how Jereme and BP3 were leading us to the natty (lol). I've calmed down on the bold statements, realizing that the stances you take as a blogger stay with you, but the hope is still there. That's still the guy writing these words, hoping against hope. I'm about 17 times better about tempering those words, but still... I'm that guy.
So that guy will now talk about this recruiting class. Sorry that you're this deep and I'm just now getting to it. As I've said so many times, there are often words in front of my words, and I have to get them out of the way first.
To discuss this class we have to start with the numbers. I went through this on Monday, so start there if you haven't read it, but summarized: there are currently 16 open scholarships (might go up if more players transfer), and it appears that the staff is targeting several transfers, so as of right now, it looks like this class might be around 12 high school players. That's about half the size of the last two classes.
Which means it's difficult to evaluate. Basketball classes are about individual players. Football classes are about groupings of players. So when there's only 11, but several are at big positions of need, how do you evaluate it? 247 has it currently ranked as the 67th-best class, but is that true?
Let's go through that for a moment. Years ago, on Scout I think, there was a basketball recruiting class from some small school that was touted as the 6th-best class in the nation. It was at some school like Winthrop or something. Did Winthrop really have the sixth best class in the nation? Of course not. They simply had nine players, and when you added up all of the "points", it suggested that those nine players were better than the two five-stars going to Duke. That's a broken system, I think, mostly because it ignores that every class is added to an existing roster.
So most of the scouting sites moved to "weighted" rankings. A class of 16 four-stars at Texas is obviously "better" than a class of 31 two-stars at Akron, even though the Akron class might get more "points" because of the numbers. Really, you should get weighted points for your impact players. Numbers are still the thing, and every team needs 48 athletic, experienced players ready for Saturday, but those come from multiple classes. Ranking individual classes is then a balance between "good numbers providing solid depth but no impact players" and "low numbers so the future classes will need to build that depth but there's 7 or 8 impact players here".
But the weighted composite rankings are built to compare, in my estimation, classes with between 18 and 25 players. To make those two classes comparable. It is not built to "rank" a class of 10 players. For example, if you add eight more four-stars (I used the players ranked #200 to #207) to Beason and Williams in our class (and remove all other players), that class of ten players would rank... 38th, one spot behind the Virginia class with 1 four-star and 21 three-stars.
Is a class with ten four-stars "worse" than a class with 1 four star and 21 three-stars? Maybe on the surface, when there are no other classes involved (more players to fill more holes), but when you add those to the full roster of players for each team (the 75 scholarship players on one team and the 60 scholarship players on the other team), the ten four-stars would make a substantially larger impact to the on-field product.
That's my point here. You can't really "rank" a class of 11 players. The only way to do it would be to evaluate where it fits in the overall picture. (Which is why I have argued that "rankings" shouldn't be per class but should just be per roster. You could then include transfers and such. Here's the 85 players at Illinois, here's the 85 players at Northwestern, here's how they compare.)
OK, with all of that out of the way, how did we do? Well, my feeling is that we need this class to be ambidextrous. In my mind, it would be nice if many of these players filled several holes (note: they can't).
Marquez Beason is set to be a cornerback, but don't we really need an athlete like him at receiver?
Isaiah Williams picked Illinois because we said he'd be put at QB, but wouldn't he be the most amazing slot guy (some tailback, some receiver)?
Moses Okpala is a monster on the line - is it better if he ends up at defensive end or offensive tackle?
Keith Randolph - DE or DT? Can he swing between both?
Joseph Thompson - man, I'd love an athlete like that at WR.
That's just the top five guys in the rankings. The other five all have similar "where does he fit" questions. I think I might try Griffin Moore at five different positions.
Positive Polly? They recruited tiny ATH's and jumbo ATH's and they'll find a way to make it all work. Flexibility is key.
Negative Norm? They needed certainties at many positions and all they recruited were some "possibly a wide receiver?" ATH's. Now things are even more cloudy.
Let's just get to the full class. In the same categories I've used every year.
Immediate Impact Players
Isaiah Williams
Quarterback
Trinity Catholic High School / St. Louis Missouri
5 Tom Cruises
I had never given out five Tom Cruises to a football player before. And then in the span of three weeks, I gave out five Cruises to two players (Williams and Beason).
Not really sure what I need to say here to describe this. He's one of the ten best Illini recruits the last 20 years. Everyone offered him. The four teams in the playoff in a few weeks? Alabama, Notre Dame, Clemson, Oklahoma? All four offered Williams.
Why Illinois? Because A) we hired his HS coach and mentor, and B) we offered him as a QB. Shorter (5'-9") guys like Williams get ATH offers at Alabama, not QB offers. He wants to play QB, so that's what we offered him. This summer, he'll battle with MJ Rivers, Matt Robinson, and Coran Taylor for the starting spot on August 31.
Marquez Beason
Cornerback
Duncanville High School / Duncanville, Texas
5 Tom Cruises
Yet another 5 Cruiser. Again, I'm not sure what I should say here. You already know everything about him. Runs a 10.46 in the 100 (and is somehow the second-fastest guy in this recruiting class). Will likely return every single punt for the next 3-4 seasons. Can play corner, can play WR, might play both. One of the top-10 Illini recruits of the last 20 years.
Seriously, I think I pay these guys a bigger compliment when I don't write about them. It's self-explanatory.
Great Gets
Moses Okpala
Defensive End
Ladue High School / Ladue, Missouri
3.5 Tom Cruises
We really needed help along the defensive line in this class, and the first three players here under "Great Gets" fit the bill. I feel like I just wrote about him (because I did), so here's what I said in that post:
OK, so what are we getting in Okpala besides "a very large 18 year-old" (6'-7", 260-ish right now). Mostly, this is a raw material recruit. He's not a polished football player because he hasn't been playing football for a long time. Again, this reminds me of Jihad Ward. Ward was a wide receiver in high school grew and grew and grew at junior college, and ended up at defensive end but not knowing how to play defensive end. That first camp for Ward (August of 2014) he was very, very raw (i.e. had no idea what he was doing yet), but you can't teach massive arms and massive shoulders swatting people out of the way.

So the path for Okpala will be similar. Teach him how to use his size. There are about 137 specific little techniques you need to learn if you want to play defensive end, so next year at camp will be a big training session for Okpala.
Keith Randolph
Defensive Lineman
Belleville West High School / Belleville, Illinois
3.5 Tom Cruises
I haven't written the LLOUI post (he just picked Illinois a few hours ago), but spoiler alert: he'll be getting 3.5 Cruises. I got really nervous last night when Florida State offered him. I'm sure their pitch was "here's an offer - don't sign tomorrow, come visit us in January, and then sign in February", but he stuck with his press conference announcement and picked the Illinois hat.
It looked like he was all set to pick Illinois in the summer (over Minnesota and Wyoming), but then he began to blow up. Michigan State offered, Iowa offered, Purdue offered, Virginia offered, and (last night) Florida State offered. His Crystal Ball flipped to Michigan State, and he visited there, and I thought he was as good as gone, but then a visit to Illinois last weekend apparently moved him back into our column. Good work, everyone.
Seth Coleman
Defensive End
Holy Trinity Academy / Melbourne, Florida
3 Tom Cruises
I'm choosing to use my once-per-class re-ranking on Coleman. I gave him two Tom Cruises in July when he verballed, mostly based on offer lists and a little sophomore film that was out there (Coleman didn't play high school football as a junior). He played high school football as a senior, and his film is great, so I'm bumping him from two Tom Cruises to three.
And this was a great save. He, too blew up this fall. When he committed, we were his only real offer. This fall he got offers from Nebraska, TCU, Pitt, Utah, Baylor, and others. He visited Baylor and Utah, and as of yesterday his Crystal Ball started flipping to Utah. But someone made the save, and here he is, signed to Illinois.
And that's very important because we needed a weakside DE in this class more than we needed a strongside DE. We needed that quick twitch DE who can also maybe drop into coverage if he has to, and that's the type of player he is.
Kyron Cumby
Running Back
Plano High School / Plano, Texas
3 Tom Cruises
I'll never not want to post this gif. It's maybe my favorite Hudl gif I've ever created: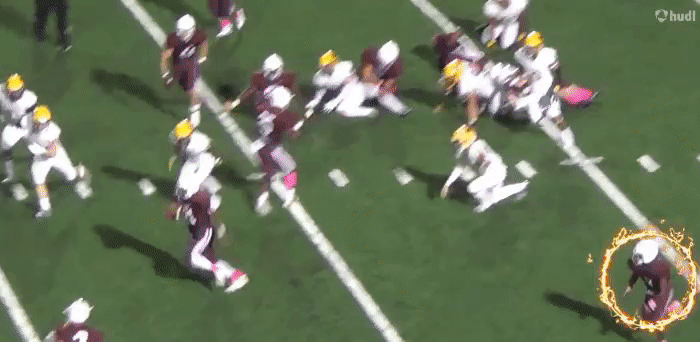 That's world class speed right there. And I'm not just making that up. In a high school track meet last spring, Cumby ran a 10.38 in the 100. That's up there with the five fastest players we've ever recruited. Perhaps even the fastest? That's college track scholarship fast.
The problem: he's 5'-7" tall. So the question will follow him his entire college career - is he too short for Big Ten football?
Nice Finds
Joseph Thompson
Cornerback
Phillips High School / Chicago, Illinois
2.5 Tom Cruises
This category is usually full of a bunch of players. It's typically the most-used category in these posts. For this class, there's only one player here. Truly a "four-stars and projects" class. That's would be great for basketball, but this is football.
Thompson was originally committed to Iowa State but flipped to Illinois (and stuck). He's that longer, lankier cornerback that Lovie loves (and, like Tony Adams, he might end up at free safety).
This is probably the redshirt line. I think all of the players above might play (maybe only two of the three defensive ends). I think all of the players below will redshirt.
Projects
Nick Fedanzo
Running Back
Montini High School / Lombard, Illinois
2 Tom Cruises
It feels like we've clearly dropped to the project line. Offer-wise, flim-wise, ratings-wise, these four players are firmly in the "projects" category.
That's not to say they won't become solid players. Iowa completes about 10 project per year, it seems. In fact Fedanzo is a very Iowa recruit. Best athlete at his school, leads his team to the state title game, if he doesn't make it as a running back there are several other spots where he could be useful. But clearly a project.
Griffin Moore
Tight End
Bloomington High School / Bloomington, Illinois
2 Tom Cruises
He's a high school quarterback who will play tight end (Matt LaCosse!). Or maybe he's a high school quarterback who ends up as an offensive tackle (David Edwards at Wisconsin!). Maybe he's a high school quarterback who plays defensive end (can't think of an example).
Or maybe it's as simple as "this is the kind of tight end Rod Smith wants for this offense". They offered (and accepted his verbal) very early.
Casey Washington
Wide Receiver
Pflugerville High School / Pflugerville, Texas
1.5 Tom Cruises
I gave him 1.5 Tom Cruises. Someone sent it to him. He responded by saying this:
Wouldn't be where I am today without people like this. This fuels my fire:) keep it up Robert! pic.twitter.com/X10mw38T29

-- Casey Washington (@cwash82) September 10, 2018
Honestly, I dig that. My opinion stands. I'm just not seeing a Big Ten receiver there. But I'm glad to be his motivation. As I said in the screencap he tweeted there, go prove me wrong, kid.
Evan Kirts
Offensive Lineman
Brother Rice High School / Chicago, Illinois
1.5 Tom Cruises
I considered one Cruise here. Another "just not seeing it" recruit. This one is a three-year project, in my estimation.
Which is fine, I guess. The starting spots are locked up on the 2019 and 2020 offensive lines, and I'm pretty sure every player on the 2021 offensive line was on the roster this fall. So if the next available spot is in 2022, well, then we have all the time we need for this three-year project.
Note: I'm not going to give out my yearly Asamoah Award (lower-ranked recruit who I think will be a star) until the class is complete in February.
OK, so how does that stack up? Let's start with these paragraphs from last year's Signing Day breakdown:
First off, it was a step back from the previous class. I covered that in the other post I just linked (Lovie had said the 2018 class would be better than his 2017 class, and the 2017 class ranked 46th, and this class... ranked 55th).

That's just the composite rankings though. As far as my thoughts go... the separation is a little worse. Sorry. The 2017 class was ranked 46th, and I thought that was too low. There were a lot of hidden gems in that class, in my opinion. And I think we saw that last fall on the field. The 2018 class is ranked 55th, and I think that's a little high. It's not a rebuild killer, but it doesn't get us to where we need to be.

I guess I have numbers to back that up as well. I do my own "Tom Cruise" rating, and this class was a significant drop-off. The 2017 class averaged 2.82 Cruises. This class averaged 2.54 Cruises. That might not seem like much, but it is. I rated seven players in the 2017 class as 3.5 Cruises and above. In this class, only three. That's a significant step back in "instant impact" players. Lovie got close on several - Ayodele Adeoye, Merlin Robertson, etc - but just couldn't land them in the end.

What does that mean? Well, we'll get into that in a bit, but for now, just know that I'm hesitating a little more around my October 12, 2019 "we're back" moment. Specifically, we needed to land the quarterback and middle linebacker who will star in that game, and I'm not sure we did? Which means they'll have to be freshmen.
Will the middle linebacker have to be a freshman? No. Lovie landed Washington transfer (and former 4-star) Milo Eifler to fill that spot. Will the quarterback need to be? Well, it's a battle between MJ Rivers, Matt Robinson, and Isaiah Williams, and at this point, I feel pretty good about that.
Let's look at the Tom Cruise thing. This average will be thrown off a bit by the fact that there are only 11 recruits (there's no "meat" to the class, so it's probably skewed a bit by the two 5-Cruisers), but here's the Tom Cruise Rating averages the last three years:
2017: 2.82
2018: 2.54
2019: 2.95
My guess? We add two high school recruits in February, they come in around 2 Cruises, and this number drops to 2.81. (Or maybe we add a certain 4-Cruise linebacker and it goes up - I'm an optimist, after all.)
But really, what matters is the three classes together. And I'd say that Williams, Beason, Okpala, Randolph, and Coleman add some oomph that the 2018 class lacked. It would be nice if it was a class of 24 and there were ten "oomphs", but the numbers are what the numbers are. I said above that the 2018 class "wasn't a rebuild killer but doesn't get us where we need to be", and I'd suggest that adding Eifler plus those five players (plus maybe Shammond Cooper?) gets us back on track. Not nearly back to what I was hoping for when Lovie was hired ("his name alone will bring us top-35 recruiting classes!"), but back to the 2017 level. Fill out the other 3-4 scholarships win impact transfers and 2017 + 2018 + 2019 gives Lovie a roster he can win with in the Big Ten West.
Now, time to go do it.