Looks Like University Of Illinois - Jeff Thomas
Robert
Dec 22, 2018
[]
[]
6 Comments
I plugged in the Christmas tree for this one. I'm nestled under a warm blanket, typing only by the light of the laptop screen and the Christmas tree. Might whip up some hot chocolate. Merry Christmas to us - our best player in 12 years just signed on.
Remember my 6.54 rule? Most Illini fans are calibrated to basketball recruiting, so I developed a way for them to understand football recruiting. There are 85 scholarship football players an 13 scholarship basketball players (85/13=6.54), so when you see the #345 player verballing to Illinois and are wondering why everyone is so excited, well, divide that number by 6.54 and you get the basketball equivalent (that's like the #53 basketball player verballing to Illinois).
Jeff Thomas? He was #40 in the 2018 Composite Rankings. 40/6.54=6.1. This is like the #6 basketball player in the country committing to Illinois. It's a huge, huge deal.
And, it must be noted, that's not just a rating for a player who then busts in college. Jeff Thomas has been really, really good at Miami. He did stuff like this: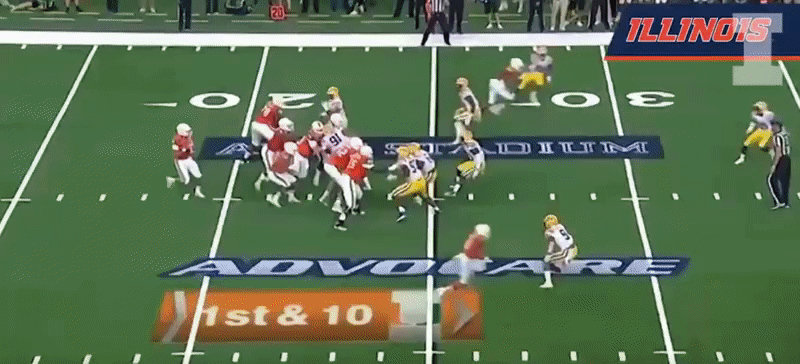 And he's also really, really fast. Like this: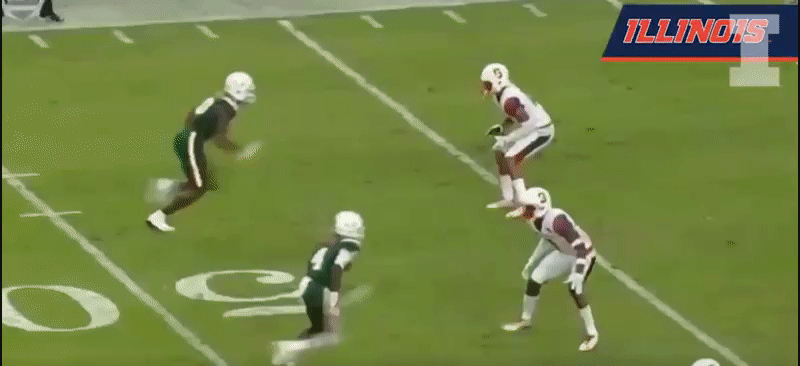 If that ball is thrown well, he's probably 12 yards beyond the DB by the time he crosses the goal line.
This is a really, really talented player. Why, just last night I was compiling a list of all the talent that will be on the field next season (but wasn't on the field this past fall). Suspended players becoming eligible, academic redshirts, transfers becoming eligible... here's that list again (15 highest-rated recruits on the roster per the 247 composite ratings) with the players who weren't on the field last year in bold.
1. Jeff Thomas .9807
2. Marquez Beason .9613
3. Isaiah Williams .9502
4. Milo Eifler .9368
5. Calvin Avery .9174
6. Verdis Brown .8944
7. Ricky Smalling .8868
8. Kendrick Green .8801
9. Dre Brown .8744
10. Moses Okpala .8784
11. Keith Randolph .8739
12. Larry Boyd .8721
13. Owen Carney .8695
14. Carmoni Green .8680
15. Coran Taylor .8580
OK, yes, I'm making a big assumption - that Jeff Thomas gets a waiver and does not have to sit out for a season. I'm way out over my skis here. This is the NCAA we're talking about, and it's probably more likely than not that they'll deny the waiver application.
But on a night like this, under the glow of this tree, I'm only allowed to think positive thoughts. Let's think some more. Say we were to add high school linebacker Shammond Cooper and tight end transfer Luke Ford. Well, then here's a revised list:
1. Jeff Thomas .9807
2. Luke Ford .9753
3. Marquez Beason .9613
4. Isaiah Williams .9502
5. Milo Eifler .9368
6. Calvin Avery .9174
7. Shammond Cooper .9027
8. Verdis Brown .8944
9. Ricky Smalling .8868
10. Kendrick Green .8801
11. Dre Brown .8744
12. Moses Okpala .8784
13. Keith Randolph .8739
14. Larry Boyd .8721
15. Owen Carney .8695
That would be a lot of talent added to the field in one season. It already is, but add Cooper and Ford and 7 of the 8 best players on the team (recruiting rankings-wise) would be newcomers.
I should probably pause to acknowledge a scenario we're all thinking. Jeff Thomas is a future NFL receiver, and if he doesn't get a waiver and has to sit out a season, then yes, he could sit out a year, declare for the draft next winter, and never play a single snap for Illinois. That's a thing that might happen. I don't think it's likely - I think he has more to prove to the NFL before he's draft-worthy - but it's a possibility.
But we don't speak of such things this close to Christmas. This is the season for giving, and I will now give you a daydream:
October 12, 2019. Second quarter against Michigan. A Reggie Corbin scamper sets up the Illini with first and ten from the Michigan 44. Starting QB MJ Rivers comes off the field because it's time for The One to get a package of plays. First and ten and the formation is this: Isaiah Williams at quarterback. Reggie Corbin and Mike Epstein split either side of Williams at tailback. The two receivers: Ricky Smalling and Jeff Thomas. The tight end: Luke Ford (yeah, he gets a waiver too in this daydream). The offensive line: Vederian Lowe, Kendrick Green, Doug Kramer, Larry Boyd, and Alex Palczewski.
I mean, have you ever SEEN an Illini offense with that much talent at the skill positions? The crazy part: it could be a scene from the following season as well because Corbin is the only senior I listed there.
Merry Christmas, Illini fans. And happy 5 Tom Cruises, too.
Jeff Thomas - Five Tom Cruises