Looks Like University Of Illinois - Isaiah Williams
Robert
Mar 23, 2018
[]
[]
8 Comments
Land one top-100 recruit, and you're one decommitment away from just your normal, average class. Land TWO top-100 recruits very early in the recruiting cycle? No recruiting dream is too small. Every outlandish scenario is on the table.
Let's start with that - landing another top-100 recruit, this one a 5-star.
Wait, I don't want to start with that. I want to start with future depth charts. I HAVE SO MANY WORDS TO GET OUT.
College football is about weapons. Yes, line play is essential, and we've been severely lacking there in the past, and I think we will significantly improve up front in the near future. But each time we play a blue blood and lose 48-9, we see weapons all over the field. We just haven't had any plus weapons.
But when we line up to play one of those blue bloods in, say, 2020, and you have Mike Epstein at tailback + Ricky Smalling and Carmoni Green at wide receiver + Louis Dorsey at tight end and now Isaiah Williams at quarterback, those are WEAPONS weapons. Legitimate, can stand toe-to-toe with the rest of the conference WEAPONS.
That's where my brain drifts today. Even if Williams doesn't end up at quarterback and moves to slot receiver or something. Just listen to 247's national director of recruiting as he's scouted Williams:
New #Illini commit Isaiah Williams is the most dynamic prospect to come out of St. Louis since Ezekiel Elliott. A rival coach says he's "one of the 10 most devastating athletes in the country." More here: https://t.co/kjQX0umAjI #Illinois pic.twitter.com/ZYz4pRFVR5

-- Steve Wiltfong (@SWiltfong247) March 23, 2018
"Most dynamic prospect to come our of St. Louis since Ezekiel Elliott."
"One of the 10 most devastating athletes in the country."
That's what you get when you get a five-star. Even if the worst-case scenario happens and he flames out at quarterback, you still have this ridiculous athlete, bound for the NFL, who you can use anywhere on the field. Sorry, "one of the 10 most devastating athletes in the country".
For now, let's put him at quarterback. If you look at Khalil Tate in Rich Rodriguez/Rod Smith's offense last year at Arizona, you see that he didn't really throw all that much - 16 pass attempts per game. In 11 games, he nearly ran for more yards than he passed for - 1,591 passing yards, 1,411 rushing yards. When it's clicking, this new offense is a "running back at quarterback" offense.
Which is why this whole thing is so incredibly stunning. We put in that kind of offense, go looking for an athlete to be our RB at QB, and land on one of the best in the country. Like, that's a totally serious statement - one of the best in the country.
I don't think it's crazy to say that the offense I described above - Williams at QB, Epstein at RB, Smalling and Green at WR, Dorsey at TE, has more speed than any offense in Illinois history? Especially if Williams is at quarterback.
I mean, we're talking SPEED speed.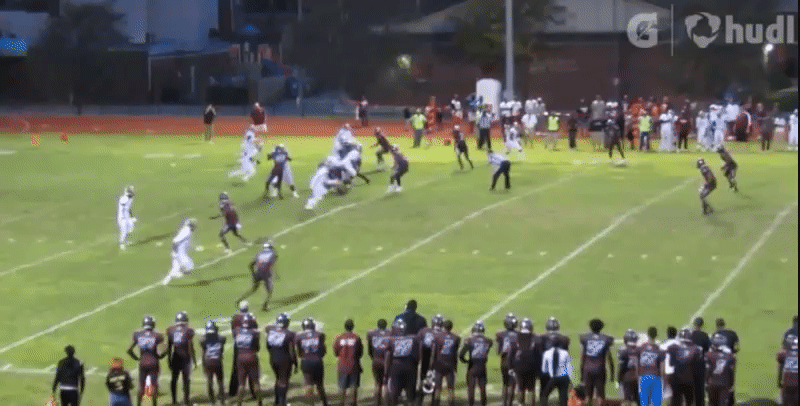 Like, SPEED speed speed.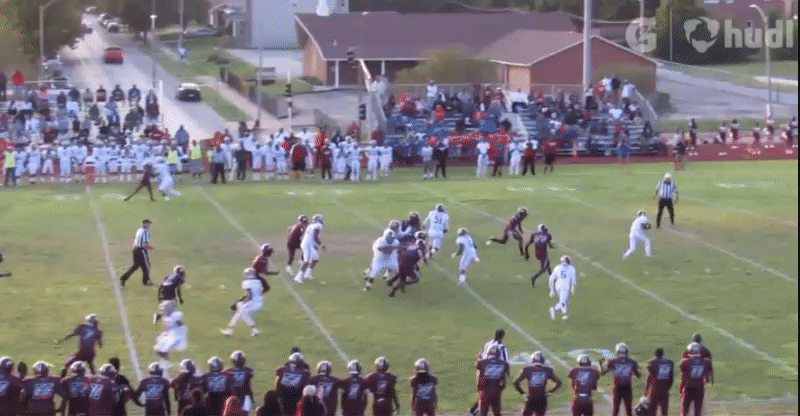 Yes, he throws the ball too. You can watch his full junior film here. But the reason he had offers from Alabama and Auburn and Clemson and Florida State and Michigan and Ohio State and Oklahoma and Texas and everyone else is that devastating speed. And we now have an offense built around wanting the quarterback to use his speed.
OK, I guess I should talk about landing a 5-star like I referenced above. What was I going to say about that? My brain is fried here. I think I was going to reference my tweet from this morning:
I'll simplify it this way. Schools that landed consensus five-star recruits in the 2018 class:

Georgia: 7
Clemson: 5
Southern Cal: 4
Penn State: 3
Ohio State: 3
Alabama: 2
Texas: 2
LSU: 1
Miami: 1
Oklahoma: 1

For 2019, that list, somehow, will include ILLINOIS.

-- Robert (@ALionEye) March 23, 2018
That's insanity. Or perhaps I should reference this from a Reddit thread:
Schools with multiple Top 100 football commits currently:

Alabama
Oklahoma
Georgia
Michigan
Illinois
In-
sanity
So where do we go from here? I guess we have to consider every single possibility. The top-100 defensive lineman from Bobby Roundtree's high school who visits soon (Jaquaze Sorrells)? Yes, we could land him and have three top-100 players (WHAT?). In-state four-stars like Jason Bargy and Jahleel Billingsley? Real possibilities. Williams' four-star teammates at Trinity like Marcus Washington and Shammond Cooper? Actual, real, attainable recruits. I have no idea which way is up right now.
I need to go because I'm writing this over my lunch hour. There will definitely be a Part II because there are so many other necessary words here. So I'll just get to the Tom Cruises.
Easiest decision ever. For the second time in 13 days, FIVE.
Isaiah Williams. Juice Deuce. Five Tom Cruises.