Looks Like University Of Illinois - Bryce Childress
Robert
Apr 27, 2018
[]
[]
2 Comments
You know my dream: Illinois wins a lot of football games with players from St. Louis. I was born and bred in the Metro East, a pocket of 700,000 people in the St. Louis area who live on the Illinois side of the river. We're unique in our Illini fandom, and we find special joy in cheering for guys like Malcolm Hill, Robert Archibald, and Carey Davis. Paint the Arch orange.
You also know how the well dried up for us in St. Louis. When there was a football player from the 314, it was a more obscure player like Antonio Gully. I think it was the 2013 team that only had one scholarship player from the St. Louis area (Darius Mosely from O'Fallon, Illinois). There were a few walkons (who later went on scholarship) like Zach Hirth and Nathan Echard from Eureka, MO, but that was it. To whom could I direct my Imo's Pizza questions at Camp Rantoul? Just a few walkons, really.
Now all of that is changing. The 2017 class had several St. Louis players (Tony Adams from St. Louis University High School, Larry Boyd from Trinity Catholic, and James Knight from East St. Louis), and now the 2019 class has begun with two St. Louis kids - Isaiah Williams and Bryce Childress from Trinity Catholic. (So, uh, maybe it wasn't all that bad of an idea to hire the head coach from Trinity Catholic?) And there are other Illini targets all over St. Louis, from Lutheran North to Francis Howell North to Parkway North - every school with the word "north", really.
Wisconsin used to dominate this area in recruiting, and then Missouri became the popular destination, and now, hopefully, Illinois is making inroads. There's a lot of talent around here, so to see that talent committing to Champaign... it's the stuff of dreams. And this latest recruit, Bryce Childress, I really, really like.
Let's start with a gif. This is the exact thing I'm looking for when I watch high school receiver film. Anyone can catch a slant against a sophomore 145 lb cornerback from St. Charles Lutheran and take it 70 yards for a touchdown. You can find film like that on 450 receivers nationwide. But to find someone with the ability to step out of tackles like this - to get that extra nine yards that sets you up with 1st and 10 at the 29, not 1st and 10 at the 38. It's hard to specifically describe what I love about this - it's a crappy high school cornerback missing a tackle - but the jump cuts and the final stretch to get two more yards - that's something we can work with.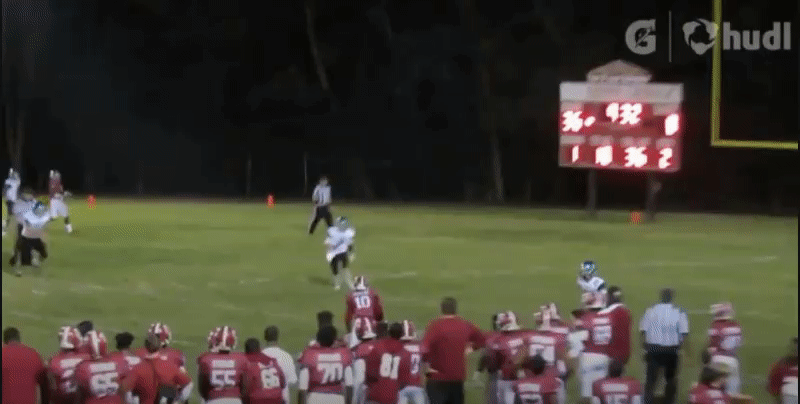 Look again at where that first (attempted) tackler is laying vs. where Childress is tackled. On so many drives, THAT is the difference between a field goal and a punt. Get you some shifty athletes who can jump cut and step out of a tackle and get those extra yards.
And lots of teams noticed this. Childress had offers from Nebraska, Louisville, Kentucky, K-State, and several others. Had he not committed in April, I'd be willing to bet that he'd have better offers than that by July. He has top-end speed, all kinds of shiftiness - he's the perfect slot receiver (or, if that doesn't work out, the perfect corner). These are the athletes that Lovie has been searching for.
On future depth charts, I'm thinking he fits in right with Carlos Sandy as the slot receiver. Mikey Dudek has that spot on lockdown for this season, but after he graduates, the battle at training camp in 2019 will likely be between sophomore Sandy and freshman Childress. (But again, this is an ATH. There's also a chance they want to take that shiftiness and make him a cornerback. ATH after ATH after ATH.)
For Tom Cruises, I'm going to go much higher than one would expect for a mid-three star. This is an early contender for the 2019 Asamoah Award.
(Speaking of the Asamoah Award, it will still be given for the 2018 class. Because yes, a player-by-player breakdown of that class is still coming. No, really, it is. I'm serious - some time in May.)
I'm thinking either 3 or 3.5 Cruises here. This is my favorite kind of football player. Shifty, barely touches the field when he runs, use him anywhere.
Bryce Childress, three and a half Tom Cruises.