Looks Like University Of Illinois - Tevian Jones
Robert
Apr 03, 2018
[]
[]
7 Comments
Now that's more like it. After adding three off-the-radar recruits, we're now firmly back on the radar with a commitment from Tevian Jones. The pickings are slim when you're trying to find players in the spring, but Brad Underwood identified Jones last fall, pursued him all winter, and landed him this spring.
I'll start by saying this. It's a bit of an odd recruitment, at least to me. Perhaps there were some transcript issues that needed to be ironed out? Maybe waiting on a test score or something? This is clearly a talented player, as can be seen from the Arizona offer this winter and the reported finalists of Xavier, Mississippi State, and California. Or just watch his film - great athlete, long and quick, the type of frame and athleticism that is a coach's defensive dream.
So why just the one visit to Illinois? I read an article where he was supposed to visit Xavier, Mississippi State, and Cal, but I don't believe any of those visits happened? Did Brad Underwood simply knock it out of the park with his first visit and that was that?
It's a little weird - I'll just say that. Arizona offered him in February, Kansas was in to see him... and then just one visit to Illinois? I thought we'd be fighting tooth and nail for this kid, but instead, it was one visit, a few weeks to think about it, and then a verbal. He'll now sign in a week.
Which is great news for us. We didn't really have this kind of wing on the roster last season (long and athletic, kind of in the DJ Williams mold), and I think Brad Underwood really desires wings like this. Get those long arms on all kinds of passes, catch lobs on the break, hit some threes - this is the type of athlete he wants on the court (which is why I wish Williams had stuck around).
We had addressed the guard spots in this class (Dosunmu and Griffin) and we had addressed the frontcourt (Kane and Bezhanishvili), but we hadn't done anything in between. Enter Jones, a true wing forward who gives Ayo someone to throw the lobs to.
He can also do this. I don't think we have anyone on the current roster who can do this.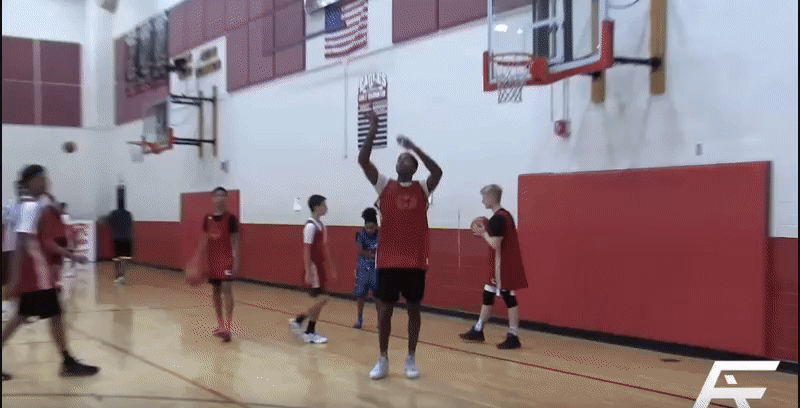 He's ranked #117 in the composite rankings and is a four-star on all three of the main ranking sites (Rivals, 247, and ESPN). Again, that's a big departure from our three previous recruits who were all mostly unranked at the time they verballed. I mean, it's April and Griffin nor Bezhanishvili have a composite score yet because they're unranked.
Does this mean that Jones is a future superstar? No. He's at a much higher level than our last three recruits but he's still outside the top-100. The closest recruiting comp would be Aaron Jordan - Jordan was ranked #118 in the composite rankings, Jones is #117. They're different players with different strengths, and given his athleticism, Jones probably has a higher ceiling, but that's the comp for his ranking.
And I think Brad Underwood will use them similarly? Again, different kind of player, but that "guy on the wing who occasionally plays the four and is asked to get a lot of offensive rebounds" role that Jordan played last year is probably where Jones fits in. In fact, I'd guess that Jordan starts at the three next winter... and then Jones is the starter there in 2019/20.
With the wing taken care of, the main focus now for the class: find a big who can contribute immediately. As in, start at center. Leron is gone, Finke is gone, and I don't think any of Eboigbodin/Vesel/Kane/Bezhanishvili are ready to start in the Big Ten at center. So a fifth-year guy who can come in and start, to me, is priority #1 right now. Come on, guy at a low-major school who wants a shot at high major basketball - we can pretty much guarantee you a starting spot.
OK, so Tom Cruises. This is a significant step forward from Kane/Griffin/Bezhanishvili. But it's not anywhere close to Ayo. I'm between 3.5 and 4 Cruises, and I think it's right in the middle enough to pull out one of the quarter-Cruise categories.
Tevian Jones - Three and three-quarters Tom Cruises