Looks Like University Of Illinois - Kyron Cumby
Robert
Jun 22, 2018
[]
[]
6 Comments
You have currently viewed 1 story this month.
IlliniBoard now offers two free stories per month, for more please subscribe.
I'll start with this: Lovie could now put together a 4x100 relay team for the 2019 Big Ten Track & Field Championships just by using players from the 2019 recruiting class... and I don't think he'd finish last. They'd be running against heavily recruited track athletes, but I believe Marquez Beason, Isaiah Williams, Bryce Childress, and Kyron Cumby woulld be competitive.
I just went and looked up the results from the Big Ten Track & Field Championships in May. Maryland finished last with a time of 43.41. Now I KNOW that Team Lovie wouldn't finish last. Kyron Cumby ran the anchor for his high school's 4x100 team, and their best was a 43.88 this year. The Trinity Catholic track team with Isaiah Williams? They won the 4x100 at the Missouri state track and field championships with a 42.78. OK, fine, maybe Maryland fumbled the baton once or twice, but I'm telling you, this Lovie track team is legit.
I realize that track speed doesn't always translate to football speed, but go watch some Marquez Beason film. These kids are FAST fast. Beason? A 10.46 100m back in April. Cumby? A 10.38. Ten point three eight. Insane numbers for a couple of high school juniors. Beason? 2nd at the Texas Private High Schools state championships (as a junior). Cumby? 4th in the public schools state championships (as a junior). Both might win state titles as seniors.
So if there's one common theme in this class so far, it's speed. Five of the six commits were recruited specifically for their speed. Size doesn't seem to matter. We've added a 5'-10" quarterback (Williams), a 5'-8" receiver (Childress), and now a 5'-7" all purpose tailback (Cumby). As my friend Nick says, you can't tackle what you can't see.
On film, I love Cumby. Yes, he's short - Rocky Harvey short - but he's also pretty powerful. I linked this gif on Twitter already, but I still can't stop watching it. The closing speed. The effort (an offensive player that far behind the play is almost always jogging - like, 99.4% of the time the player is jogging). The hit he delivers at the end. This is just the perfect football play.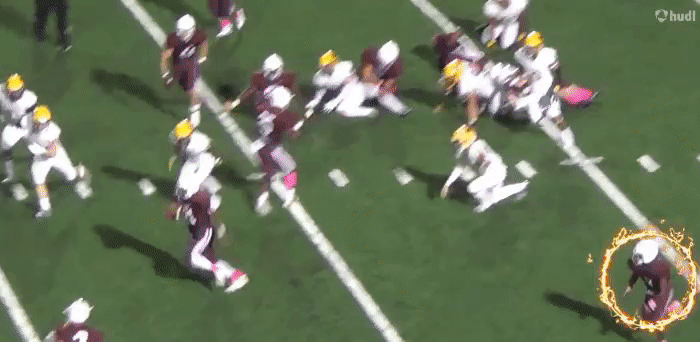 Someone asked me a question on The Deuce about my thoughts on Jirehl Brock (4-star running back from Quincy) eliminating Illinois from his list. My thoughts were that he's not a fit for this offense. That can sound like sour grapes when a kid eliminates Illinois, but I watched Brock's film and could not see how he would fit with Rod Smith's offense. I just can't see a power back like Brock (think "runs over tacklers, not around") would fit in an offense that would ask him to do so much running around people. While it's true that Brock is similar size to Kenyon Sims, a running back added by Smith in the 2018 class, his game is not very All Purpose. He's more suited for a power offense.
And I think Kyron Cumby is suited for this offense. He's not rated as highly as Brock, but I can tell you I think he fits better. If Brock were to change his mind and pick Illinois, I can tell you that Kyron Cumby would still receive more Tom Cruises. My ratings are about these players helping us win games in the future, and I think Cumby is just about perfect in that regard. Tiny and fast. With good hands.
On his film he's all over the field for his high school team. Some wildcat snaps at QB, some slot receiver, some tailback. I think we'll use him similarly (well, maybe not wildcat). I think his listing as an "All Purpose Back" is accurate, and I think that's what the other schools who offered him (Washington State, Colorado, Iowa State, Kansas, San Diego State, BYU) were envisioning for him as well.
Yes, he's 5'-7". Which is why he's a mid-to-low 3-star and not ranked higher. The top schools are going to back away from a kid when he's this tiny (in football terms). But we love tiny with this offense, so he's just about perfect for what we were looking for. Really excited about this one.
Tom Cruises - I'm between 3 and 3.5. I was the same with Bryce Childress but bumped him up to 3.5 because of his ability to break tackles. Breaking tackles is everything in college football. For Cumby, I'm going to dock him a bit for not showing much tackle-breaking and settle at three Tom Cruises. He'll always have to fight being tiny, and blitz pickup will be a chore for him, but still - this is a solid pickup.
Kyron Cumby - Three Tom Cruises