Looks Like University Of Illinois - Nick Fedanzo
Robert
Jul 1, 2018
[]
[]
2 Comments
You have currently viewed 1 story this month.
IlliniBoard now offers two free stories per month, for more please subscribe.
What say we do another How I Watch Film. Or maybe I should call it What I Watch For When I Watch Film. No wait, I think I've got it: Watch Better Film With These Five Simple Tricks. YOU WON'T BELIEVE NUMBER FOUR.
I promise this post will be about new tailback recruit Nick Fedanzo. But it's also about watching film. And how I wish that kids would put the right clips in their film.
Because many kids do produce their own film. Some are assisted by their schools/coaches, but Hudl allows you to take the school's game film, carve out the plays you want, and publish online. My son used to dabble with it when he played high school football.
The advice I'd give to the kids (and to the high school coaches who help them): don't just show the scoring plays. If you're a tailback like Fedanzo and you're distributing your film to the schools who are recruiting you, know that the untouched 70-yard touchdown doesn't do much for film evaluators. Yes, they want to see your speed, so you have to show some of it, but a film full of untouched runs is film that, quite literally, a thousand kids nationwide could put on film. Go to some high school game in, I don't know, Lawrenceville, Illinois and you're going to see some really fast kid break away for a 70 yard touchdown untouched. That doesn't make him a Power Five recruit - the other things make him a Power Five recruit - so film has to show the other things.
I'll use Fedanzo's film to better make my point.
This snippet, while nice, doesn't show much: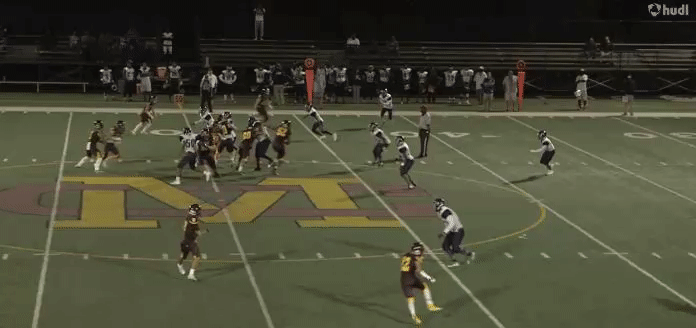 Good speed there. Some good vision to bounce it outside and know you have the speed to get the corner. But again, doesn't really show much (besides, you know, speed).
Here's another clip: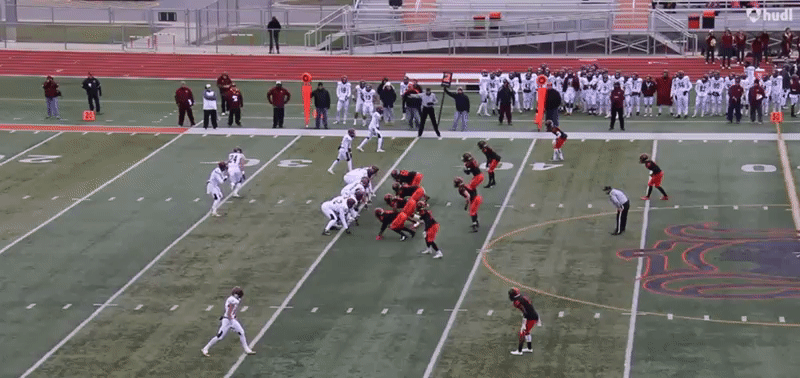 Same thoughts here. Catch ball, run really fast (with great blocking). 1,396 high school tailbacks in the country have a play like this on their Hudl. Doesn't mean it's a bad thing - again, speed - but you have to show more if you want a scholarship.
Here's a little bit more: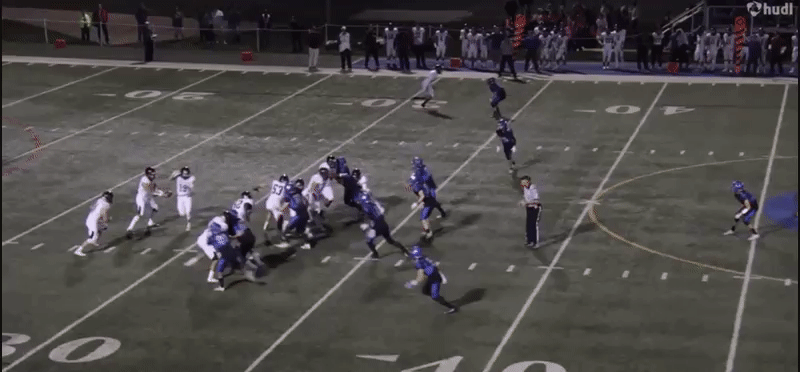 The step at the end is nice. Without breaking stride, plant the foot in the ground and run past the safety's front shoulder. And then burst away. If you have to slow down to make that cut, the guys chasing you - especially the Big Ten guys chasing you - are going to run you down.
But again, I need more from high school tailback film. Specifically, I need some broken tackles. Broken tackles are everything for high school tailback film.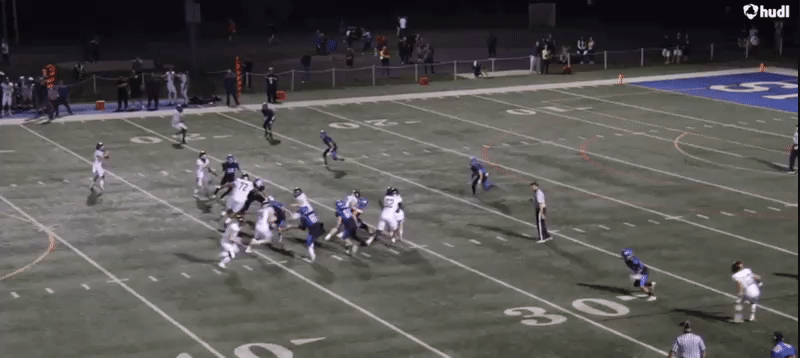 That's the best clip on his junior film. Only ended up being about a 13 yard gain, but this is the stuff that those other 1,396 high school tailbacks (the ones that had the 70 yard breakaway untouched touchdown on their film) cannot show. Yards after contact is everything.
And so is blocking. Blocking is a big part of this as well. Need a kid with some toughness who will be able to pick up that blitzing linebacker. Here's some blocking. Keep in mind that Fedanzo is #24 here, not #19 with the ball: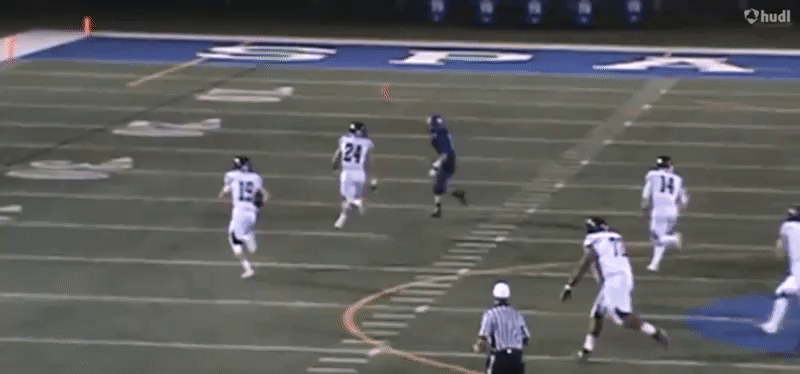 That's the stuff right there. That's the "pause the tape and call the offensive coordinator into the room because you just found a piece of film he's really going to like" moment.
For me (and I'm going to sound like a broken record but oh well), that's the piece of film that makes me think he could be a linebacker when all is said and done. I'm desperate to see this team add linebacker depth, so when I see a tailback with some toughness, I start thinking "son, what say we try you at outside linebacker...".
The one drawback to Fedanzo's film - there aren't really any other plays like the two above. It's mostly "Nick Fedanzo runs away from people". I love watching film where it's broken tackle after broken tackle, but this is mostly "long runs where he's untouched because of great blocking" film.
So while I have some hope for the kid, I can't go very high with the Tom Cruises. Maybe I'll change my mind after some senior film, but for now, I think I have to settle at two Cruises.
Nick Fedanzo - Two Tom Cruises