Robert
Jul 22, 2018
[]
[]
8 Comments
Now we're talking. We're basically in my two-deep now. Yes, some of these players might be replaced by some freshman who is #77 on this list, but as of today, when camp starts on August 3rd (August 3rd!), these are the players I expect to see on the field.
50. Kendall Smith
Safety
Bolingbrook High School / Bolingbrook, Illinois
Sophomore (4 years to play 3)
Tom Cruises: 2.5
What I Know About Him:
He's had the prototypical "ATH" journey so far. Starts out as a freshman at wide receiver. Doesn't play much there, but does play a ton on special teams. In the spring of his freshman year, the coaches try him at safety. This training camp, I expect a lot of safety, maybe a little cornerback just for fun, and a lot of special teams. By the end of his sophomore year, they'll settle on a position for good. Which might be back to wide receiver.
And this is never because the coaches are indecisive. Mostly, they're tracking how he develops as an athlete. It's not just specifically what he's "good" at - they want to watch how his body develops from when he was 17 and they were recruiting him to when he's 21 and lining up against Wisconsin. A guy like Zeph Grimes went from safety to linebacker. Justice Williams from linebacker to wide receiver. Rahkeem Smith went from linebacker to fullback to defensive tackle. Some guys grow into positions; some grow out of them.
What I Expect From Him:
I think this depends on the readiness of the freshman safeties. Right now he's probably the 4th guy in the rotation there. Stanley Green and Bennett Williams are the starters, as of right now Dawson DeGroot and Kendall Smith are the backups. If one of the freshman safeties proves to be Big Ten ready, he'll challenge DeGroot and Smith for minutes. If two of the freshman safeties prove to be Big Ten ready, it's possible Smith might go back to wide receiver.
Which is a good luxury to have. That's one of the main benefits to recruiting ATH's. Sort out your roster and then use the ATH's to fill the gaps.
49. Zeke Martin
Offensive Lineman
Medina High School / Medina, Ohio
Junior (2 years to play 2)
Tom Cruises: 1.5
What I Know About Him:
I know he very surprisingly started the opening game last season. Two offensive linemen were suspended for the first quarter of the first game last year, so there was Zeke Martin in the starting lineup. He played that quarter, the suspended linemen came back for the second quarter and beyond, and Martin didn't play much beyond that for the rest of the season.
And I mentioned ATH's moving around above - it happens with linemen, too. Zeke was an offensive lineman his first (redshirt) year under Bill Cubit. Then he was moved to defensive tackle his second year (Lovie's first season). Then he went back to offensive line last year. So now he moves into his redshirt junior year and, for the first time, he's still at the same position.
What I Expect From Him:
As I've mentioned several times in this countdown, this is a big year for a lot of redshirt juniors. Scholarships are guaranteed for four years, but the fifth year is at the pleasure of the head coach. If you haven't found the rotation by your redshirt junior year, you likely won't have your scholarship renewed for a fifth year. It's just the way it works across college football. Your meeting with the head coach after the season determines whether you come back. He's not pbligated to keep you.
So for a guy like Martin, the time is now. The top six spots in the OL rotation seem to be set - Lowe, Allegretti, Kramer, Palczewski, Boyd, Cerny - but the seventh and eighth spots are wide open. Can a junior like Martin step forward or will some of the true freshmen come in and grab those spots? Big camp for Big Zeke.
48. Trenard Davis
Wide Receiver
American Heritage School / Boynton Beach, Florida
Junior (2 years to play 2)
Tom Cruises: 3
What I Know About Him:
This must be the "players who have been moved around by the coaching staff" section of The 90 Illini. Smith went WR to S. Martin went OL to DL to OL. And Trenard Davis has gone S ~> QB ~> WR.
He arrived with WR Desmond Cain from American Heritage in 2015 (Cain transferred to North Dakota State after two seasons). But a transcript issue meant that Davis couldn't join the team in August - he had to fix it and enroll in January. He had still attended training camp, so that counted as his redshirt year, which meant that his "first" year was his redshirt freshman season where he played safety. But once Wes Lunt and Chayce Crouch went down with injuries, Lovie was down to just Jeff George Jr. in the quarterback room, so Davis, a high school QB, was moved over to QB. Then, with the QB room of Crouch, George Jr, and Thomas last year, Davis moved to WR.
What I Expect From Him:
A statistic which might surprise some people - returning receptions from Wide Receivers last year:
Ricky Smalling - 31
Mikey Dudek - 24 (in 7 games)
Trenard Davis - 10
Carmoni Green - 8
Caleb Reams - 4
Sam Mays - 0
So it's conceivable that Trenard Davis is our #3 receiver this season and pulls down 30+ catches. Which means I probably have him way too low on this list. It's also conceivable that Carmoni Green makes a big leap, transfer Shaedon Meadors is a difference-maker, one of the freshmen (Sandy or Carter) is a pleasant surprise, and Davis is our sixth receiver in the rotation. Just never count out redshirt juniors. These are the years where guys sometimes make a giant leap for mankind.
47. Khalan Tolson
Linebacker
Admiral Farragut Academy / St. Petersburg, Florida
True Freshman (5 years to play 4)
Tom Cruises: 2.5
What I Know About Him:
Much like Trenard Davis, a transcript issue cost him a semester. He tried to enroll early in January but some admissions snag meant that he couldn't enroll until June. So he missed out on what could have been a very important spring for a freshman linebacker.
Because if there's any position on the field where a freshman could come in and make an instant impact, it's linebacker. Which is why he's one of the highest freshmen on this list. Quick, name the six linebackers in the two-deep without looking at a roster. Difficult, right? (The six I have right now: Phillips-Harding-Hansen, Knight-Marchese-Mondesir).
Now that he's on campus, I'm sure summer drills have shown him the opportunity that is there: a backup spot, maybe even a starting spot, up for grabs.
What I Expect From Him:
I look at this one like I looked at the defensive line last year. At nearly every turn - 4th-year junior Sean Adesanya or true freshman Bobby Roundtree? - Lovie went with "his" guys. So if it comes down to "his" guy Tolson vs. some of the Cubit recruits (there are no Beckman recruits left at linebacker besides walkon-turned-scholarship 'backer Marchese), I think Lovie will lean towards his guy.
Which is why I have Tolson in the top-50. Sure, he might not play (might even redshirt) which isn't uncommon for a freshman learning to read Big Ten offenses. If a guy wants to play right away as a true freshman in the Big Ten, I always think it's harder for a linebacker than any other position on the defense. SO many ways to get confused and be in the wrong gap. But the opportunity is there, if he shows the ability to make the correct reads, to get on the field right away.
46. Dawson DeGroot
Safety
Fort Meyers High School / Fort Meyers, Florida
Sophomore (4 years to play 3)
Tom Cruises: 2.5
What I Know About Him:
He was one of 16 true freshmen to start at least one game last year (and that's what he started - one game). So that gives him a big jump on the incoming freshman safeties.
Also, he did this in high school: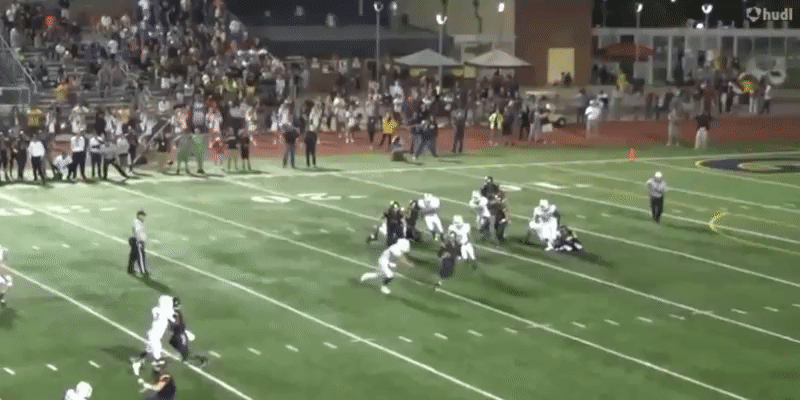 What I Expect From Him:
Big camp for him. This is the first time we'll get to see "Lovie guys battle Lovie guys for the backup spots". As I said above, Green and Williams are the certain starters at safety. But behind them it's anyone's game. Smith and DeGroot... and at least three of the incoming freshman defensive backs.
And since I have Smith at #50 and DeGroot at #46, I think I'm saying "I think that's a wide open battle". I'm just not confident that either sophomore has a backup spot locked down. The guys in the 30's - I think they're certain to be the first guy off the bench. In the 40's? Need to bring it at camp to hold off the incoming freshmen.