Looks Like University Of Illinois - Fabian McCray
Robert
Jul 06, 2018
[]
[]
5 Comments
This is the kind of battle we need to consistently win. West Virginia, Minnesota, Purdue, Rutgers, Kentucky, Iowa State... he picks Illinois. Continually win these, then continually win games, then continually beat out even better programs for even better recruits. Step 12: profit.
This is an interesting class because of the numbers. I've seen a lot of panic about being "behind" as schools like Purdue and Minnesota who have 19 recruits verballed, but I have this feeling that we're perhaps a little ahead of schedule? I need to take a few paragraphs and explain what I mean.
For starters, technically, we currently have two scholarships remaining for the 2019 class. There are two open scholarships on the current roster (83 total as of today) + eight seniors graduating. That's 10 rides to give out, and we now have 8 players verballed, so officially, there are now 83 scholarship players for 2019. We'll add two more and we're capped.
Now, we know that won't be the case. Spots in the 85 will open up the usual ways - transfers, redshirt juniors graduating after four years and moving on, etc etc. Here's a few ways that additional scholarships will open up:
Counting the two redshirt junior walkons who were given one-year scholarships for this year, there are 11 redshirt juniors on the current roster. Many of those players will return for their fifth years (some are starters) but some will not. Players are guaranteed four years of a scholarship but the fifth year is at the discretion of the coaching staff. Some of those players simply won't be back for the fifth year. That happens on every roster across the country every year.
A few players will transfer. If two freshmen from the 2018 class start playing in front of some sophomore, that sophomore is likely going to look elsewhere for playing time. Again, happens every year.
Other forms of attrition, such as discipline (players kicked off the team), academic casualties, medical hardships (retire from football), etc. There are usually 1 or 2 of those every year.
So no, the final number won't be 10. But it won't be 25 either. With the "blueshirts" we're bringing in, three or four players will have to count towards the 2019 cap (you can only "count" 25 players for each class), we'll be capped at 21 or 22 players for this class. So even if the attrition numbers above are crazy high (redshirt juniors departing, transfers, other attrition), we're still looking at a hard cap of 21.
And even if the space clears for 11 more spots and the class is 21 players, I don't think the staff will sign 21 this winter. You always want to leave one or two open through the summer in case of transfers. How awful would it be for another Camilo Eifler to be available next summer but we'd have to say "no thanks" because we're maxed-out at 85 scholarship players?
So I'd expect them to sign maybe 16-17 players this winter with one or two additional spots left open through the spring (making a class of somewhere around 19). That would mean there are nine departures after this next season. Let's say the number is 17, and we have eight players committed right now, so that's nine more available spots in this class. I think the staff will be very picky with those nine spots (and, honestly, it could only be six or seven spots).
Which means that we're already at the point where we were in the winter the last few years. Remember how Bill Cubit had to fill 15 scholarships in the 15 days before the February 2016 Signing Day? And how Lovie did something similar with his first class with ten rides left in January? I'll put it this way: assuming we'll hand out nine more scholarships, here's the date when we reached "nine scholarships remaining" the last three classes:
2016 class: January 24th
2017: January 15th
2018: December 15th
2019: July 2nd
Even if we max things out to 21 and say we currently have 13 rides left to give, we still entered December 1 each of the last three seasons with more than 13 scholarships to give out. So I think you're going to see things move fairly slowly the next five months. This staff likes their senior-year finds (like Bennett Williams and Alex Palczewski), so I think they'll want to discover a whole new crop of players this fall. Which means I think they'll go slowly.
Which means the ride that Fabian McCray received is fairly precious. It seems like he was one of their top targets all spring (along with his teammates Joseph Thompson, who has verballed to Illinois, and Jahleel Billingsley, who has gone from leaning towards Illinois to leaning towards Florida to leaning towards Penn State to leaning towards Alabama), so I'm sure this was a big one for the staff.
And, we need wide receivers. Three receivers graduate (Dude K, Mays, and 5th-year transfer Shaedon Meadors), so landing the top WR in the state was high on our list. Combine McCray with Bryce Childress and I think we're 2/3rds of the way there with the WR recruiting class.
On film, the thing that sticks out about McCray is his body control. The ability to stop and start. I'll show you what I mean: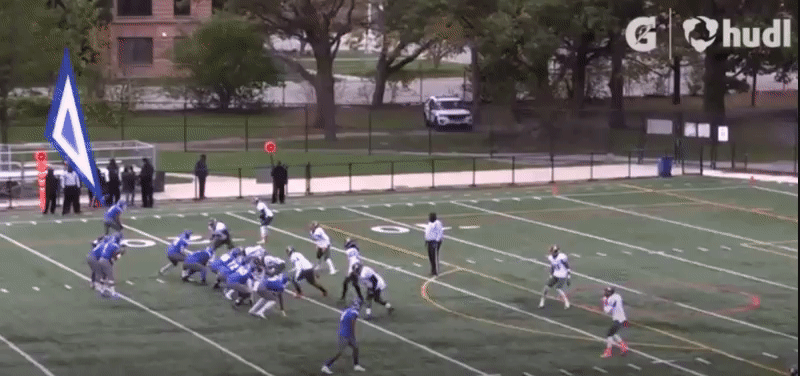 That's what I mean by "body control". Stop on a dime, let the DB fly by, hit the gas. There's a lot more to playing wide receiver (hands, gaining separation, blocking), but in the body control department, he has it.
And it's nice to get another player from Chicago's latest super program (Phillips). With two state titles the last three years (and three Division I players this year with more on the way), it's a good friend to make. There's positive buzz all around this commitment.
As for Tom Cruises, when I compare McCray to Bryce Childress, I like Childress a tiny bit more. Childress got 3.5 Tom Cruises, so I need to take a step back from that for McCray. Still a solid ranking, though.
Fabian McCray, three Tom Cruises.