Training Camp 2018 II - Friday Practice Thoughts
Robert
Aug 03, 2018
[]
[]
14 Comments
It feels so good to be back at practice. When you have a favorite thing on earth, and you get to do that thing, you feel like a kid again. I have so many practice thoughts. So naturally I'll begin by talking about... subscriptions. No, really - I'm starting by bringing up subscriptions.
I wrote a post in January of 2017 talking about how I do a disservice to this site and our other writers by never talking about our subscriptions. And how I was committing to more posts on that topic. And now it's been A YEAR AND A HALF and I haven't written about it since. Seriously - I've gone 18 months without a single article or tweet or blurb at the end of an article saying "we exist on subscriptions here, and we'd sure love it if you supported us. EIGHTEEN MONTHS and I haven't mentioned it.
I don't mention it because I feel like it's asking for money (because it is). I have a product, and I feel like it's a really good product, and I feel like my eye for Illini football practice is better than anyone on earth so it's a solid deal to offer that product for $24 per year, but still, I get to the point where I'm ready to write "please consider a subscription to IlliniBoard" and I can't do it. EIGHTEEN MONTHS of talking myself out of it.
So I made myself promise myself that I'd write about it before the first practice post. It's a post that I know many people read, so this is the best opportunity to talk about it. And even as I'm typing this my brain is screaming JUST DELETE ALL OF THIS AND GET TO THE FOOTBALL OBSERVATIONS. But a promise (to myself) is a promise, so here goes.
Please consider a subscription to IlliniBoard. It pays for this hotel room I'm staying in right now so that I can bring you these practice reports. It's $24 a year and I think that's a fantastic deal. I'm going to write 20-some posts in the next nine days about training camp, and you're going to want to read them all, and you'll need a subscription to do that, so go grab one here.
OK, finally done with that. Whew. On to the football. Let's just do a long line of plusses:
+ First off, I think this was The AJ Bush Practice. The one where I realized that this wasn't some washed up kid who didn't cut it at Nebraska or Virginia Tech and has no chance to cut it at Illinois. Watch five plays and you can tell why he was a four-star recruit in high school. A tall, fluid athlete who can roll out, throw the ball on the run, and do all the things a dual-threat quarterback needs to be able to do.
When he committed, I used this gif to talk about how his throwing motion couldn't cut it: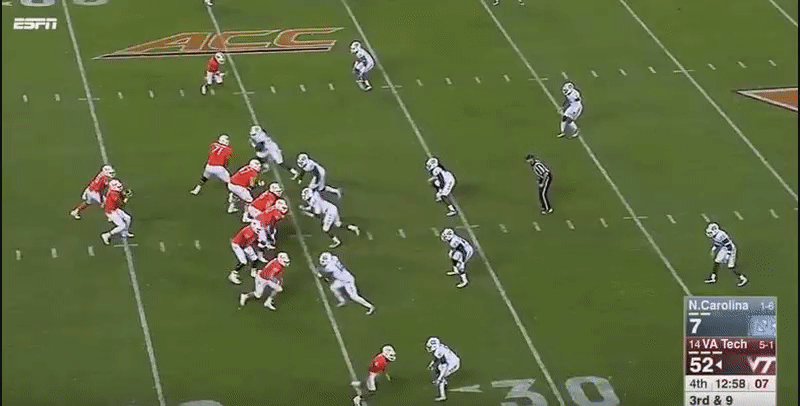 This is last year at Virginia Tech (he didn't win the starting job, and this was some mop-up time against North Carolina). As you can see he kind of stops short on his throwing motion. Normally you want to see your QB step through and fire that ball. On this throws (and on several other throws on his film), he doesn't do that.
Did he do that again this evening? Kind of. It's still a funny throwing motion. His arm is still ahead of his feet. I don't think the coaches are going to dig very deep into his mechanics. He is what he is, he has four months of football left, so they'll probably just let him throw like he throws.
But I have to say, even with that throwing motion, he made a lot of good throws. A lot of them. Like, a whole bunch. I was fairly shocked. You have certain expectations of certain players, and my expectation seeing AJ Bush for the first time was a QB with a bad throwing motion giving Power Five football one last (hail mary) shot. He was significantly better than that.
Does that mean he'll be the starter? No. The odds that he's the starter just took a significant leap in my head, but this was just one practice in shorts. There's still a long way to go, and the QB who can command the offense and not make mistakes will be the one who wins the job, and we have no idea if he can do that yet. But still... this was The AJ Bush Practice.
+ I spent a lot of time watching the QB's, obviously. When you go from one scholarship QB to five, you want to spend that first practice only watching the quarterbacks. Some thoughts:
Coran Taylor is thicker than I expected him to be. That's a good thing. This is not a comp - THIS IS NOT A COMP - but he's more Juice Williams than I expected. As in, stronger, muscular, run-over-people-instead-of-around-them Juice Williams. He certainly doesn't have Juice's arm, but I was expecting him to be in the Nathan Scheelhaase mold and he's more in the Juice Williams mold.
Matt Robinson is shorter than I expected him to be. This is not a comp - THIS IS NOT A COMP - but he's in the Jason Verduzco mold. Significantly shorter than all of the other quarterbacks, but surprisingly quick in the pocket. If you want your QB scrambling out of the pocket and trying to make plays with his feet like he's Johnny Football (Texas A&M Johnny Football, not Montreal Alouettes Johnny Football), then he's your guy.
MJ Rivers is taller than I expected him to be. Long legs, long arms - looks like a small forward from the basketball team playing quarterback. He's less athletic than the other four quarterbacks (I'd vote him least likely to take off and run), so he'll have to make up for that with his arm. And it's really hard to tell from one practice if he'll be able to make up for it with his arm.
If I had to handicap the QB race last night, I would have said Cam Thomas would be the odds-on favorite. After tonight, I'd say that Bush and Thomas are currently 1 and 1A. This is a true QB battle.
+ The offensive line for this practice was quite interesting. My post spring depth chart had the starters like this:
LT - Jake Cerny
LG - Alex Palczewski
C - Doug Kramer
RG - Nick Allegretti
RT - Vederian Lowe
The starters tonight:
LT - Vederian Lowe
LG - Kendrick Green
C - Doug Kramer
RG - Nick Allegretti
RT - Alex Palczewski
That's a significant change from the spring. Lowe from right tackle to left tackle? Palcho from left guard to right tackle? Kendrick Green moves over from the defense and immediately he's with the first string at left guard? INNNNNNteresting.
Again - just one practice. Will change a ton over the next month. It appeared that reps may have been limited for Jake Cerny, Larry Boyd, and Reuben Unije (which are sometimes as simple as a slightly twisted ankle or whatever). So players will rotate in and out of the first string right up until the Kent State game (and after). But for now, INNNNNNteresting.
+ Some players who stuck out, good and bad:
Liked what I saw from Dominic Stampley. He's the Champaign kid who went to a Kansas Juco and picked Illinois this summer. I gave him one Tom Cruise but that was not a one Cruise player. Muscular (can block) and quick (can catch).
Calvin Avery and Verdis Brown looked a bit overwhelmed. As can be expected for freshmen defensive tackles in their first ever practice. Neither stuck out like Corey Liuget or Akeem Spence stuck out all those years ago, so that was a bit of a disappointment.
Blake Hayes' golf bag of punts is crazy. The coach working with the returners wants something end-over-end near the sideline? Here you go, coach. A boomer spiral that they have to run back for? No problem.
Biggest transformation guy (body-wise) was probably defensive end Owen Carney. Really filled out over the last 12 months.
My guy linebacker Dele Harding wasn't getting the reps with the ones I was hoping he'd get. Just one practice, but that was disappointing. I was hoping he'd take one of the starting spots and run away with it.
Justice Williams made one of the best catches I've seen at any training camp. I need to seriously consider him as part of the wide receiver rotation.
+ Let's see, what else. I was curious where the freshmen/juco DB's would end up, and here's where they seemed to be today: Ron Hardge and Dylan Wyatt at cornerback, Delano Ware, Jartavius Martin, and Sydney Brown at safety, and Kerby Joseph and Nick Walker seemed to be playing at nickel cornerback. There's a chance all seven are at different positions tomorrow, but that's where they're starting out.
+ Linebackers Jimmy Marchese and walkon Drew Murtaugh weren't out there. I'm guessing they're suspended after their arrest for stealing a park sculpture this summer. Everyone else was on the field and practicing, so I guess those are the only two suspensions.
Well, not everyone was on the field. Freshman offensive lineman Kievan Myers wasn't out there. Lovie said after practice that Myers had the same issue as Ricky Smalling last year (still waiting for final academic paperwork to clear). Smalling made it by the fourth or fifth practice last year, so maybe that's the goal we should set for Myers showing up.
And the bad news after practice from Lovie - Appalachian State wide receiver transfer Shaedon Meadors suffered a "serious injury" over the summer and is out for the season. That's a really big blow - I had him in the starting lineup when we go three-wide (alongside Dudek and Smalling). Experienced guy, ready for one year of P5 football, and it's over like that. Sucks.
+ OK, I think that's it. Thanks for putting up with my subscription ramblings at the beginning. And seriously - if you're interested in supporting us by subscribing, or if you've let your subscription expire and want back in, please do so here.
More tomorrow.