Looks Like University Of Illinois - Reggie Love III
Robert
Apr 8, 2019
[]
[]
2 Comments
You have currently viewed 1 story this month.
IlliniBoard now offers two free stories per month, for more please subscribe.
So I had this intro written here at lunchtime and then ANOTHER four-star commits to Illinois just now (Jadon Thompson) so now I need to go back and reformat this whole thing because in the context of THAT commit this is now a different situation. The numbers down below will now reflect both Love and Thompson even though I haven't written the Thompson LLUOI yet. And I won't be able to write the Thompson LLUOI until late tonight because I have a ton of work to do. I could combine them, but each player deserves his own LLUOI. Because when you land a 4-star skill player, it's a big, big deal. And we've now landed two in the last 18 hours.
OK, so you know my 6.54 thing, right? Because Illinois fans are so used to college basketball recruiting, I developed this statistic to help understand what kind of recruit we're adding. There are 13 scholarships in basketball and 85 in football. 85/13=6.54. So take the composite ranking of the football recruit, divide by 6.54, and you have your basketball equivalent. Marcus Harper II is ranked as the #638 player in the 2020 class. That doesn't sound like much, but if you divide by 6.54, it's like landing the #98 basketball player. So Marcus Harper = Nnanna Egwu. A big man who is probably a bit of a project but has a very high upside with this athleticism.
As you also may know, with college basketball recruiting, I've been obsessed with the RSCI (Recruiting Services Consensus Index) for 20 years and I sweat it out when an Illini recruit is right on the edge of making the top-100 or not. To the point where I'm now email buddies with the RSCI guy and I ask him stuff like "how close did Tevian Jones come to making the top-100?" (he was #103, IIRC). Top-100 means there's a very good chance a basketball recruit will make an impact on the court.
And top-654 means there's a good chance a football recruit will make an impact. Players will bust (both sports), but fill your roster with a fair number of top-654 players and you're going to be in good shape. How does the Illinois roster look when looking for top-654 recruits? Here's how it lays out for 2020:
QB: Isaiah Williams (#116 in his class)
RB: Reggie Love (#337)
WR: Ricky Smalling (#358), Jadon Thompson (#302)
TE: Luke Ford (#51)
OL: Kendrick Green (#411), Verdis Brown (#343), Marcus Harper (#638)
DE: Owen Carney (#492), Moses Okpala (#544) (Keith Randolph just missed at #674)
DT: Calvin Avery (#216)
LB: Shammond Cooper (#286), Milo Eifler (#142)
CB: Marquez Beason (#99)
S: none
Obviously there are players who should have been top-654 recruits (like Bobby Roundtree or Mike Epstein), and there are top-654 players who didn't cut it and transferred (like Carmoni Green). But as a baseline, that's the roster as it currently sets up. We're adding "top-100" talent lately, and we're spreading it around to nearly all positions.
When you look at that list, I hope you see how massive it is to land a 4-star running back like Reggie Love. Let's just look at the next three years before this news.
2019 we are set. Reggie Corbin returns from his 1,000-yard season looking for 1,300-plus as a senior. Mike Epstein has a career YPC of 6.5 and would have two thousand-yard seasons if not for injury. And there are two solid backups in Dre Brown and Ra'Von Bonner.
2020 we still should be in good shape. Epstein is the feature back, Bonner is the backup. Need to find a third tailback from among the two project recruits in the 2018 class - Jakari Norwood and Kenyon Sims.
2021 is very thin. Maybe 2019 recruit Kyron Cumby is a tailback, but it's likely he's more the all-purpose back/slot receiver type. So we'd need a workhorse back, and that means one of the project recruits would have to pan out as a solid Big Ten running back.
Enter Reggie Love. Not only could he be that third tailback in 2020, he's talented enough to also be the likely feature tailback in 2021 as a true sophomore. We'll need more than just the two guys from the 2018 class and Love in 2020, but this is a massive step towards patching the running back hole after these two seniors and two juniors depart the program.
What kind of tailback will he be? He's more the quick burst and gone type, although he's quite compact and can break a few tackles. He doesn't run many people over on film, so some points off for that, but the gif below shows his plus skill. After flying through a big hole, a simple adjustment downfield to slip between the corner and safety and take off: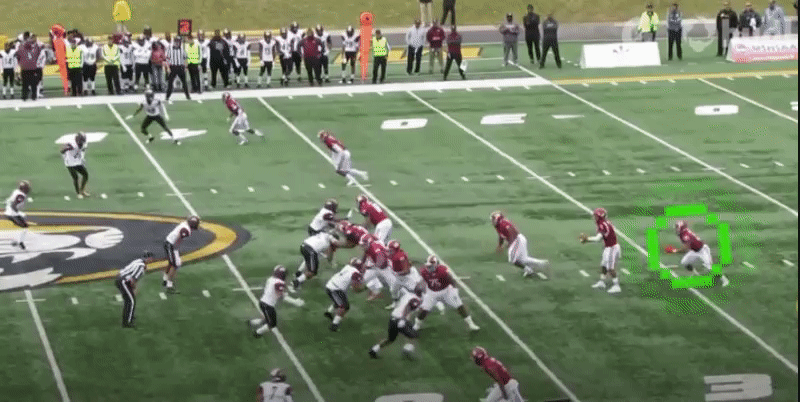 Again, I'd like to see a little more tackle-breaking on film. Anyone can run past people in high school - in college you'll have to escape their grasp. But he's a solidly built individual with really strong legs, which is why he had the offers that he did.
Those offers? Notre Dame, Wisconsin, Nebraska, Penn State, Arkansas, Tennessee, Iowa, Kentucky, Minnesota, Louisville, and so on. Any tailback pursued by that list is the type of tailback who can win the starting job in his second season. And that's exactly what we needed in this class.
(Also, for the ninth time - could I have BEEN more wrong about Cory Patterson? To deliver Isaiah Williams, Shammond Cooper, and now Reggie Love, not to mention Moses Okpala and Keith Randolph - what a great hire.)
Tom Cruises seems easy. Sometimes, when I'm stuck between 4 and 4.5 Cruises, I pull out the quarter-Cruise images. And that fits best here.
Reggie Love III - Four and one-quarter Tom Cruises.