Looks Like University Of Illinois - Quinton McCoy
Robert
Jun 13, 2019
[]
[]
2 Comments
Let's paint the picture here. It is 8:30 pm. Game 7 of the Stanley Cup Finals is going on. I am not watching. I'm writing this post. I'm following the score, and I know when the Blues score because my neighbors make a whole lot of noise, but I am not watching.
As a St. Louis guy, I'm nervous, of course. This city needs this so bad. These Blues fans deserve this. I have friends who have lived and died (mostly died) with the Blues for 40+ years. I did the research a few years ago to find that the Blues were tied with the Atlanta Hawks (also a former St. Louis team) for the worst playoff series winning percentage in sports (minimum 10 appearances, I think). The Blues have since passed the Hawks (especially with these three, hopefully four, series wins this year), but it's still a history of not even reaching the finals (let alone winning) in the last 38 appearances. Until this year, obviously.
So these fans deserve this. And right now, the Blues are up 2-0. I need to do some research for this post, so I'm guessing it takes me an hour and a half to write, so I'm guessing this game will be over by the time I'm finished. I have friends at the Busch Stadium watch party, I have friends at the Enterprise Center watch party, I attended game watches for games 2 and 6 and hosted one for game 3, but tonight, I'm following along with score updates on my phone.
Why? Well, that's how I follow the Blues throughout the season so it feels right for Game 7. I have my app (I use The Score) set to give me updates on every goal. As a college sports guy, I mostly want to see the Blues win for my friends and family who are rabid fans. My middle son, the one who lives out west but attends Blues games when he's back in town, texted me to see if I was watching. I told him I wasn't. He told me "keep doing that. whatever everyone is doing they need to keep doing it". I shall oblige.
If I did turn it on, I'd mostly be nervous and confused. That "I'll scream 'tackle him' every play because I'm not really sure what's supposed to be happening out there" college football fan? I'm a "tackle him" hockey fan. Oh God, was that a penalty? What is happening? THEY HAVE THE PUCK WHY DO THEY JUST DUMP IT IN AND CHASE AFTER IT??
So, I made my decision today to write instead of watch. To "scoretracker", like I usually do. To hope that my friends who are 20 times the Blues fan I am get the thing they've always wanted. I'm at peace with "if you don't watch then you don't get the full jubilation of the win!". I want my sons to experience their first real sports jubilation (the older two kinda understood the 2011 Cardinals, but this would be the first full SPORTS experience). And then I want my jubilation when we A) win a Rose Bowl and B) win a basketball national title.
One more note before getting to Quinton McCoy. The Cardinals game is going on right now. It's in the 9th, so I'm going to get a score update when the Cards game is over. Which means the screen will light up on my phone and I'm going to think it's a Blues update. And as my brain goes through "it's either 3-0 or 2-1", I'll see that it's just the Cardinals score.
And as I was typing that, the Cardinals final score popped up. That was anticlimatic. Good.
OK, so Quinton McCoy. I love this pickup. I checked out his film a while back after I saw that we had offered and I was a huge fan. Football is a sport that needs to be played with violence - not targeting violence, but aggression on every play - and this kid's film is aggressive. Here are a few examples.
Shed the center with your left hand to fill the running lane and then attack: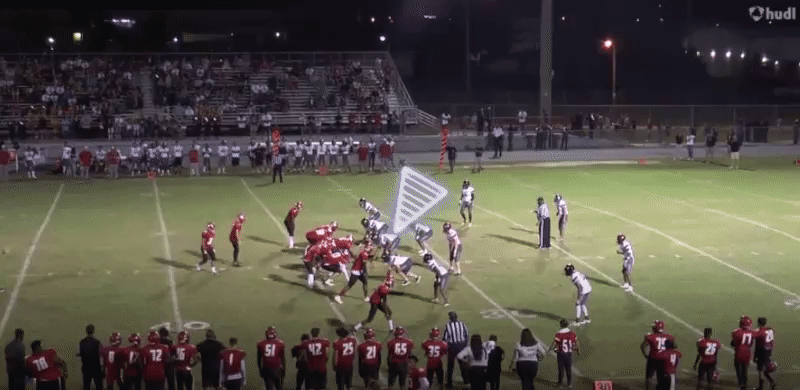 (Update: it's 2-0 Blues in the second intermission. Here's to not getting another score update for the rest of the game.)
Here's another one where McCoy was playing defensive end (looks like he plays DE and DT in high school but projects as a defensive tackle here). So many high school defensive ends will try to tackle in this situation - McCoy realizes that a well-placed hit will bring an end to the play: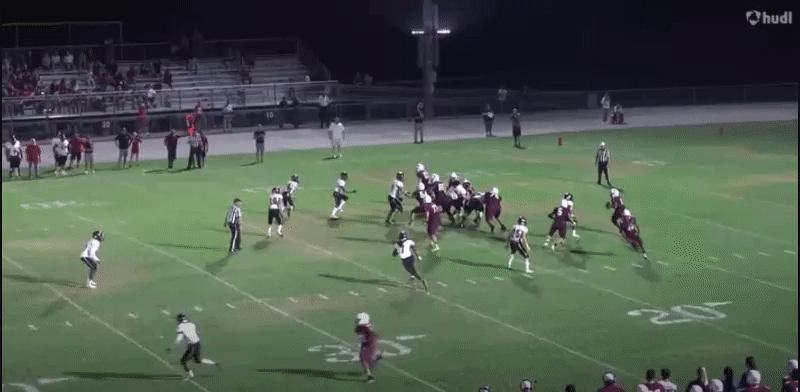 I know, I know - a strong Michigan tailback will bounce off that hit and stay on his feet. I'm not really pointing to technique here. I'm pointing to aggression. His entire Hudl film is full of aggressive plays. I like that.
It reminds me of Antonio Shelton. Shelton was my highest-rated recruit (Cruise-wise) in the 2016 class, but he never made it to Champaign. He committed to Tim Beckman in June of 2015 but flipped to Penn State in January of 2016. As I recall, it wasn't exactly an "I don't want to play for Cubit" thing as it was that Michigan flipped a defensive tackle from Penn State so Penn State flipped a defensive tackle from Illinois. Shelton redshirted at Penn State, played in six games as a redshirt freshman, played in all 13 games (with one start) in 2018, and is slated to be a starting defensive tackle for PSU in 2019 and 2020. I gave him 3.5 Cruises (foreshadowing!) even though he was a low three-star, mostly because of his aggressive film.
I did a little research on McCoy's high school team. I sometimes worry that film might be lying to me and I'm watching small private parochial school film when I think I'm watching typical Florida high school film. Looks like Florida has eight classes (like Illinois) and McCoy's team (Bloomingdale High School in Valrico, Florida, home of one Nick Smith) is in Class 7A. AND, they made it to the state quarterfinals last year, so this film is McCoy playing against some of the best teams in Florida. That's enough to put my "am I being fooled by the film?" concerns at ease.
(Holy crap 3-0 Blues.)
The other concern I have here - someone flipping him like Shelton was flipped. Scrolling back through his Twitter, were McCoy's first P5 offer, and before making his decisions he visited Kentucky, Louisville, and Illinois. He had a first wave of MAC offers and Sun Belt offers, then a second wave of Illinois-Iowa State-Louisville, and that can sometimes be followed by a third wave of Michigan State-Penn State-Florida. Hopefully that does not happen.
(4-0 Blues. Uh... I think I need to watch the Blues lift the Cup and then call some family members. BRB.)
OK so it's more than three hours later. Group phone call with my wife and middle son. Texts with friends and relatives. Fireworks outside my building. Sirens and flashing lights down the street right now. There are so many people I'm so happy for at this moment. And I really, really need that Rose Bowl/basketball natty. Aston Villa gets promoted, the Blues win the Stanley Cup - I'm so hungry for some actual Illini success.
Let's see... is there anything more I can say about McCoy? Love the film, Shelton comp, hope the big boys don't get involved... I think I covered it. Really like this pickup. And I already spoiled the Cruises.
Quinton McCoy - Three and one-half Tom Cruises.