Looks Like University Of Illinois - Josh Imatorbhebhe
Robert
Jun 18, 2019
[]
[]
6 Comments
You have currently viewed 1 story this month.
IlliniBoard now offers two free stories per month, for more please subscribe.
First off, I looked up a video of him pronouncing his own name. There's a slight emphasis on "mah" and then a solid emphasis on "baybay". So it's "imm-Ah-tor-BAY-BAY". That's always a good starting point. Will we hear that name pronounced a lot by Gene Honda this fall and next fall? I'm not so sure.
Let's start with this. I was looking for info on Michigan transfer Brandon Peters today and I landed on this article. In it, all of the Michigan players who transferred out this offseason are listed. Here they are, with their destination schools:
DL Ron Johnson - Rutgers
WR Oliver Martin - Iowa
DL Reuben Jones - West Virginia
DB Benjamin St. Juste - Minnesota
DB Myles Sims - Georgia Tech
OL Nolan Ulizio - Pittsburgh
LB Drew Singleton - Rutgers
OL James Hudson - Cincinnati
RB Kurt Taylor - Iowa Central (Juco)
DL Aubrey Solomon - Tennessee
QB Brandon Peters - undecided
That's kind of the market here. Kids who get the "I'll be honest son, you're probably not going to play much" speech transfer away from blue bloods and programs on the next rung often snatch them up. We're not alone in playing this field. It happens more and more every year.
And our connections are heavily USC. CB coach Keynodo Hudson was there for six years and DL coach Austin Clark was a GA there before coming to Illinois. So as these guys enter the transfer portal, we have connections to make inroads right away. Imatorbhebhe is the third USC player to pick Illinois this offseason (and there was nearly a fourth in QB Matt Fink).
On the flipside, there's a reason these players are dropping down a rung. Sometimes, programs like USC or Michigan are more than happy to see their second and third string players move along - more room for more 5-stars. An ideal scenario for a Nick Saban or a Dabo Swinney is to bring in a class of 25, find the 15 players you can definitely use, and then get the 10 you can't use to transfer somewhere else so that the next class can be a full 25 players (where you'll find the 15 you can use and the 10 you can't use.....).
Of course, how many times have we watched an Illinois/Ohio State game and said "is there a single Illinois player who would start for Ohio State?". That would seem to suggest that it's very smart business for a team like Illinois to pick though the discount bin at USC. If there's not a single Illini player who would start at USC, maybe some of those second string guys at USC might start at Illinois.
So that's how I view all of this. No, I don't think it's "these players are complete busts and we shouldn't be chasing them". Nor is it "this was a top-200 player in high school and he's definitely the same level talent now". It's somewhere in the middle. And, for a season like this, especially with our wide receiver trouble, it's smart business.
OK, so what kind of player are we getting? Style-wise, Josh Imatorbhebhe is the Rejus Benn type. No, he's not Rejus Benn (not at all), but he's that type of physical receiver. Going back to his high school film, the best snippets are when he does something like this: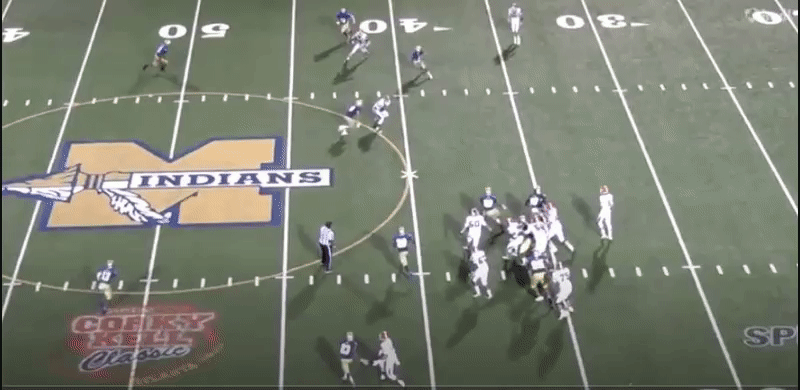 That's Rejus against Penn State, right? (The TD reception, not the kickoff return.) Big, strong guy spins out of tackles and keeps going.
Problem is, he has to get open first. (Also, someone has to throw him the ball.) And I think he'll struggle getting open (also, we'll struggle getting him the ball because we only have three freshmen quarterbacks).
Why do I think he'll struggle getting open? This is lame, but it's because... he runs funny? He's just not a very fluid athlete. Again, this is going back to his high school film, but I don't see a receiver when I see this: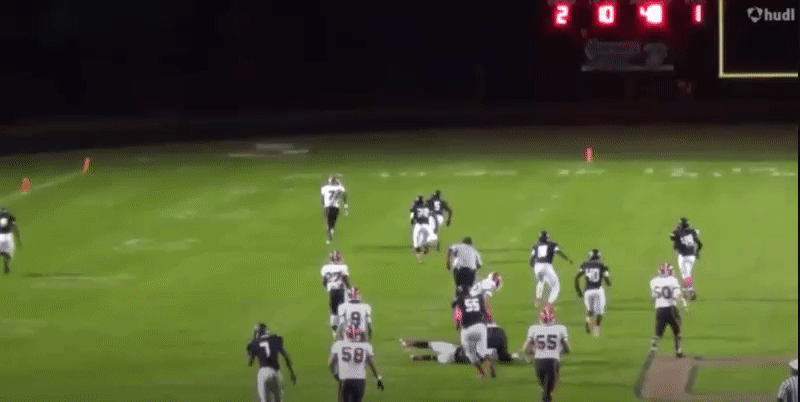 For receivers, I want fluidity. That's why I really like Trevon Sidney (another USC graduate transfer who is coming to Illinois). He's really smooth in and out of his cuts. I just don't see that with Imatorbhebhe.
Which, since this is college football and not the NFL, he doesn't really have to have. It's nearly impossible to find wide receivers who can block in college, and a guy like this - so big, so strong - looks like he'd be a great blocker.
I mean, in high school he was invited to "The Opening" finals (a national camp for 4-stars and 5-stars) and he came away with the third highest rating at the event (40-yard dash score, shuttle run score, etc). This is a freak athlete we're landing. He went viral back in 2015 when he "floated" in this video. On the bigger/stronger/faster scale, he's off the charts. If we lined up the entire roster and put them through the full set of NFL combine drills, he'd be in the top three on the entire team.
But... that doesn't necessarily mean "football player". He had two catches in two seasons at USC. He was buried on the depth chart. Yes, they have crazy talent at WR, but some guy who was top-3 nationally in combine numbers should have more than two catches after three seasons (one a redshirt year).
So where does that leave us? Right down the middle. He's a plus athlete who will out-jump and out-muscle most of our roster. But a few of the walkons might play in front of him because, thus far, he hasn't proven that he's a college wide receiver. Give him the ball on a three yard curl route and he might break seven tackles and gain 21 yards. But he also might not get open for that curl route, unable to gain separation from an Akron cornerback.
Which means I'm going right down the middle with Tom Cruises. I gave Sidney 3.5 Cruises and Betiku 3.0, but I can't go that high for Imatorbhebhe. He'll be one of the best athletes on the team, but I'm not sure he can have that breakthrough moment as a wide receiver. So....
Josh imm-Ah-tor-BAY-BAY - two and one-half Tom Cruises