Looks Like University Of Illinois - Brandon Peters
Robert
Jun 19, 2019
[]
[]
17 Comments
You have currently viewed 1 story this month.
IlliniBoard now offers two free stories per month, for more please subscribe.
Remember the day Wes Lunt picked Illinois? Remember how jacked we all were? Well, Wes Lunt II just picked Illinois. And the fanbase - beaten down by the last five (ok 25) years - is nowhere near as jacked. For good reason. But, um, this kid is pretty good at throwing footballs. He just might not fit. This is going to be a long one, so buckle up.
Wes Lunt, he of the giant arm (you might recall I made the same "I mean, he doesn't have a GIANT ARM it's just that he can throw the ball really fast and far but if he did have a giant arm that would be funny" joke 15 times), was a four-star quarterback from Rochester who left the state to play for Oklahoma State. And as a freshman, he won the starting job. But then he got injured after the first three games, lost the starting job, and by the end of the next spring, he was the third string quarterback as Oklahoma State had moved on to Clint Chelf and JW Walsh. He chose to transfer to Illinois.
Brandon Peters, he of a giant arm (it's not really a GIANT ARM), is a four-star quarterback who left the state of Indiana to play for Michigan. As a redshirt freshman, he won the starting job for the final four games of the season. But then he got injured, lost the starting job, and by the end of the next season, he was the third string quarterback as Michigan had moved on to Shea Patterson and Dylan McCaffery. He chose to transfer to Illinois.
I mean, it's kind of eerie. Go watch this interview with Peters. Could he BE any more like Wes Lunt? It's like he's Lunt's younger brother or something. The same steady (some might say flatline) personality, the same "can you speak up it's hard to hear what you're saying" interview style, everything.
So, where does that lead my thoughts? I'm sure nearly every Illini fan ends up in the same place: "The last time we saw Wes Lunt, he was running Garrick McGee's (supposed) run-first offense, and a big-armed pocket QB running a run-first offense is just not a good fit". Because it wasn't a good fit. Lovie arrived and said "we're going to establish the run" and then we tried to establish the run, but it's really hard to establish the run when the read option really only has one option.
(Yes, I will get to the "Peters can probably run a little better than Lunt" part of this. As well as the "Peters doesn't really have Lunt's ability to throw 25 yards back across the field to the opposite sideline on a rope" part. Just not yet. I'm on a roll here.)
As you probably know, I have one goal with Illini football. Establish one thing, recruit to it for five years, see where you're at. We've spent the last few decades doing the "sign Aaron Bailey, switch to a pocket-QB offense a few days after Signing Day" thing. It's always the next thing that's going to fix us. I simply long for "here's who we are" followed by recruiting to that thing.
This is not that. This is recruiting Kurt Kittner and asking him to do what AJ Bush did last season. Kurt Kittner was our best quarterback of the last 25 years, but Kittner couldn't have done what Juice did in the Locksley offense. Nor could Juice have done what Kittner did in the Turner offense. You establish your offensive identity and then you recruit to it. Neither Juice nor Kittner would have performed well in the other guy's offense. They were both recruited to do a specific thing.
As was Isaiah Williams (not Juice - The One). Rod Smith becomes the offensive coordinator, and Rod Smith adds both AJ Bush (for 2018) and Isaiah Williams (for 2019 and beyond) last spring. That's an offensive coordinator choosing the type of QB he wants to utilize. (And, it should be noted, Rod Smith added Matt Robinson for the 2018 class within a few days of getting the OC job. He's added three QB's, all more for their feet than their arm.)
Now he's added a throwing QB. With a GIANT ARM. (Actually, going back to the GIANT ARM joke over and over is probably getting you a bit lost. When I compare Peters to Lunt, it's because both QB's have most every throw in their arsenal but might not be able to run the read-option stuff. Juice had a rocket launcher but accuracy and touch were the issues. Kittner didn't have Lunt's tight spiral fastball but his touch was insane. Peters probably doesn't have Lunt's laser beams either but might throw a much better deep ball and his release is just as effortless. All have their strengths and weaknesses, but when we group them in two categories, Juice and AJ Bush and Matt Robinson and Isaiah Williams fall in the "plus feet" category and Kittner and Lunt and Peters fall in the "plus arm" category.)
Can Rod Smith win with a "plus arm" guy? I'm not sure. The 2016 offense still haunts me (not Rod Smith, but stay with me). Lunt would turn, put the ball in the tailback's belly, and no one in the stadium thought he would keep it. That defensive end he's supposed to "read" on a "read option" wouldn't ever consider the possibility that the QB was going to keep it. The QB was never, ever going to keep it. As a result, the running lanes just weren't there. I'll quote the quote I've written here 25 times: in a spread offense, when your QB can't run, you're playing 10 on 11 football.
OK, I've finally arrived at what I promised to get to. Can Peters run? He's certainly not Matt Robinson or Isaiah Williams - short, fast QB's who provide some slot receiver-like "he's in open space now - watch out" fears for defensive coordinators. But he might be, say, MJ Rivers, who was a throwing quarterback but could at least keep you honest with his feet from time to time. Rivers didn't light anyone up with his feet last year - 49 carries for 65 yards (keep in mind that number includes 11 sacks) - but he would at least pull it and run (something Lunt never did).
I think we saw the limitations of the offense with an MJ Rivers at the helm in the Maryland game. Rivers got the start and ran it 8 times for 23 yards (2.9 ypc) as the offense bogged down. The coaches put in AJ Bush in the second half, he snapped off that 13 yard run, and the offense looked different the rest of the game. As I recall, I wrote at the time that Corbin's 70 yard touchdown on the next drive was specifically related to the defense thinking Bush might keep it. Bush won the job back in that second half and started for the rest of the season.
Maybe I put too much weight in moments like that - maybe my "SEE??" at that 13 yard run was over-emphasized - but that's the reason I'm so "a QB in this offense HAS to be a runner or it all breaks down". Corbin could find no holes in the first half against Maryland with Rivers under center, we put in Bush, he rips off one run, the defense has to stay honest, and Corbin breaks off a 70-yard touchdown. (Rivers was also 3 for 13, so nothing was keeping the defense honest).
Can Peters keep the defense honest? I really don't know. I did some research and found this quote from when Peters was in the Elite 11 quarterback camp back in 2015:
As a player, meanwhile, Peters simply does not get enough credit for his athleticism. "He's a freak," (former NFL quarterback Trent) Dilfer said, calling him likely the best overall athlete in the competition. That doesn't always show up during instruction, but this will be evident during the 7-on-7 events later this week. In my eyes, Peters is a tent-pole quarterback for Jim Harbaugh and Michigan -- the sort of player the new staff can build a program around.
Two things:
1. No one ever called Wes Lunt and athletic freak, so no, he's not "I'm never going to run" Wes Lunt. I'm going to totally regret taking that angle by the end of this post.
2. He wasn't a tent-pole quarterback for Jim Harbaugh at Michigan. He fell well short of that, they moved on, and now Peters is transferring to Illinois.
Why did he fall well short? Well, as unfair as it probably was, it was the Outback Bowl on January 1, 2018. Michigan began the season with Wilton Speight as the starting QB and John O'Korn as the backup. Peters was the redshirt freshman third-string guy. Speight got injured, O'Korn was ineffective, so after Michigan was absolutely destroyed by Penn State, Peters was named the starter. He led them to wins against Rutgers, Minnesota, and Maryland before getting injured in a loss at Wisconsin. Healthy again, he regained the starting spot for their bowl game against South Carolina.
Where he was... ineffective. I actually watched that Outback Bowl and Michigan choked it away. They led 19-3 late in the third quarter when South Carolina scored to make it 19-9. Peters fumbled on the third play of the next drive and South Carolina scored in one play to make it 19-16. Michigan's drive stalls, they punt, South Carolina scores again to go up 23-19. Michigan is driving, down to the South Carolina 5, and Peters... throws an interception in the endzone. Ballgame.
That's probably enough to lose the starting job at Michigan. They had signed Christian McCaffery's little brother (the #5 QB in his class), they got 5-star Shea Patterson to transfer from Ole Miss, and by the time the next season starts, Brandon Peters is the third string QB (as a sophomore). This spring he announced a transfer, yesterday he announced it would be Illinois.
All of that to say... I don't really know what to think. After starting four games for Michigan, Harbaugh & Co decided that he wasn't the future and immediately grabbed Shea Patterson from Ole Miss (and an eligibility waiver). It's the spring of Peters' redshirt freshman year and he's already passed over. He stuck around to compete in the fall, found himself falling as far as fourth string, and now he's out. That suggests a player who had his shot and proved to not be a Big Ten quarterback (see: O'Korn, John).
But he can also effortlessly throw this pass without having to wind up and launch it.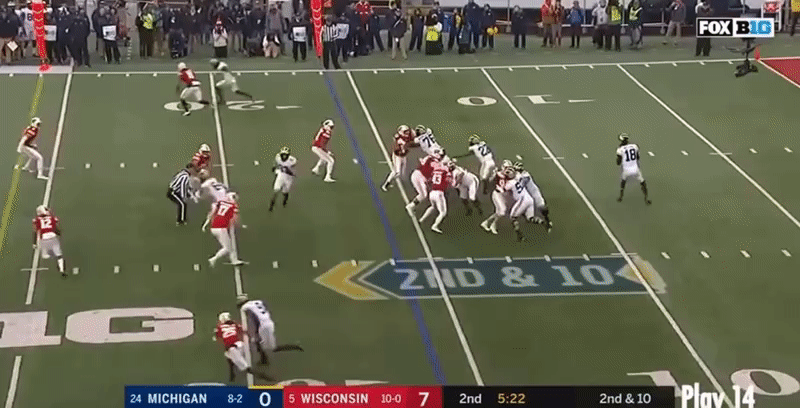 And he can zip one underneath like this. I criticized MJ Rivers' throwing motion quite a bit (for leaning over to throw like a relief pitcher), but this clip of Peters below is just "plant your feet and zip it". 3rd and 9, pass rush coming, calmly step up into the pocket and throw for a first down: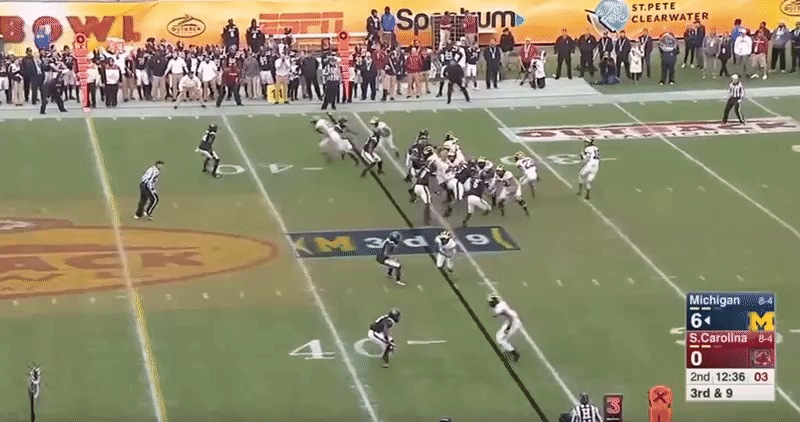 Just from throwing mechanics and footwork, you can see why he was a top-100 recruit in high school. College coaches don't look at high school stats. They look for quarterbacks who throw the ball effortlessly. They will then take that and build a college quarterback.
Jim Harbaugh took that, attempted to build a college quarterback, and discarded it. Lovie Smith is picking that up and placing it into an offense that asks the quarterback to run. If he's the "athletic freak" that Trent Dilfer said he was, maybe it works? If he's Wes Lunt, Lovie likely moves on to Isaiah Williams sooner rather than later.
The biggest plus here, for me: we are no longer going into the season with three freshman quarterbacks. The plan was to go into the season with a junior, a sophomore and some freshmen, but the junior (Cam Thomas) and the sophomore (MJ Rivers) both left. Three freshmen is a dangerous no matter who you are, so adding a fourth-year junior (with a GIANT ARM) is huge. The fact that he graduated early and has two years of eligibility is a big plus. If nothing else, he's upperclassman cover until one of the guys with (FR) behind their name gets a (JR) behind their name.
Tom Cruises. For me, the comp here is still 2016 Lunt. Pro QB in a dual QB offense. That went... poorly the first time. If Peters can be more like MJ Rivers, it's a step forward (run enough to keep people honest), but it's still not what AJ Bush (or, hopefully, Isaiah Williams) provides in this offense.
Bottom line, the perfect transfer quarterback for this offense would have been Khalil Tate, and Peters isn't Khalil Tate. He's a different type of QB than we've been recruiting, and we're now going to attempt to shoehorn him into this system. I'm not sure that will go well. BUT, he does have better mechanics than anyone we've had since Wes Lunt, so maybe Rod can build something from that. I'm skeptical, but hopeful. Always hopeful.
Brandon Peters - a hopeful three Tom Cruises.