Robert
Jun 24, 2019
[]
[]
10 Comments
You have currently viewed 1 story this month.
IlliniBoard now offers two free stories per month, for more please subscribe.
Worth noting: with the two transfers joining in the last week (Josh Imatorbhebhe and Brandon Peters), I'm now in a position where I won't have spots for them in The 90 Illini. I'll have a spot for one of them - when I made the list I put "transfer QB" at #10 as a placeholder - but I won't have spots for both. The countdown has already started, so I can't just go bump everyone down a spot. Which means I'll have to see if any more players leave (hopefully not) and then fill in their spot with Imatorbhebhe. Ah, the perils of the 90i.
75. Kurt Gavin
Offensive Guard
Lincoln Way East High School / Frankfort, Illinois
Junior (2 years to play 2)
Tom Cruises: 2.5
What I Know About Him:
I know I don't want to have him down here at #75. The absolute best case scenario for Illini football in 2019 is if the two remaining Bill Cubit OL recruits (Gavin and Jake Cerny) both take massive steps forward. (Note: Doug Kramer was technically a Cubit recruit - Cubit had offered a grayshirt spot so that Kramer could join the team the following year - but Lovie looked at him after he took over and put Kramer on immediate scholarship that first fall).
As you probably know, Lovie turned to Lovie recruits on the offensive line almost immediately. This year, after just three recruiting classes, his line will be four 2017 recruits plus a 2019 grad transfer recruit. The linemen in Beckman's 2015 class (Megginson, Solomon, Martin, Heath, Brennan, Fagan) and Cubit's 2016 class (Cerny, Gavin, Trainer, Fish, Lee) have resulted in what - maybe 15 total starts between Megginson, a few from Brennan, one from Fagan, and a few from Lee? In a typical situation, this 2019 line is full of redshirt seniors and redshirt juniors from that class, but that's just not how it worked out. The vast majority of those players transferred out. Meaning there's one redshirt junior (Kramer) plus Lovie's recruits.
And that, so far, has put Gavin on the outside looking in. Which is why I have him down here at #75.
What I Expect From Him:
I guess I can't say I "expect" this, but I would love love love to see a Chris Boles scenario. Completely forgotten, supposedly passed over by all of the younger recruits, and then, out of absolutely nowhere, Boles starts all 12 games in 2015 after playing in four total games (zero starts) his first four seasons.
Maybe next year is the year that could happen for Gavin (Boles was a fifth-year senior that season; Gavin is a fourth-year junior this season). But it really is a best-case scenario. If Richie Petitbon can't be the replacement for Nick Allegretti, we're going to turn to someone on the bench, and the best-case scenario would be a fourth-year kid like Gavin instead of a second-year kid like Kievan Myers or Jordyn Slaughter.
Do I expect it? No. But I'd love to see it.
74. Seth Coleman
Defensive End
Holy Trinity Episcopal Academy / Melbourne, Florida
True Freshman (5 years to play 4)
Tom Cruises: 3
What I Know About Him:
I used my one-time Tom Cruise exemption on Coleman over the winter. Each year I reserve the right to boost the Tom Cruises of one recruit after senior film comes out, and this year it was absolutely Seth Coleman. His senior film was - what would my youngest son say - fire?
Also, never forget: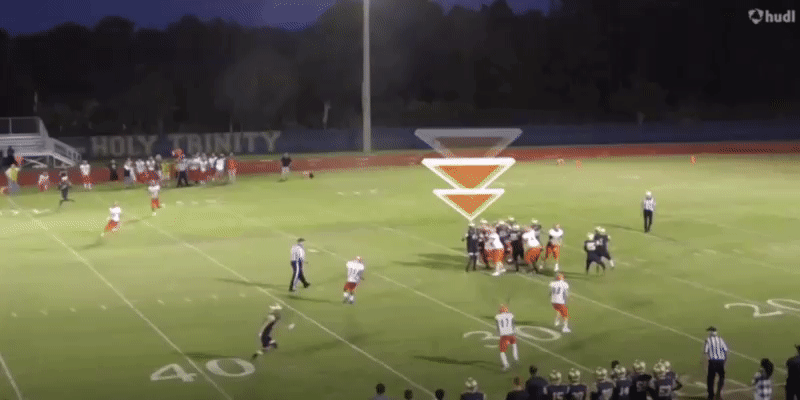 That's a defensive end doing that. And please note the forced fumble at the end. If you're 6'-4", over 200 lbs, and can run like that, with a frame that can probably take 35 more lbs, well, watch out.
What I Expect From Him:
Adding the 35 lbs. That's the first order of business. And that's why he's at #74 on this list. He's probably 210 lbs. right now and his eventual playing weight will be 240-ish. So get to eatin' and liftin', kid.
I should note though, with Bobby Roundtree's injury, it's likely that one of the freshman defensive ends finds their way into the rotation this season. It's probably more likely that it's someone like Moses Okpala because he already has the size. But if they're looking for some speed off the edge on the weakside, it could very well be Seth Coleman.
73. Joseph Thompson
Defensive Back
Phillips Academy / Chicago, Illinois
True Freshman (5 years to play 4)
Tom Cruises: 2.5
What I Know About Him:
I'll be very interested in seeing where he ends up. If I could pick, after watching his film, I'd place him at free safety. But it's very possible he ends up at cornerback. There's even a slight chance (at least in my mind) that he takes the Trenard Davis path and eventually ends up at wide receiver after a few years trying every spot in the defensive backfield.
It's probably my depth chart gazing that has me placing him there. I think we know the cornerback rotation (Nate Hobbs, Jartavius Martin, and Marquez Beason with the fourth spot being a competition between guys like Nick Walker, Ron Hardge, and Dylan Wyatt). I don't think we know the fourth safety yet. It's Tony Adams, Stanley Green, Sydney Brown, and... a fourth guy. Could that fourth guy be true freshman Joseph Thompson?
What I Expect From Him:
That fourth guy probably won't be Joseph Thompson. It's probably Kerby Joseph or walkon Michael Marchese. And Thompson probably ends up at corner battling with the guys listed above.
Which means my expectations would be "a redshirt". Maybe a Jakari Norwood-like redshirt where he plays in four games but keeps his redshirt thanks to the new rule. He's a guy who will fall in the "let's find out where he eventually lands" category, so the first year should always be a redshirt year. No reason to use him when you don't know how you're going to use him yet.
72. Kyron Cumby
Running Back/Slot Receiver
Plano High School / Plano, Texas
True Freshman (5 years to play 4)
Tom Cruises: 3
What I Know About Him:
I know that the answer to "is he too small to play college football?" is simply this gif: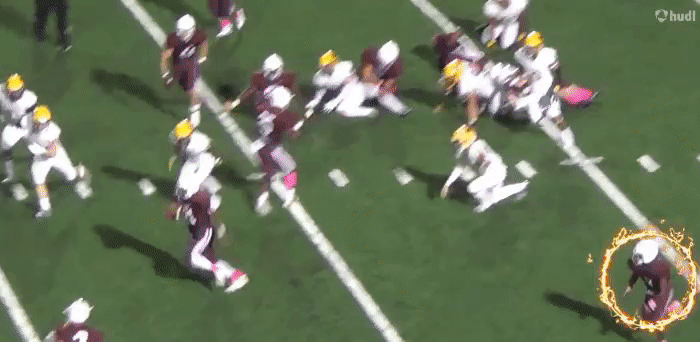 But seriously - he's listed at 5'-7". But he might be closer to 5'-6"? Maybe even 5'-5"?
How can someone that small play college football? Because he ran a 10.42 100m dash this year in high school track. And when you're that fast at that age (with legs that short), college coaches can find a spot for you on the field.
What I Expect From Him:
Man, I don't know. Is he a running back? Slot receiver? A little bit of both?
Also, if he's a running back, can he block anyone? Because if he can't, he's never going to play. You have to be able to pick up a blitz if you're the tailback.
Also, if he's a slot receiver, can he block anyone? Because if he can't, he's never going to play. You have to be able to block the linebacker sometimes lined up across from you if you're the slot receiver.
So I really don't know what to expect. I really need to see him in person. There's a chance he's a speedy guy that Rod Smith can use right away. There's probably a better chance he redshirts while they add some muscle to his frame.
71. Marc Mondesir
Outside Linebacker/Defensive End
St. Rita High School / Chicago, Illinois
Junior (3 years to play 2)
Tom Cruises: 1.5
What I Know About Him:
In my opinion, not redshirting a kid like Mondesir is unfair. I get that we needed bodies in 2017, even on special teams. But for a tweener guy like Mondesir - is he a linebacker or a defensive end? - having him figure it out while his clock is ticking seems unfair.
Because these first two years, that's what has happened. He's used two of his four years of eligibility while playing a lot of special teams and bouncing between LB and DE. Now he's a junior, he maybe still doesn't have a position, and he's only got 24 games to figure it out.
What I Expect From Him:
I guess that with a rating of 1.5 Tom Cruises, I was never expecting much. So maybe this is the expected trajectory of his career. A kid we offered as an athlete when we saw him at a camp, hoping to get him on campus and find him a position. We still haven't done that, and it's now his junior season, so maybe this whole thing just ends as "marginal recruit never found a position".
Or maybe he can be one of those out-of-nowhere "click" guys. The point behind playing him and not redshirting him is a baptism by fire that pays off quickly. So maybe that payoff comes this season? I guess I don't expect it, given that he's #71 on my list. But as I said above, I'd love to see it.