Robert
Jul 12, 2019
[]
[]
5 Comments
You have currently viewed 1 story this month.
IlliniBoard now offers two free stories per month, for more please subscribe.
I'm still stuck on the whole "six months left to this decade" thing. We've wasted an entire decade of our lives waiting for our teams to turn it around. Three 6-6 football seasons and two NCAA Tournament wins were the highlights of the entire decade, and all of those moments happened before the midway point. I could write this same paragraph 200 times and it wouldn't ever sink in. We're the worst, yet here I am, for the 11th year in a row, separating the 58th most important Illini player from the 57th most important.
Eat at Arby's.
60. Kendall Smith
Wide Receiver
Bolingbrook HIgh School / Bolingbrook, Illinois
Junior (3 years to play 2)
Tom Cruises: 2.5
What I Know About Him:
Since this is the nihilistic 90i post, let's start with the first few paragraphs from the Kendall Smith LLUOI post since I just went and looked up his Tom Cruise rating. Smith and Ricky Smalling were Lovie's first two recruits, and here's what I had to say at the time:
Perhaps the biggest question facing Lovie Smith when it comes to recruiting: can he end ABI? Can he turn the tide so that recruits coming out of Chicago are no longer headed Anywhere But Illinois? His first move, landing Smalling and Smith (LLC), suggests that he can.

History will probably be unkind to Bill Cubit when it comes to recruiting. I don't think people will remember the impossible task he faced (recruiting with a two year deal) - they'll only remember the recruiting numbers. Perhaps the most glaring of those numbers: using Rivals' list of the top 40 players in Illinois, the best player he signed in the state was ranked #35.
I have a sad.
Smith has flipped between wide receiver and safety in his first two seasons. At a typical Big Ten program, that happens in the background where you don't see it. Smith would have spent his redshirt year as a wide receiver and his freshman year at safety on the scout team. Then, as a sophomore, you might get your first glimpse of him on the field as the coaches decide which position to run with.
Instead, he's been on kickoff team for two years, saw the field as a wideout as a true freshman, saw the field as a safety last year, and now he's a junior moved back to wide receiver. Instead of just getting started, his career is half over.
What I Expect From Him:
Junior year is the breakout year if you're going to have a breakout year, so now is the time. Wide receiver couldn't be more wide open (if only our wide receivers couldn't get more wide open), so the snaps are there for the taking. Someone has to take them.
What do I expect? I think the USC transfers grab a lot of passes, which means Smith falls to 6th or 7th-most catches this season. But I still expect to see him on all of the coverage teams. Maybe even as the special teams gunner on punts.
59. James McCourt
Kicker/Punter
St. Thomas Aquinas High School / Fort Lauderdale, Florida
Junior (2 years to play 2)
Tom Cruises: 2.5
What I Know About Him:
Last year we had the very odd scenario of having three kickers on scholarship. One was Chase McLaughlin, a former walkon who won the starting job and was put on scholarship. One was McCourt, a Bill Cubit recruit. And one was the kicker that Lovie added - Caleb Griffin.
McCourt was born in Ireland and moved to the United States when he was 11, which was, unfortunately, early enough to lose his accent. See, when he signed and I wrote that post about the Cubit recruiting class calling them The Misfits and proposing a movie, I had McCourt as the Irish kicker who smoked a cigarette while kicking each field goal. But then I interviewed him and he didn't have an Irish accent (or a cigarette) so my dream faded away.
What I Expect From Him:
It's a one-on-one kicking battle right up until the first game. McCourt, the redshirt junior, vs. Griffin, the redshirt freshman. Obviously, if I have McCourt down here at #59 and we haven't gotten to Griffin yet, I'm expecting Griffin to win that battle. Mostly because McCourt was a Cubit recruit and Griffin is a Lovie recruit.
But it's quite possible that McCourt wins the job. I kept track of all kicks at the four practices I watched this spring and, as I recall, they were within one miss of each other. It was something like McCourt being 17 of 22 and Griffin hitting 16 of 22. Or something like that.
If McCourt doesn't win the job, he's not only the backup kicker - he's the backup punter. If he does win the job he's our starting kicker... and our backup punter.
58. Moses Okpala
Defensive End
Ladue High School / Ladue, Missouri
Freshman (5 years to play 4)
Tom Cruises: 3.5
What I Know About Him:
This placement was an adjustment after we got the Bobby Roundtree news. Well, we still don't have any real "news", which likely means that we should expect the worst, which just breaks my heart, but the Bobby Roundtree story means that Moses Oklapa moves up the list.
Okpala is fairly new to football, so he probably needs a year of redshirt seasoning, but there are snaps to be had at strongside defensive end and Okpala might get some of those. He certainly has the frame for it - he'll be our most imposing defensive end the moment he puts on his uniform. Dude is huge.
What I Expect From Him:
So hard to say. On one hand, he's just learning how to play football, so that screams "almost certain redshirt". But as mentioned above, with the loss of Roundtree, we will need all hands on deck at strongside defensive end. So he might have to play.
Put a pin in this one and let's re-evaluate after camp.
57. Jordyn Slaughter
Offensive Lineman
Althoff Catholic High School / Belleville, Illinois
Redshirt Freshman (4 years to play 3)
Tom Cruises: 2.5
What I Know About Him:
I'm so glad we were able to redshirt all four freshman offensive linemen last year (Slaughter, Myers, Brown, and Pearl). With three sophomore starters last season meaning three junior starters this season (and three senior starters next season), we needed to redshirt them all so that they're all redshirt juniors after Lowe, Kramer, and Palcho graduate. One of them will likely get to start in 2020 and then it's possible that all four of them are in the starting lineup in 2021.
The big question for Slaughter - will it be at tackle or guard? He's played both right tackle and right guard when I've watched him in practice, and I'm guessing he'll be tried at both spots this camp as well.
What I Expect From Him:
Four starting spots are set in ink that dried last year (Lowe, Kramer, K. Green, and Palcho), so there's just one spot up for grabs this fall (right guard replacing Nick Allegretti). It's possible that Slaughter is in the mix for that spot, which is why I have him up here at #57.
The most likely scenario is that Alabama fifth-year transfer Richie Petitbon gets that spot for one season, meaning Slaughter spends his redshirt freshman season as a backup guard/tackle. And then he'll be in the fight for that starting spot (with his 2018 classmates) in 2020.
56. Nick Walker
Cornerback
Cisco College (Texas) / St. Louis, Missouri
Junior (2 years to play 2)
Tom Cruises: 2.5
What I Know About Him:
Here's the main reason I moved Walker ahead of Dylan Wyatt and Ron Hardge in the chase for the fourth cornerback spot. This play from the spring game: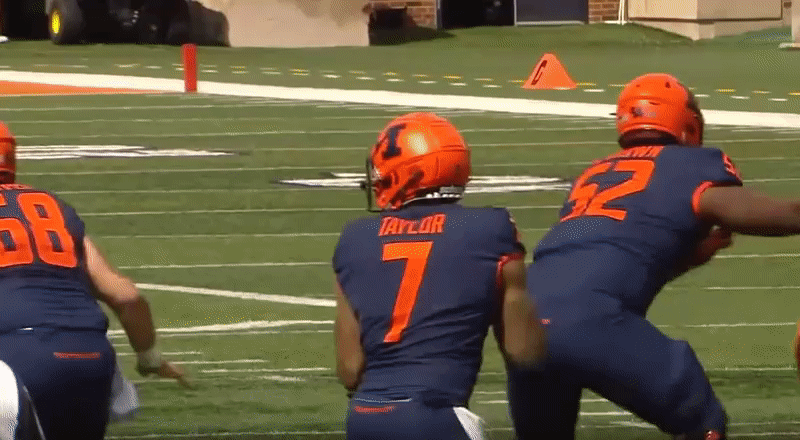 That's it. Deliver the hit to the tight end like that (leading to the ball popping out, right to a linebacker, for a defensive touchdown) moves you to the front of the line in the race for "4th corner".
And Walker is also older, which helps. He was a junior college recruit after only one season at Cisco College in Texas (meaning he arrived as a sophomore last season). He's originally from St. Louis (and was a high school teammate of Stanley Green at Miller Career Academy before Green moved across the river to East St. Louis).
What I Expect From Him:
The top three corners will be Nate Hobbs, Jartavius Martin, and Marquez Beason. Four corners will rotate in and out, so the battle is for that fourth spot. Based on the tackle above, I think Nick Walker wins that spot.
But it could also be freshman Joseph Thompson or sophomores Dylan Wyatt and Ron Hardge. It's a battle to be watching at camp in a few weeks.
Not that it will matter. Eat at Arby's.