Looks Like University Of Illinois - Jermaine Hamlin and Jacob Grandison
Robert
Aug 19, 2019
[]
[]
3 Comments
Gonna do a combo LLUOI post for the first time in LLUOI history. Why? Because I spent about 15 hours this weekend working on the football preview (out a week from today) and I'm barely awake at this point. Also, when we recruit two more "who?" recruits, maybe we should talk about them together.
We landed Kofi Cockburn to start the year off with a bang in January. The space-eater of our dreams. We have now landed five players since. Those five players are:
Unranked center from New York with offers from Hofstra and Valpo
Unknown Euro player who is really big in Belgium
Division III transfer from Wesleyan University in Connecticut
Unknown and unranked local kid with no other high major offers who was added on August 17th
Transfer from Holy Cross with (at least as far as I can find) no other transfer options
Apparently, the last two adding on late in the game mean that the first one (Bernard Kouma) won't be part of the program. Because if he was, we'd be at 14 scholarships. So we'll just look at the last four: player we'd never heard of, player we'd never heard of, player we'd never heard of, player we'd never heard of.
Let's be real. If Northwestern added that class (unknown Euro, D-III transfer, Holy Cross transfer, unknown local project), I'd be laughing and laughing and laughing. I'm a "recruiting is everything" guy, and Ayo Dosunmu is the only 5 Tom Cruise recruit on this roster, and Ayo Dosumnu picking Illinois is the main reason we're going back to the Tournament this coming season, so I see college basketball success as mostly "recruit Ayo Dosunmus".
Like, it's so simple to me. Ayo was our highest-rated recruit in eight years. We haven't been to the Tournament since 2013, but we'll probably go back because we recruited a guy ranked that highly. Do it again and we can stay on an upward trajectory. Fail to do that and we fall right back down.
Yes, I understand the coaching part of it and the "fit for our system" part of it, and I know it's not just "recruiting". Also, I understand the player discovery part of it, and Andres Feliz and Giorgi Bezhanishvili are prime examples of finding completely unknown players who turn out to be really good. I get how the puzzle works.
But the edge pieces = recruiting. We can't count on finding a Giorgi and a Feliz (and, perhaps, in the next year, we'll add "a Griffin" to that list) in every recruiting class. To win, you have to have an Ayo. Which makes that list above so hard to swallow. It's how Rutgers recruits. And Rutgers hasn't been to the Tournament since 1991.
What do I know about these guys? Absolutely nothing. I know that makes for a lame LLUOI post but I need context to put together a basketball LLUOI and there's absolutely no context here. Jacob Grandison had some nice stats on a 16-17 Holy Cross team that saw Bill Carmody retire after the season (58-73 in four seasons). Jermaine Hamlin started to emerge as a senior at Lincoln HS and was headed to prep school to maybe try to drum up some interest and scholarship offers when all of the sudden he's part of a Big Ten recruiting class. In real-world terms, these are players you would hear are headed to Northern Illinois. It's how the Stephen F. Austins recruit.
We've now added three players to the 2019 recruiting class IN AUGUST. Think about that. Remember when Mike Davis was this crazy "we landed a player a week before school starts?" We've now added three players in August. Who adds three players in August who will then join the team days later? Maybe some Division II school?
((Robert, completely grumpy and tired, decided to go to bed at this point. It is now the next day at lunch and, with some rest and a day to reflect, he returns to his salty basketball recruiting post.))
OK, this is a Looks Like University Of Illinois post, so I need to talk about where these players fit. That's the whole point of this series. What are we getting and how does he fit?
Jermaine Hamlin
He is a project big man. Sometimes they're Charles Jackson or Ibby Djimde (when ranked this low, they're almost always Charles Jackson or Ibby Djimde), but sometimes they're Giorgi. Brad Underwood hit on one of his first six Big Man recruits (Greg Eboigbodin, Matic Vesel, Adonis De La Rosa, Giorgi Bezhanishvili, Samba Kane, and Anthony Higgs), so he'll likely hit on one of the next six again. Hamlin is one of those six.
All of them have potential. All of them "show great upside". But nearly all of them are churned out of the program after one season. That's just the likely scenario here. Apparently Bernard Kouma didn't make it past admissions, so we really needed another big, and the local kid headed to prep school was the winner. Add him and Benjamin Bosmans-Verdonk to the pot, add four more big men ranked at this level, and maybe one of them will become a Big Ten player.
I mean, if that isn't true, then I can't be excited about Kofi. I'm very excited about Kofi. Even more so after seeing him in person. It will take a bit (it always does with massive dudes who need to learn how to use their size), but I'm excited about Kofi because of his offers and his ranking. The inverse of that is a guy with no offers and no ranking. That's just the plain truth about Hamlin (as I see it).
Now, it's good that he's a big. Unranked guards like this, especially point guards, seem to never work out. A big man like Robert Archibald (another very late signee who was completely unranked) can get into a program and develop into a second-round NBA pick as a senior (after looking useless as a freshman). Guards, you kind of know they don't have the athleticism or the shooting or the handle or whatever. Bigs? They can really come out of nowhere. I'm trying to think of that kid who went to Kentucky (Kentucky!) a few years ago just like this (from a small town in Illinois, no real recruiting interest) and developed into a regular rotation player for them. Bigs can walk that path, I'm not sure guards can.
But at the end of the day, this is a massive reach project. I know that will probably upset a lot of you Central Illinoisians who have tweeted me to say that you saw him play this winter and he was ready to break out, but it's just the way I see it. If he was ready to break out - especially since his high school coach's son is on our coaching staff - we would have offered in February, not August. We offered in August, so he's not going to get many Cruises.
In fact, since my comp here is Greg Eboigbodin, I'll do the same with Cruises.
Jermaine Hamlin. One Tom Cruise (but a big one because he's a big guy).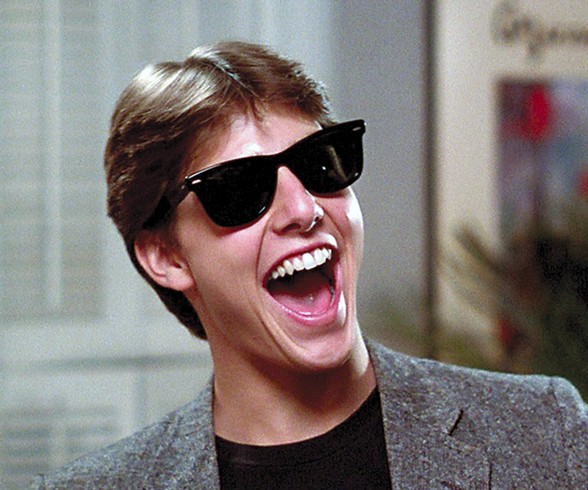 Jacob Grandison
Is it weird that I feel better about the Division III transfer (Austin Hutcherson) than I do about the Division I transfer? That's weird. But that's how I feel.
That part that's bothering me is the "no other offers" part. We need players who are in demand. Hutcherson had Notre Dame and Marquette and Creighton in pursuit. Grandison apparently... only had Illinois? I spent a good long time on the world wide internet and Twitter dot com trying to find another school that was chasing a Grandison transfer. But I couldn't find any. I think his only option was Illinois.
Now, part of that, I'm sure, was the fact that he entered the transfer portal on July 4th. Had he announced a transfer in early March, then maybe he would have had a bunch of suitors. By July 4th, I'm guessing at least 80% of high major programs are already maxed out on scholarships (and already have a plan/some committments for next year's scholarships). So it's probably tough going if you're looking for transfer opportunities in July and August.
But still, if this was a high-demand transfer, teams would make room. Nobody made room. I take a lot of points off for that.
The best way to look at this is probably to look at the roster once Grandison is eligible (he has to sit out the 2019/20 season after transferring). Assuming Ayo declares for the NBA draft (and assuming Hamlin redshirts), here's where the 2020/21 roster stands:
Trent Frazier (SR)
Da'Monte Williams (SR)
Giorgi Bezhanishvili (JR)
Alan Griffin (JR)
Tevian Jones (JR)
Austin Hutcherson (JR)
Jacob Grandison (JR)
Kofi Cockburn (SO)
Benjamin Bosmans-Verdonk (SO)
Jermaine Hamlin (rs-FR)
So, uh...
I mean....
We probably need some guards, right? We'll lose Ayo, Feliz, and Kipper and will need to add a guard, a guard, and maybe another guard? Grandison and Hutcherson are probably Kipper + Jordan (maybe not as talented as Kipper and AJ, but those are the roles they'll fill on this team), so with Feliz and Ayo leaving, man, guards guards guards please. Who even handles the ball in 2020 like Ayo and Feliz will in 2019? Two true freshmen?
I need to land this plane. I'm all over the place. I just don't know what to say other than "I really hope that the way I look at college basketball recruiting is compeltely wrong". I've written the post 100 times: once we return to having Deron and Dee (or Frankie and Cory) (or Kendall and Nick) (or Bruce and Efrem) on the roster, we return to being Illinois basketball. And I don't see myself saying "Jermaine and Jacob" some day. Hopefully I say "Ayo and Kofi", but that's because they were both top-50 players. And I believe top-50 players are what makes college basketball go.
As for Grandison Tom Cruises, I'll go more than Hamlin but probably not as much as Hutcherson. So put me down for two.
Jacob Grandison - two Tom Cruises.