Looks Like (He's Been at The) University Of Illinois (For Two Months Now) - Roderick Perry
Robert
Oct 1, 2020
[]
[]
3 Comments
You have currently viewed 1 story this month.
IlliniBoard now offers two free stories per month, for more please subscribe.
Gonna be honest: I Doubting Thomas'd this one. Perry's transfer was announced in August but he wasn't at the first few practices because his transfer paperwork was still processing. And any time I hear that, I immediately go to "until I see with my own eyes..."
Then the Big Ten announced they were shutting down the season. At that point I was probably at "85% chance he transfers". He had offers from SEC schools, and they announced the next day that they were playing in the fall, and the entire reason he transferred from South Carolina State to Illinois was because the FCS moved all football to the spring and he wanted to play a season in front of the NFL scouts before taking a shot at the draft in April. So I fully expected "he did not enroll at Illinois and has instead enrolled at Florida". No way was I going to write a giddy LLUOI post only to watch that player then leave before even arriving on campus. (I mean, I say "no way" but I just did that for TreSean Smith).
But yesterday, there was a Zoom call with Perry. There he was, enrolled, in practice gear, fully a member of the University of Illinois football team. So now I can write the giddy LLUOI post.
A timeline:
Jamal Milan, Tymir Oliver, and Kenyon Jackson all graduated.
In March I really wanted Jovan Swann (DT transferring from Stanford). He picked Indiana.
In May I really wanted Jack Heflin (DT transferring from NIU). He picked Iowa.
I dreamed about Michael Thompson Jr (St. Louis kid, left Oklahoma) but it appears he didn't transfer anywhere. (No, seriously, I had a dream about him.)
I also looked into grad transfer Joe Quillen from Air Force (he picked Oregon State) but that's mostly because his name sounds like that Key & Peele sketch.
And so it looked like we were headed into the season with no defensive tackle transfer help. The only transfer we had who was slated to play DT was Cal transfer Chinedu Udeogu (a player I gave 0.5 Tom Cruises). It would be up to the returning guys (Jamal Woods, Calvin Avery, Deon Pate) to hold the defense together.
But then series of events fell into place, and the clouds broke open, and a defensive angel descended from the heavens. One who will receive a lot more than 0.5 Tom Cruises.
Here's the series of events as laid out in this article from the Raleigh News & Observer:
The MEAC conference (all FCS schools) announced on July 16th that all fall sports would be pushed to the spring.
Perry's coach at South Carolina State, Buddy Pough, then went to him and suggested he grad transfer somewhere. Perry noted on the Zoom call yesterday that he didn't understand why his coach was pushing him out the door but he gets it now. If Perry is going to have a shot at the draft next spring, he needed to play football this fall. As I said on Twitter, I'm pretty much a South Carolina State fan now because of that. A coach who sends his best player away because it's in the kid's best interest? Yes please.
That led to a whirlwind of interest. On the call, he noted that he had one day where it was 12 consecutive hours of Zoom calls with coaching staffs.
He narrowed it down to a final three: Virginia, Florida, and Illinois.
I'll pull a quote from the article on why he picked Illinois: "At the end of the day, you know, the most love I felt came from University of Illinois, as far as what they did for me and, you know, what they showed me as far as how much they need me and how much they want me."
He then transfers to Illinois, the Big Ten cancels football a few days later, it looks like he's going to have to play in the spring after all, and then the Big Ten reverses course and announces a season starting October 24th. Finally, he'll get to play football in the fall.
One other quote from the article before we move on. I've discussed before how I don't understand why the Lovie NFL sell doesn't seem to work on high schoolers but does seem to work on transfers. This is another example of that, I think. He was looking for a place to showcase himself for the draft next spring and liked the sell that Lovie gave him. That snippet from the article:
One thing Perry said that meant a lot to him was coach Lovie Smith calling him from his personal cell phone. Smith was hired in 2016 after spending 19 years coaching in the NFL. Last season, he led the Fighting Illini to a 24-23 upset of No. 6 Wisconsin on Homecoming. The Illini finished last season 6-7, losing to California 35-20 in the Redbox Bowl.

"I fell in love with Illinois because I fell in love with the head coach, Lovie [Smith]," Perry said.
Does he have legitimate NFL aspirations? It seems so. That article mentions it, and back when he committed I tweeted the page from Phil Steele's magazine where he ranked Perry (then at South Carolina State) as the #30 draft eligible DT this season. The top Big Ten DT on the list was Naquan Jones from Michigan State at #32. Now it's Perry at #30. (Note: that's "draft eligible" players, so third, fourth, and fifth-year players. There's probably some freshman at Ohio State who will eventually be a second-round pick. But he hasn't played yet.)
There's also lists like this one which says he's one of the top draft prospects in the FCS and this one which mentions him as one of the top draft prospects at an HBCU school, so it's not just Phil Steele. DraftScout has him as the #22 DT in the 2021 draft, Jim Nagy (director of the Senior Bowl) said pre-transfer that he was, and I quote, "one of the top FCS players in the nation", so yeah, I think these are legit NFL aspirations.
Those are significant data points. It might be that Perry dominated FCS competition but when he goes up against Big Ten offensive linemen, he's just not there and he falls off the draft radar. But it also might be that he's one of the best players on the 2020 Illini team.
Lovie has already mentioned him as a starter at the nose. Jamal Milan is probably the hardest player on the team to replace, and I didn't see that player on the current roster, so a guy on some draft lists (and listed in Phil Steele's top-30) is a pretty massive addition. To me, it's fairly simple:
+ The biggest need for the 2020 defense: a lane-clogging DT.
+ The player acquired to fill that need: an NFL draft prospect whose ceiling is "best defensive tackle in the Big Ten".
The Phil Steele list didn't mention Jovan Swann or Jack Heflin or Michael Thompson or even Joe Quillen. It did mention Roderick Perry, and he's currently on the practice field next to Memorial Stadium.
Why is he considered a possible draft pick? Quicks for his size would be my guess. Because he's quick for his size. The first clip here is their South Florida game, so that's the best competition he faced. The other two clips are MEAC games.
This is what we're hoping to see:
And this: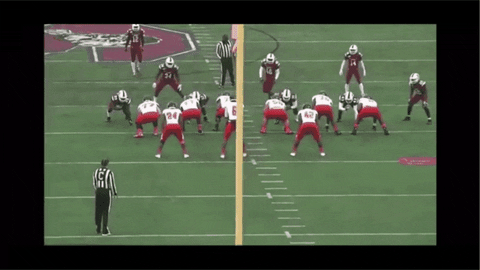 And this:
So there's a whole lot to like here. Position of need, immediate impact - a possible NFL pick inserted right into the middle of the defensive line before the 2020 season. If TreSean Smith were still on campus, you'd be hearing me say "my biggest defensive concerns this offseason were a nose tackle to replace Milan and a safety to replace Stanley Green and we landed two immediately eligible four-Cruisers at both spots in TreSean Smith and Roderick Perry. (Smith never arrived on campus, which is why Tony Adams is currently back at safety, so we only went 1 for 2.)
Yes, that's right, I said "four-Cruiser". I think this is just a massive addition. We'll only get one year out of the deal, so technically that's less "impact", but hopefully it's a Bhebhe-like impact: exactly what we needed.
Roderick Perry - Four Tom Cruises