Robert
Oct 31, 2020
[]
[]
3 Comments
You have currently viewed 1 story this month.
IlliniBoard now offers two free stories per month, for more please subscribe.
I'm somewhat breaking my own rules tonight. Part of this post wasn't written tonight. That's not the right way to say it. Part of this post was prepared before tonight. I started a post yesterday on Purdue's quarterback, decided not to post it, and will now take the gifs that I made for that post and write about them in this post. So these are all new words with zero edits, per SOC tradition, but the gifs were prepared yesterday.
So there's two ways I've been looking at this game. One, I watched some Purdue highlights and I'm pretty sure their QB is throwing five picks tomorrow. Two, there's all these rumors about positive Covid tests on the Illini and we won't know who is playing until gametime. So on one hand, I've felt good about this game all week. On the other hand, I feel like I'll wake up tomorrow and the line has moved from 7 to 11.5 because we announced that we have 37 players out for contact tracing.
(I feel like I have to clarify this: I have not, in any way, "heard" that Illinois has 37 players out for contact tracing. I'm exaggerating for effect. The rumors are everywhere but nobody will really know anything until about an hour before gametime. So it's all just one big game of telephone until then.)
Let's start with Purdue's (WALKON) quarterback. I saw his stats from last week against Iowa (impressive) so I went to watch the highlights, both on Purdue's website and on BTN. Uhhh...
This throw is OK. But it's probably best described as "oh god that's still floating... OK whew he completed it and wow it's even a touchdown." This footwork is so bad.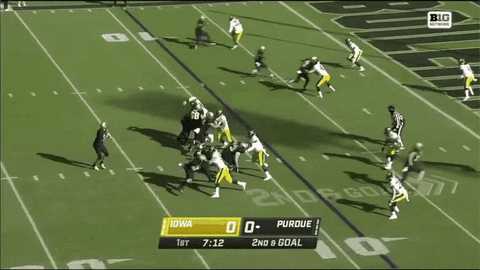 This throw absolutely should have been picked off: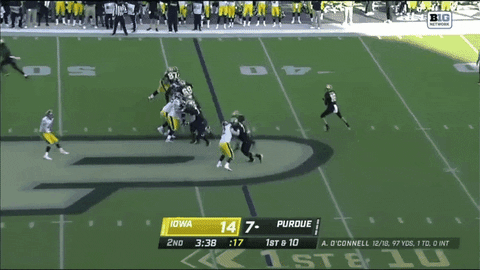 This throw was picked off:
Another scary throw near the goal line. It's hard to see on the gif but #4 is a few inches from tipping it to himself for six the other way.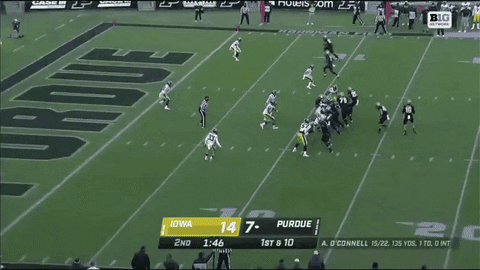 This one is thrown well behind the tight end and is picked off.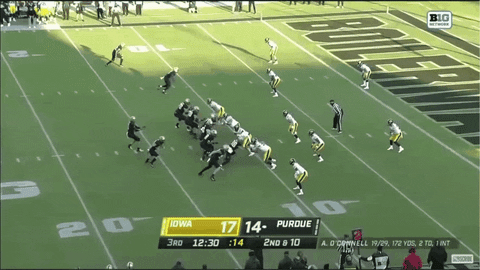 I mean, these are the highlights. Maybe they just picked a bunch of scary throws and the parts they didn't show were glorious 20 yard outs. But I don't see how any defensive coach doesn't watch that film and get really excited about rattling this kid.
Now, maybe it won't matter. Rondale Moore will probably play (Illinois rule), and David Bell will play, and our safety play will play, and O'Connell will just need to get it within a 7 yard circle of the receiver and one of those two guys will make the play. But still, this is a walkon QB who could have easily thrown four picks against Iowa (he only threw two). Let me check that weather forecast: "South wind 10-17 mph, gusting to 25 mph." We're certain this kid has the arm (and the leg drive) to sling it around in some Champaign wind?
(I know I know - he'll have 3 TD's in the first quarter and you'll be all over my Twitter mentions.)
That was my main feeling going into this game. I looked up the Purdue QB, I studied two sets of highlights, I looked at the forecast, and my gut feeling was "not sure he won't throw five picks?".
But then the Covid rumors began swirling. I have no idea what's what, but I do know that after our last opponent announced 12 cases of Covid, Tuesday Lovie stated that there were no positives, Wednesday there was a statement saying that there were no positives, and Thursday there was no statement. I'm not really interested in playing telephone, so I'll just rest on "something is up - hope it's not bad".
So here's my path to this prediction.
(Before the season) I feel pretty good about the Purdue game. Not sure they have a QB, and we have a strong secondary, and they can't run the ball, so I think we can take 'em.
(After Wisconsin) If our safeties parted the red seat to allow Wisconsin receivers to run untouched to the endzone, how much is Jeff Brohm licking his chops right now?
(After watching Purdue highlights) Maybe I was right about this Purdue QB. He makes a lot of dangerous throws. Perhaps I should feel good about this one?
(After Covid rumors started swirling) Illinois rule, people. We'll find out an hour before the game that 24 players are out after 1 positive test and 23 people quarantined for contact tracing and we'll lose by 51.
Tonight, I lean towards 2 and 4. The Wisconsin passing attack is stuck in my head, and now we're playing the most pass-happy offense in the country. Sure, the QB makes dangerous throws time and time again, but he still threw for 282 yards against Iowa. He just needs to get it somewhere close to Bell (see the INT turned into a completion above) and he'll catch it.
I really wanted to sit down and predict a win, but that Wisconsin touchdown before the half keeps playing over and over in my head. How are we going to pick off any bad throws that hang up in the wind if we don't have any defensive backs within 10 yards of a guy? I just feel like tomorrow might be this frustrating "MAN, we could have picked that off" game where we woulda coulda shoulda our way to a loss.
Purdue 34, Illinois 17