Looks Like University Of Illinois - Chevy Brenson
Robert
Oct 5, 2020
[]
[]
3 Comments
You have currently viewed 1 story this month.
IlliniBoard now offers two free stories per month, for more please subscribe.
With this one I'll finally be caught up on LLUOI posts. I don't think I'll do one for Australian punter Hugh Robertson because what would it say? "He's a 27 year-old police officer from Australia who can kick the ball a country mile - nine Cruises". There's no real info there besides "Blake Hayes worked out really well - I hope we turn to ProKick Australia for all our punters".
There, I just wrote the Hugh Robertson LLOUI. Hopefully my dream of the entire stadium screaming "HUGHHHH" when he kicks it will be realized.
For Chevy, let's start with my bias.
The reason I chose the screencap above (from his video committing to Illinois - the camera panned up and he was wearing a Littyville shirt, revealing his choice): the bleachers. CBC is where my sons went to high school. My youngest played football at CBC (freshman, sophomore, and senior years - junior year he had shoulder surgery and didn't play), so I've sat in those bleachers many times watching high school games. Fun fact: his freshman and sophomore year there was this assistant coach helping out with the freshman and JV by the name of Cory Patterson.
So when I watch Brenson's film, I get nostalgic. I can't not feel good. I see the same backdrop as when I used to sit there watching high school games. My middle son ran track, so that's also where I sat watching 4x800 relays and 3200-meter finals, timing his splits.
All of that to say I'm trying not to be biased here where the fact that he went to CBC boosts his rating by .75 Tom Cruises. I feel happy when I watch football played on that field, but that can't factor in to how I rate him. I mean, it will, but I'll try to not let it.
First off, we should acknowledge that this is yet another "new to football" recruit (how many does that make in the last three years?). He's a basketball player at CBC (and a really good one - third-leading scorer on a team that featured 5-star Caleb Love who will be a freshman this fall at North Carolina) and he was convinced he should go out for football last fall. That was enough film to get some offers (Illinois, Kansas State, and most of the MAC), he named a final six of Illinois, Kansas State, Memphis, Colorado State, Toledo, and Ball State and picked Illinois.
The big question here: is he a wide receiver or is he a tight end? When I watch the basketball clip that I linked in the previous paragraph, I think wide receiver. When I watch football clips, I think tight end.
Here's what I mean. This first clip, yes, he looks very WR-y. If you grab the ball at the highest point possible, the other guys can't get to it: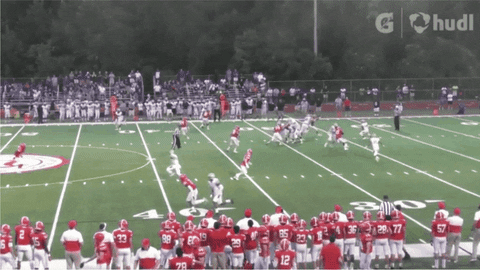 But if you watch this clip where he's running stride for stride with another wide receiver, he just gives off tight end vibes. Everyone is going to add 25 lbs once they meet Body By Lou, and this looks like a body that will be shaped into a tight end: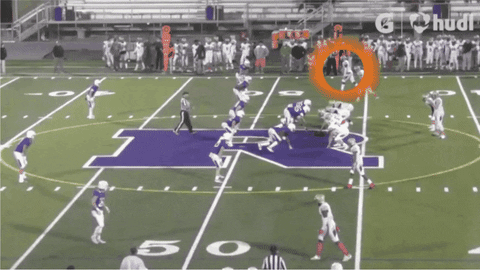 This is busted coverage and an easy TD, but the stride and the leap just feels TE to me: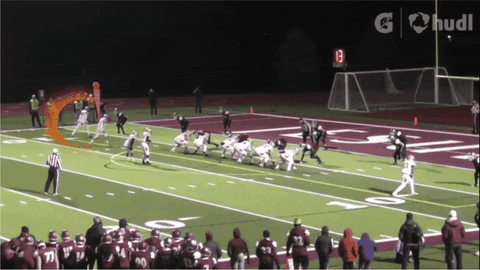 I guess it doesn't matter. If I watched Bhebhe's high school film I'd probably predict "future tight end". There are small receivers and there are big receivers and there are tight ends. Really, the thing that makes you a tight end: blocking.
So this is an athletic pass catcher headed to Champaign. He's raw (one year of HS football), so my comp here is Dalevon Campbell. Campbell was a tall track kid from Texas who played one year of high school football and got an Illinois offer. Brenson is a tall basketball kid from Missouri who played one year of high school football and got an Illinois offer. Campbell was one of four freshmen to not redshirt last fall. Maybe Brenson will do the same next fall.
(And I'm sorry to keep bringing up the Covid rule but it still blows my mind. Say Campbell had been injured in the 4th game and not the 5th game last fall. If that happened, he would have been able to take a redshirt. And then he and Brenson would be the same class. Campbell would have been a redshirt freshman in 2020 and then a redshirt freshman again in 2021. And Brenson will be a freshman in 2021.)
I thought of a better way to put that. Josh Plohr also went to CBC, graduated in 2019, and redshirted last fall. When he was a senior at CBC, Brenson was a sophomore. Next August, they'll both be freshmen on the Illini football team. Covid rule!
Tom Cruises: I'm in this .25/.75 rut and I think that will continue. This one is either 2.5 or 3, and since I have all of those other images available now, I'm gonna pull the 2.75 card.
Chevalier Brenson - Two and three-quarter Tom Cruises