The 90 Illini #35: Jakari Norwood
Robert
Oct 7, 2020
[]
[]
0 Comments
You have currently viewed 1 story this month.
IlliniBoard now offers two free stories per month, for more please subscribe.
Maybe I need a marathon day where I try to write as many of these as I can write. Perhaps something for charity with a big tote board and I have 24 hours to type out as many 90 Illini posts as I can. Wink Martindale can host (is Wink Martindale still alive?). ~googles~ Wink Martindale is... still alive! Wink, come on down.
35. Jakari Norwood
Running Back
Uniform number: 3
Year in school: Redshirt sophomore (3 years to play 3; with the Covid rule, technically 4 to play 4)
Height: 5'-10" -- Weight: 180 lbs.
Hometown: Pompano Beach, Florida
High School: Deerfield Beach HS
Best offers: Southern Miss, Bowling Green, Morgan State, NC Central
Tom Cruise rating: 2 Cruises
2019 statistics: Played in 6 games - 15 carries for 94 yards.
Background
Thing you probably forgot: Daniel Barker and Jakari Norwood were high school teammates. Remember in the summer of 2017 when the staff had like 15 players in town from Deerfield Beach? This was why. Two players in the top-35 on my list hail from Deerfield Beach High.
(I don't think I'd want Wink Martindale to host. I'd want the Sale of the Century guy to host - Jim Perry. Is Jim Perry still alive? Jim Perry is... not alive. Died in 2015. RIP, Jim. Wink, you're back in.)
Another thing you forgot: this run from Norwood in the UConn game: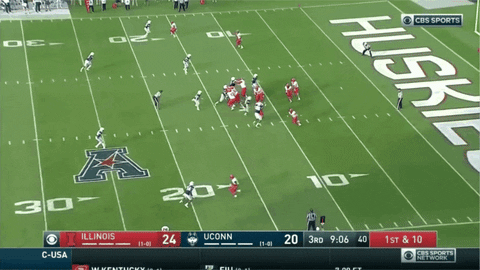 2020 Outlook
I think the expectation is that run right there. The quick-hitter stuff. Rod Smith has built his run game around it. Lull you to sleep and then a quick burst and (hopefully) gone.
Norwood is entering his third season now, and with Corbin and Brown gone, there's room for a burst guy. Norwood probably isn't going to break many tackles, and if he can't pick up a blitz he's not going to play, but if Mike Epstein is the every down back, Jakari Norwood is the burst back. And Rod will use his burst backs a lot.
Norwood is listed at 180 lbs, but I feel like he's maybe 172 and then wore really heavy shoes to the weigh-in. Up close, he's really, really skinny. So that means two things: Speed and... he has to learn how to pick up a blitzing linebacker or he's never going to play.