Illini Bracket - 2 vs. 15
Robert
Mar 22, 2020
[]
[]
1 Comments
You have currently viewed 1 story this month.
IlliniBoard now offers two free stories per month, for more please subscribe.
You didn't ask, but I'll tell you anyway: these eight posts have been so mentally draining to write. It's one of the stranger experiences I've had since starting the blog. It's fun - I'm excited to write each one - but it's oddly exhausting.
It was rather glaring yesterday when writing the 1981 recap. Because I didn't remember that team, the experience of researching and writing that portion of the post was much easier than the 2009 portion. It's such a strange experience for the one's I'm doing from memory. The only comparison I can come up with is some bad movie where someone is hooked to a brain machine and that machine is supposed to just extract memories but when they turn it on the patient writhes in pain and blue arcs come out of the machine. Then, once they turn it off, the patient is smiling - it was a pleasant experience - but they're exhausted and sleep for days, completely mentally drained by the experience.
I plan to do the second round differently - I already recapped the teams - so this is the last post of these. I'll have gone deep-dive on 16 Illini teams. It's been so much fun - and so incredibly exhausting.
(2) 1988-89 Illini
Record: 31-5
Tournament seed: 1
Tournament result: lost 83-81 to Michigan in the Final Four
First off, it's so dumb for me to be writing this post when there was another IlliniBoard writer who, you know, was on the team. In fact, let's start there. It's so much fun to look up the stats for that team and see this:
Two games, one minute per game, never got a shot off. Why not at least one shot, Tyler? I'm going to make him tell that story some day.
Also, I want to see those two Club Trillion box scores for Tyler. That's the term former Ohio State walkon Mark Titus uses to describe the walkon box score where they get in the game at the very end but don't put up any statistics. In the box score they get a "1" for one minute and then nine zeroes. There are two Club Trillion box scores out there somewhere for Tyler, and I want to see them.
OK, so 1989. I was back in my hometown recently and I drove past the old gas station that's been turned into a Mexican restaurant. Nearly every time I drive past that building, I think of the Michigan loss in the Final Four. I watched it in the basement of my friend Andy's house, and then we drove to that gas station to get junk food, and so that building will forever be "where I stood in disbelief after the Flyin' Illini lost to Michigan and ate Pizza Wheels while drinking a Jolt".
That January/February is so vivid in my memory. I got my driver's license in December, and I broke through my parents' "you're only allowed to drive in town for the first few months" restriction by begging them to let me go to St. Clair Square mall to buy this "Awesome Illinois Basketball" shirt I had seen. That was the whole shirt. Block letters that said "Illinois Basketball" at the bottom with some basketball scene above and the very rad 1980's font which said "AWESOME" across the image. Awesome, Illinois Basketball.
I went to the Wisconsin game in January. We won and scored over 100 points. We had climbed to #2 at that point, and everything felt so invincible. Dunk after dunk after dunk. It was all we talked about at school around the lunch table, it was all I wanted to talk about at home during "how was your day at school today" at the dinner table... January-February-March of 1989 was 100% Flyin' Illini.
The basketball rim my dad had put up in the back yard was adjustable so we'd lower it to eight feet and pretend to be Kendall Gill going down the lane with a left-hand jam. I remember the spot over by the picnic table which was approximately the same spot where Nick Anderson hit the shot against Indiana so we'd take turns shooting from there (Andersonnnnnn). Everything centered around this team. You'd wear your "Battle to Seattle" shirt one day and then "Awesome Illinois Basketball" the next.
It was so much fun because it felt so different. The Flyin' Illini were changing college basketball. The point guard was 6'-5" and the center was 6'-7", with everyone else right around the same height. And dunk after dunk after dunk.
Let's see... I should probably cover the things you young kids don't know about the Flyin' Illini. Let's see...
Illinois and Michigan both made the Final Four, and Michigan won it all, but neither team won the Big Ten. Indiana finished 15-3, Illinois 14-4, and Michigan 12-6.
Nick Anderson was the best rebounder by far. Lowell Hamilton was the "center", and Anderson was technically a guard playing on the wing, but Anderson was a rebounding machine. More on that in a moment.
Kendall Gill missed nearly half the season with a broken foot. Illinois moved to #1 by beating Georgia Tech in mid-January, but Gill broke his foot and missed six weeks. If he doesn't break his foot, that team stays at #1 the rest of the year and wins the Big Ten. The losses at Minnesota and Purdue? No WAY those losses happen if Gill was healthy.
I think everyone is aware of this but maybe not: one of the walkons at the end of the bench with Tyler? Mark Steinberg, Tiger Woods' agent.
I saved the worst for last: Sean Higgins' putback to beat Illinois in the semifinal game. It was tied with six seconds left when Glen Rice releases a long jumper. He misses, but Higgins grabs the rebound and puts it in with two seconds remaining. Illinois has to attempt a three-quarter court pass (we set a screen for the inbounder to run the baseline, and the Michigan guy ran over the screen, and 16 year-old me was dying for that to be called a foul), it doesn't work, and Michigan wins. That play is known as "Nick Anderson didn't box out", but... I have some thoughts about that:
Billy Packer said "nobody boxed out" on the broadcast and it stuck.
Higgins did the YMCA thing where he kneed the back of Anderson's left knee (like you'd do to your buddy in the lunch line) so Anderson couldn't jump. It wasn't a foul, and if Anderson was delivering the force by boxing him out, maybe that negates the loss of jumping ability. But I don't think "Anderson forgot to box out" was fair. Great rec-league play by Higgins.
Also, the rebound went long. This is the point that has always driven me insane about that play because it's never discussed. Rice is shooting from the wing (closer to the baseline than the top of the key). The ball skips off the near rim and then nearly hits the bottom corner of the backboard. Anderson grabs it if it's a normal rebound, but it went long and right to Higgins who hit the shot and won the game.
This will hurt, but I'm going to link a gif. Please note two things: the long rebound and the subtle little knee-to-back-of-knee.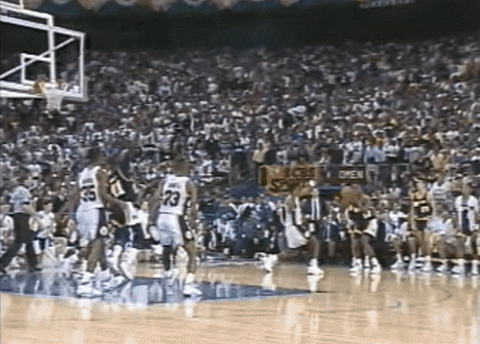 I hate that the season ended that way. But I still have such fond memories of that whole year. It's a team that has endured not only for Illinois fans, but also nationally. A great nickname, a great season, and, unfortunately, a gut-punch finish. When we win it all some day, I already know the post title. First a rebound bounced to Sean Higgins, then Luther's three didn't fall, and finally, on the third try...
Awesome, Illinois Basketball.
(15) 1994-95 Illini
Record: 19-12
Tournament seed: 11
Tournament result: lost 68-62 to 6-seed Tulsa in the First Round
This was my first senior year. I returned for a second senior year, graduating in 1996, so my final year was an NIT year. 1995 was a third-straight NCAA Tournament, although the bids got worse every year. 6-seed, then 8-seed, then 11-seed, then NIT and Lou Henson retired.
Since I've been doing this whole "start at the end" thing lately, let's start with that Tournament game. I was in Park City, Utah for spring break, so I watched that game from some bar (I think it was a hotel bar?). It was a Friday night game (maybe the last game on Friday night?), and Thursday my friend Jason and I took a day off from skiing and drove down to Salt Lake City to watch the first round games of the West regional (we were really, really hoping Illinois would get placed in Salt Lake City while we were there).
We saw Gonzaga-Maryland (Gonzaga was a 14-seed and wasn't Gonzaga yet), UConn-Chattanooga (I've written about that one before: Chattanooga had a "Chief" who was in a basketball uniform - "Cheef" on the back - with face paint and a single feather headdress and he danced to Technotronic with the cheerleaders), and... I'm going to have to look up the other two games. Texas-Oregon plus Cincinnati-Temple. I think I would have only gotten Temple right if you asked me.
What am I even talking about? Right, watching our game the next day. Purdue's game was right around the same time (right before ours I think?), and these Purdue fans were SO YAPPY during the game, and then they nearly lost (since I have the page open they... beat 14-seed UWGB 49-48). I remember the bar giving these guys a hard time so they left and one of them said "one down, five to go" as he walked to the door. (Narrator: "Purdue would lose in the next round to 6-seed Memphis".)
The Illinois game? Right, I should talk about that. It was Illinois against Shea Seals. And Shea Seals won. Tulsa was the higher seed and the better team, and we could have won (we led by 7 at halftime and Kiwane was on a roll), but... Shea Seals hit a bunch of big threes and we lost.
OK, now we back up to the beginning. That season was fairly rocky at the start because we were replacing this giant hole where Deon Thomas once stood. When you lose your all-time leading scorer (and you're only two years out from your recruiting restrictions so your roster is really young otherwise), it's going to be rocky. Thankfully, we had our second-leading scorer of all time, Kiwane Garris, entering his sophomore year.
Replacing Deon in the middle was Shelly Clark (in his second season - he played alongside Deon for a year). Shelly Clark was a big man's big and loved one single move: hook you with his left elbow and spin past you. Over and over and over. He wasn't the post scorer that Deon had been, but he was able to put up 12 and 8 that year.
I remember that team as having three scoring options: the Shelly Clark hook and hold in the paint, Kiwane driving and taking an off-balance, bad-angle shot off the glass that would go in, and Richard Keene hitting the ceiling with his threes. Perhaps I mostly focus on those three because of campus interactions with them - I think I've told all the stories before (Shelly Clark at the Savoy movie theater, Richard Keene at the frat party, and Kiwane Garris asking to borrow a pencil before a scantron test AND CALLING ME BY NAME).
The rest of the roster? Two guys with crazy hops (Robert Bennett and Bryant Notree), some of the freshmen who would eventually win a Big Ten title in 1998 (Matt Heldman, Kevin Turner, Jerry Gee), and Keene's classmate Chris Gandy who was still a year away from breaking out.
Would that team beat the Flyin' Illini? I'll let you answer that question. I'll just say that I have a lot of great memories from that season. The game against Duke in the United Center (I think that might have been the very first United Center game?) where it was close throughout and Jerry Gee had a bit of a breakout moment (we lost, but the game was fun). Sweeping Iowa on the season by winning in Iowa City and then an overtime game in Champaign (the Bruce Pearl hate was still white hot). Nearly falling off the bubble by losing four of five late in the season but salvaging an 11-seed by winning the last two over Northwestern and Ohio State.
And then.. Shea Seals.
OK, time to vote. Last Sweet 16 matchup. Time to really get down to business tomorrow. For the next round, I'm going to write about the matchups. Who guards who, a Henson team against a Self team, stuff like that.
But for now, go vote on this one. I have a few guesses as to which team wins.