Looks Like University Of Illinois - Brian Hightower
Robert
Apr 29, 2020
[]
[]
6 Comments
I'll admit it - the very first thing I thought when I saw this news was "Houston Griffith". I spent a lot of time reviewing the 1989 team (for the football bracket) and it always makes me think "I cannot believe Howard Griffith's son didn't come to Illinois". So when we land one of his high school teammates as a transfer, well, that makes me dream about Houston choosing to transfer from Notre Dame to Illinois. It will never happen, but I can dream. Which... is now going to be the new t-shirt I make.
Illinois Football - It Will Never Happen, But I Can Dream
If you're wondering why Howard Griffith tweeted this news with "Massive pick up for the Illini - will create matchup problems in the B1G!", that's why. Hightower was a high school teammate of his son Houston (and also a high school teammate of Verdis Brown) at IMG Academy in Florida. Griffin and Brown originally committed to Florida State and Hightower to Miami. Then, when Jimbo Fisher left for Texas A&M, both Brown and Griffith decommitted from FSU, Griffith ending up at Notre Dame and Brown ending up at Illinois. Now Hightower has transferred to Illinois. It only makes sense for Houston Griffith to do the same, right?
(It won't happen. But I can dream.)
It's always so odd to go through a recruit's timeline after a transfer like this. There's so much effort put into landing a kid like this in high school. Hightower is on everyone's radar early, so this timeline is several years of recruiting updates. I mean, he named Alabama his "leader" in 2015. Then it's offers coming in from all over. In what was maybe spring break of 2016 he unofficially visits Auburn, Florida, and Florida State. Then he camps on the west coast in June to visit USC and UCLA. Unofficials to Miami and Clemson in the summer. There's all this random stuff too like "Jedd Fisch from Michigan visits Brian Hightower".
And that's all before he's played his junior year of high school football. After his junior season he commits to Miami (in March), then visits both Nebraska and Miami in the fall, and signs with Miami in December of 2017. More than two full years of timeline events and he's finally made his decision.
Then he lasts basically 13 months at Miami. As a true freshman he catches 4 passes for 60 yards. As a sophomore this past fall, he catches 8 passes in 7 games and then announces his transfer on October 21st (two days after WE BEAT WISCONSIN). He explores his options (I have no idea what those options might have been) and then picks Illinois yesterday.
All of that seems crazy to me. I'm not sure I can accurately describe why that is. Think of all the campus tours on all the visits he has listed (Clemson, Auburn, Florida State, USC, Nebraska, on and on). Two full years of letters and text messages and DM's from coaches. And now the school where he'll play the majority of his college snaps is one (I'm assuming) he's never been to.
My freshman roommate is a dogged "Lovie puts no effort into recruiting" guy, and thinking with his brain, this might be why Lovie loves transfers so much. All of that effort chasing Houston Griffith, the #70 player in the 2018 class, only to watch him pick Florida State and then Notre Dame. And then the #154 player in that same class lands in his lap through the transfer portal. I don't think it's an exaggeration to say that a coaching staff might spend 500 collective hours chasing a high school kid (over several years) and only 100 hours chasing a transfer (over a few months and, sometimes, in the case of Blake Jeresaty, only four days). Recruiting transfers - less effort, more results!
That's not to say it's not a smart move at an Illinois (I've stopped thinking with my freshman roommate's brain now). I don't know if you saw the stat the other day, but 25 of the players drafted this past weekend were transfers (including the #1 pick, Joe Burrow). If the "not all transfers are busts" crowd ever needed some ammunition, there it is. Please note that I'm not saying that Hightower is a future draft pick here. But as the transfer thing has grown and grown in college football (and it might explode if the one-time exception is approved meaning players can transfer without sitting out), there seems to have been an awakening for the Joe Burrows of the world. I think this needs its own paragraph.
If you're old enough, think back to the Brian Griese/Tom Brady/Drew Henson thing at Michigan from 1997 to 1999. After this "awakening", there's no way it will ever happen again. Meaning, there's no way three quarterbacks like that would stay at the same school. All were going to be college stars (and one would go on to be the NFL GOAT) but all three stayed committed to Michigan and endured several years of a QB battle. Scott Dreisbach beat out both Griese and Brady (what?), then Griese beat out Brady, then Brady beat out Henson, then Henson and Brady kind of split snaps for a while, then Brady went off to the Patriots in the 6th round and Henson finally had the job all to himself. No chance that ever happens again. When Brady wins the job in 1998, Henson transfers. (And when Griese won the job over Brady in 1997, if there was an immediate transfer rule, I'm guessing Brady would have transferred as well.)
Now apply that to all of college football (both in the current situation and the possible no-sit rule change). Players know they can find their proving ground elsewhere. I'm a hopeful guy, but I'm hoping it means an end to prospect hoarding. Yes, there's the fear of a Bennett Williams proving himself as a true freshman at Illinois and then transferring up, but there's also the possibility of more Peters-to-Bhebhe coming our way. I think it will be a net gain for an Illinois or an Oregon State or a Syracuse.
(If you want more of my thoughts on that, I wrote an entire post on this subject back in September. I called it our possible Sweet Spot.)
OK, we should probably talk about Hightower and what he brings. First off, as of the current rules, he's a sit-out transfer with two years of eligibility. So he'd sit for 2020 and then play in 2021 and 2022. If the rule is changed and he's eligible this season, I think I'd still prefer a redshirt? New school, adjust to the new system, we have three senior receivers who will get the majority of the receptions - learn during an off year like Milo Eifler did and then play for two years.
Eifler is my transfer comp here. Showed out huge as an athlete in high school earning a 4-star rating (Eifler was Composite #142; Hightower is Composite #154). Eifler went to Washington, played as a true freshman, seemed to be behind other players as a true sophomore, transferred to Illinois, sat out a year, started in 2019 and will start again in 2020. Hightower went to Miami, played as a true freshman, seemed to be behind other players as a true sophomore, transferred to Illinois....
I'll say this - I kind of wish he was a linebacker and not a wide receiver. On the depth chart, he slides in to become Bhebhe's replacement in 2021, but I really wish he was Eifler's replacement in 2021. Feels like we need more bodies there than at receiver.
But, we will need a Bhebhe. And watching some Miami highlights, that's who this kid is. 4th & Bhebhe will become 4th & Hightower (working title). Here's a 4th & Hightower play from a Miami/LSU game: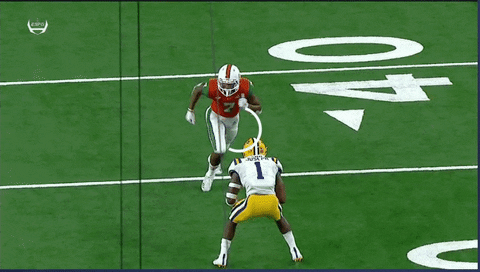 I can see how the coaches saw that and pictured the same thing as Bhebhe. Or, perhaps more accurately, I can see how the coaches saw that and went out and sold him on being Bhebhe II.
I also did a dive through some Miami message boards to try to learn some background here. The most informative one was this thread. There's a poster there who is close to Hightower (perhaps an uncle?) who says that he's happy to get a fresh start:
He's excited just to get a fair opportunity and a fresh start. What he does from that is on him. Boys been busting his ass. Hell be fine.
That same guy is liking posts like "once Manny is fired the purge can begin", so it sounds like this was a falling out with Diaz. (I can't confirm any of that, nor can I confirm that the guy is related to Hightower, so take it all as message board rumblings.)
One other fun thing from that before we get to Tom Cruises. That thread, like every message board thread in the history of time, devolves into Miami fans arguing over how much they suck. It's your typical thread evolution - someone says "why would he want to go to Illinois instead of Miami", followed by someone saying "yeah well we suck why would anyone want to be at Miami right now", followed by "we're at least better than Illinois", followed by an "are we?" like this:
Here is the funny thing about peoples takes here.
Whether the move was right or not is debatable but he went from:

Team A , A 6-7 team that played in a conference with 1 ranked team and did not play them

to

Team B, A 6-7 team that played in a conference with 6 ranked teams and played 4 of them
I very much enjoyed chuckling at that.
OK, so Tom Cruises. I feel like I went too low with Tom Cruise ratings of transfers last year. I gave Brandon Peters three Tom Cruises and I gave Josh Imatorbhebhe 2.5 Cruises, mostly because they didn't seem to have many transfer options, and then both played well above that level - much closer to their original ranking. So maybe I was over-emphasizing "they couldn't cut it at Michigan/USC" and didn't emphasize "like all players, they'll improve substantially their fourth and fifth seasons" enough.
You know what? Eifler is clearly the comp here (crazy athletic, wasn't getting snaps, transferred in pursuit of snaps). Let me go look up what I gave Eifler and I'll give Hightower the same. Survey says...
Brian Hightower - three and one-half Tom Cruises.