Looks Like University Of Illinois - TreSean Smith
Robert
May 15, 2020
[]
[]
6 Comments
You have currently viewed 1 story this month.
IlliniBoard now offers two free stories per month, for more please subscribe.
Maybe it's the fact that the last two DB's I graded got 1.5 Cruises (Nicholson and Green), meaning I'm not calibrated properly, or maybe it's just that I'm desperate for us to find safety help, but I think this kid is really, REALLY good. Best of the transfers this spring.
First off, safety is a big need. I just wrote about this in the Brevyn Jones LLUOI, so I won't go back through the whole thing again, but in November I put together a 2021 depth chart (two years down the road) and listed positions where we needed depth for that team. Here's the players we've added since then (excluding guys like Bell and Jeresaty who are just one-year transfers for 2020).
Offensive Line - Brevyn Jones
Wide Receiver - Brian Hightower
Defensive End - Cooper Davis
Defensive End - Jerzahn Newton
Defensive Tackle - Tre'Von Riggins
Linebacker - none
Cornerback - Tahveon Nicholson
Safety - none
Safety - none
The two "nones" at safety were quite concerning, so that's why this is a massive get. I'd prefer it if he was a freshman safety in the 2020 class and not a junior safety, but something something beggars choosers.
It appears that Smith is taking the Brandon Peters/Wole Betiku route: graduating from Louisville after three years as a grad transfer, meaning he'll have two years of eligibility in Champaign (2020 and 2021). I did a lot of research on that - 247's Transfer Portal page has "immediate" next to his name, meaning he's immediately eligible, and several news articles (and this tweet) list him as eligible this fall, so that's what I'm going with until someone tells me otherwise. (Please note: I'm an Illini football fan and someone always comes along and tells me otherwise.)
That means he's probably Stanley Green's replacement. My last depth chart put Miami transfer Derrick Smith there (and it still might be him), but there's still some question whether D. Smith will be a safety or a linebacker. Lovie listed him as a linebacker in the press conference after he transferred, but Smith was going to be tried at safety this spring (according to things he was saying on Twitter). That's probably a Delano Ware-like thing - Ware was at safety, then linebacker, then back to safety, then linebacker, then safety. Derrick Smith probably takes that same route, especially with TreSean Smith on board.
That probably needs a paragraph. Lovie takes over the defense after Hardy Nickerson leaves. I go to my first spring practice last spring. 20 minutes into the first practice, I text Craig something like "Delano Ware - linebacker?" and then, after the next practice, "nickel is no more". Lovie's defense would have three linebackers again, with the Sam linebacker needing to have safety-like characteristics. Lovie (or Nickerson, maybe) had experimented with several different things the first three seasons (nickel on the field 80% of the time and only two linebackers, then nickel and SLB rotate every play depending on what the offense has on the field, then nickel only in passing situations), but this fourth season, it was "I'm Lovie Smith and I have three linebackers in my defense and that's just the way it is". Milo Eifler was that linebacker last year (and will be this year). Eifler's backup (and the guy who came in to replace him when Eifler was ejected in the first quarter at Michigan State) was former safety Dawson DeGroot. So yes, in the future, Lovie will probably fill that position with more DeGroots and Wares moving up from safety.
Where was I? Yes - Stanley Green's replacement. Going back to my last depth chart and moving TreSean Smith into the starting lineup, here's what I see for this fall:
CB | Hobbs (SR) | Witherspoon (SO) | Thompson (rs-FR)
SS | S. Brown (JR) | Ware (JR) | Joseph (JR)
FS | T. Smith (JR) | D. Smith (JR) | Martin (JR)
CB | Adams (SR) | Beason (rs-FR) | N. Walker (SR)
I'm drunk on film tonight but let me just say that I think that's the best Illini secondary in at least 10 years. I'm willing to listen to other arguments but.. I can't really think of a secondary in the 2010's that comes close to that.
OK, so what do we know about Smith? Well, he was suspended all of last season at Louisville. I looked around, but it doesn't look like Louisville ever announced why he was suspended. If he's graduating in three years I doubt it was an academic suspension, so it had to be some "violation of team rules".
Which makes this move quite interesting. I mean, we just recruited someone else's Bennett Williams, right? Bennett Williams would have been the starting safety alongside Sydney Brown this fall, but Bennett Williams was dismissed from the team for a violation of team rules in 2018. He went to juco for a year and then signed with Oregon. We have now added a player who was suspended for a full season at Louisville.
I'm not saying that to say "Bennett Williams was a bad seed" or anything like that. I'm saying that Lovie has run a tight ship up to this point, and we've seen him part ways with many players for off-the-field stuff. I believe this is the first time he's added a player from another team who had off-the-field issues.
Again, I know nothing about TreSean Smith's season-long suspension, so it could have been something minor and the new coach wanted to make an example of someone (or whatever - these are spitballs upon spitballs). I'm just observing one thing: this is the first time Lovie has added a player who left his other school for off-the-field reasons.
OK, let's get to why I'm so excited. First off, I went back through his recruiting profile. It's an interesting timeline. He's a member of the 2017 class, and he commits to Louisville in June of 2016. That fall, which would have been his senior high school season, it appears he began to blow up. Notre Dame offered. Penn State offered. 247 bumped him from a 3-star to a 4-star. According to articles I read, he was halfway into a flip to Notre Dame when he visited Louisville in January and re-committed. Here's a tweet I found (if you turn the sound on you can hear the Louisville narrator explain the whole "flip to Notre Dame? I don't think so - interception in his first game as a true freshman at Louisville") which talks about it:
Purdue tried to get cute on this flea flicker but the true freshman TreSean Smith soaked up his coaching this summer and was not fooled. pic.twitter.com/UGIPv6pIkV

— Dave Lackford, Esq. (@DaveLackfordESQ) September 7, 2017
Watching some of his senior high school film, I can see why he blew up (and was bumped to a four-star). He's really, really athletic (played QB in high school). And I can see why he was immediately in the rotation at Louisville. I watched the Louisville-Boston College game from that season on YouTube, and as soon as I turn it on Smith makes this play: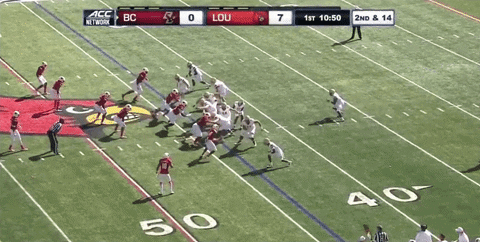 The concerning thing, athleticism-wise. In Louisville's bowl game that season, he suffered a severe knee injury. It doesn't say "ACL" anywhere, but I did find this article where Bobby Petrino talked about the injury. The article notes that Smith had "just returned to running" five months after the "gruesome" injury, so that does sound like an ACL. Coming back from an ACL is always scary for any athlete, so that's a concern. Of course, if you're concerned why most people agreed Smith's freshman season at Louisville was better than his sophomore season, well, perhaps he was still not 100% after a knee injury in January and that's why he didn't play as much/start as many games.
He did have several nice highlights from that 2018 season, though. He seems to be a Stanley Green-like "put your helmet on the ball" kind of player: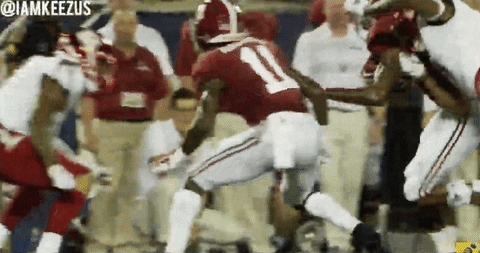 And these highlights from his freshman season are great as well:
God's Plan....🙇🏽 #TrueFreshmanSZN

S/o 🎥: @BrothatoBrotha_ pic.twitter.com/xAeYEAYs7q

— TreSean "4K" Smith (@Tre11Smith) January 31, 2018
So there's a whole bunch to like here. Immediately eligible, position of need, recruit who blew up senior year which meant Louisville had to fight off Notre Dame and Penn State, wasn't a bust (transferring after being suspended for a year, not because he had been passed on the depth chart), good film, forces fumbles, we get him for years four and five... a whole lot to like. And that means four Tom Cruises.
TreSean Smith - Four Tom Cruises.