Looks Like University Of Illinois - Trevor Moffitt
Robert
May 16, 2020
[]
[]
3 Comments
You have currently viewed 1 story this month.
IlliniBoard now offers two free stories per month, for more please subscribe.
I don't understand recruiting. All of it. The rankings, the offers, the process - I just don't understand. I mean, I feel like I know a lot about recruiting. I've had hour-long conversations with fathers of Illini players where they walked me through the entire process their son went through - what's a real offer, what's not, why players are slow-played, why players are immediate takes - and I still don't understand recruiting sometimes. I don't understand the offer list for Trevor Moffitt.
I'll be more specific. Why does Trevor Moffitt not have an offer from South Florida? I'll leave "why were we his only P5 offer?" to the side for now and just focus on USF. Moffitt does not have an offer from South Florida despite:
His father was an All Big East linebacker at South Florida.
Moffitt plays high school football 49 miles from the USF campus.
The newspaper for that region in Florida (north of Tampa, west of Orlando) named Moffitt the player of the year as a junior, so he'll likely win the award in back to back years.
His film is solid (we'll get to that in a second) as are his track numbers. I get that "solid" film can be subjective, but, well, we'll get to that.
He has offers from several other schools in USF's conference (like Temple and UConn although I guess UConn technically won't be part of that conference for very long).
All of that and no offer from dad's school. Why? It's May, so it's not like it's February and they've been evaluating or something. What would prevent an offer? (And yes, as I'm typing this, I'm realizing that Kevin Hardy's son is a rising senior and as of now it looks like we haven't offered so I should just shut up.)
To take that from a side thought in parenthesis to a full-blown LOL, I just looked up Langston Hardy. He has offers from schools like Georgia Tech and Maryland. But no offer from Illinois, his dad's school, the school where said dad won the Butkus Award. If you scroll down on his offer page you'll see that he also has an offer from...
USF.
LOLOLOL.
OK so I'll shut up about schools not offering plainly obvious legacy players under their nose. I'm the guy who always preaches "it's about fit", and I give coaches lots of room to find the players they believe are a fit for their systems, so I should just take Illinois not (yet?) offering Langston Hardy and USF not (yet?) offering Trevor Moffitt as "there must be 'fit' concerns".
And I probably should be making this point after I tell you how good I think Trevor Moffitt can be. I'm telling you this before going through all of that, and your response so far is probably "uh, isn't the easiest answer here 'because he sucks and Illinois shouldn't have offered him'?". This post is backwards.
Let's start with film. I went through Moffitt's film a few weeks ago on a Zoom call with friends. Yes, I have Zoom calls with friends where we watch film together. On this call, My Guy was Trevor Moffitt and Carmen's Guy was Dylan Hazen. We landed My Guy. Eat it, Carmen.
His film is both great and bad. Great in that he shows some real linebacker instincts. Bad in that it should be titled "Trevor Moffitt blitzes" because that's basically all it is. You know how I always sour on running back film if it's just some kid running through wide open holes untouched into the endzone? Film of a linebacker running through OL gaps and tackling the QB untouched are the same.
BUT, push past that and this is really good stuff. I'll walk you through some of it. It's 4A football in Florida, and Florida has 7 classes, so think of it as.. Rochester vs. Sterling or something.
First one - blitz, zero OL help, poor RB never had a chance against a downhill linebacker like Moffitt: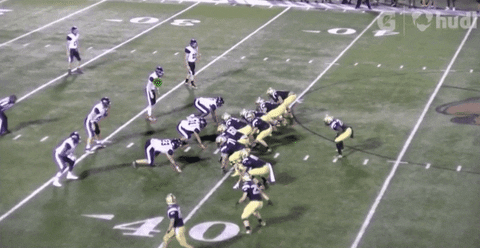 So yes, blitz is on, right tackle spins his guy out, right guard double-teams the nose, there's a wide open lane for Moffitt to run through. But running through the block, driving the legs until the QB is on the ground - that's good stuff.
Next play - he's clearly the spy here. Stay home, read the play, if it's a passing play stay on the QB if he takes off. And the QB comes right to him. Easy play made hundreds of times in high school games across the country.
BUT, keep your feet active while reading the play, square up (so many high school linebackers will simply run to the ballcarrier and reach to tackle him instead of widening their base and squaring up), stay low, drive up into the tackle - that's good stuff.
One more. Seems like a simple play, but I'm glad he included this in his film. He has a few 20-yard sacks on his film, and a safety, and a few forced fumbles, and those are flashy plays, but again, 4A football game where he's the best athlete on the field so he's just running past people and making the tackle. That doesn't earn you Cruises.
But subtle stuff like this does. Granted, the offensive tackle he engages with here isn't going to playing football anywhere in college, but this is linebacking. Read the ballcarrier while taking on the guy sent to block you, disengage from that blocker, make the tackle.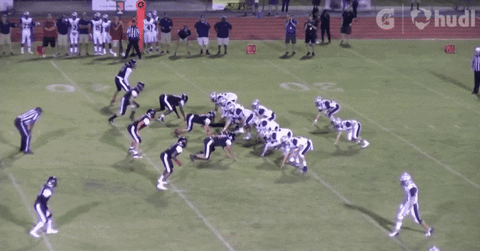 Watch the play again and don't watch Moffitt. It's blocked very well. That's going to be a long gain. Especially when the linebacker on the opposite side (Moffitt) is blitzing. Both the center and the guard get to the middle linebacker, and the other OLB is headed around the corner, so it's going to be one-on-one with the QB and safety for possibly a very long gain. BUT, Moffit got off his block and shot across to make the play. Great instincts.
Again, I could go gif the flashy plays where he makes a 19-yard sack and stuff. But these are the impressive ones to me.
A question: is he athletic enough to play in the Big Ten? This doesn't mean much football-wise, but I think this means he is an athlete:
Incase Y'all forgot about the Bounce😤😏 pic.twitter.com/HFCvKb4h5V

— TMOFF5️⃣ (@trevor_moffitt) April 26, 2020
I know - lots of people can dunk. I'm evaluating whether he's athletic enough to play linebacker in the Big Ten. I think this shows that he is:
That and his track numbers. Won districts in long jump last year, had only one track meet this year before the shutdown but won the 100 yard dash. Again, mid-size school so these things aren't that big of a deal. His time was 11.73, so no, he's not going to be a wide receiver for us. But all of this does tell me "yes, he's athletic enough".
Which means the it all comes down to "is he big enough". He must have been getting a lot of questions about that because he tweeted a photo of himself with a tape measure showing 6'-2" height and 6'-2" wingspan. What do you do when assistant coaches can't go out on the road and do the whole "verify height/hand size/etc" thing? You tweet a photo with a tape measure. Recruiting and Covid - a special report by IlliniBoard next week. (Actually, I am writing a post about it.)
The 6'-2" seems to be a bit of a stretch. I'm guessing he's closer to 6'-1". And as you can see from the basketball video, his frame is kind of small. So the question becomes: once the strength coaches put 30 lbs on him, will he still be fast and agile enough?
Given his bloodlines and his athleticism, I'm thinking yes. Maybe I'm wrong here and the reason he only has one P5 offer is the size thing. Maybe he's in Dawson DeGroot tweener land (note: we're not in a bowl game without Dawson DeGroot's second-half defense at Michigan State filling in for the ejected Milo Eifler). But overall, I really like this pick-up. Tempted to go as high as 3.5 Cruises, but the offers (and his current size) will drop it to three. BDefinite Asamoah Award candidate here, though.
Trevor Moffitt - Three Tom Cruises.