Looks Like (He Committed To The) University Of Illinois (Five Months Ago) - Samari Collier
Robert
May 6, 2020
[]
[]
2 Comments
You have currently viewed 1 story this month.
IlliniBoard now offers two free stories per month, for more please subscribe.
I went to write the second LLUOI post for the 2021 class and I realized I had never written the first one. Samari Collier committed to Illinois back in December, the first-ever "added immediately after his junior season" recruit for Lovie, I believe. Actually, let's figure that out real quick.
2017 was his first recruiting class, and Ricky Smalling was his first recruit. That was late April (April 26th, I believe).
In 2018 Coran Taylor was first. He was offered during their push for his teammate (Kendrick Green) in December of 2017 and he verballed (looking this up) April 3rd.
2019 is easy - Marquez Beason was first. March 10th. Isaiah Williams also committed in late March.
2020 the first recruit was.. why can I not remember this? Last spring was all about the transfers visiting and verballing but I can't remember the first high school recruit. Gonna have to look it up. THAT'S RIGHT. Reggie Love. April 7th.
So, April 26th, April 3rd, March 10th, April 7th, and now the first commit is December 7th? I probably need to wonder out loud here: why?
I get it with Beason (and Williams). I get it with Smalling. I get that Coran Taylor was the QB they wanted in 2018 so they offered him early and he committed early. We've seen that a lot over the years (Beckman & Cubit with Eli Peters, Jimmy Fitzgerald, and Chayce Crouch) - the QB is one of the first verbals in a class. I get that that's the case with Taylor and Williams and now Collier. I guess I'm saying I don't understand why the rush with Collier. Which is probably a big ol' tell for when I get to the Tom Cruises portion of this post.
I do think the main reason I never wrote the Collier LLUOI post in December is because I was caught up in the seniors who were verballing at the time (Tre'Von Riggins, Cooper Davis, Jerzahn Newton, Deuce Spann). I was especially smitten with Spann (4 Tom Cruises), and I think he's the QB of the future, so maybe I was all "OK yeah and we landed a junior QB as well" and just forgot to write him up.
Looking back through Collier's tweets, it looks like he announced his offer from Illinois on June 7th, so that screams "camp offer". Meaning, our coaches saw a sophomore QB at camp and said "we could use that guy". He has a nice junior season at DeSoto HS in Texas, they go to the playoffs and lose in the second round to Southlake Carroll. His Twitter account shows offers from Toledo, New Mexico State, and Illinois and he picks Illinois in December. You can't really read much into offers when a commit chooses you a year early (spring is when most offers come in, and he verballed before he got there), but you can say that if this kid had top-300 junior film, a whole bunch of other schools would be pursuing right now.
I can't help but compare him to Spann. They committed one week apart, they'll be battling against each other in the summer of 2021 in a wide-open QB competition, they're both dual-threat QB's - they're going to be compared to each other for a long time. Hmmm... maybe I should spend a paragraph on that QB competition.
Summer 2021 (assuming there's a 2020 season and the current seniors have graduated - if there's not a 2020 season, Brandon Peters is theoretically still around), here's the quarterbacks on the roster and their year in school going into that 2021 season:
Matt Robinson (rs-JR)
Coran Taylor (rs-JR)
Isaiah Williams (rs-SO)
Deuce Spann (rs-FR)
Samari Collier (FR)
(I'm assuming Spann redshirts this fall with Peters returning in the starting role. Same as Isaiah Williams - select four games where he plays and then he gets a redshirt.)
This is where I remind you for the second time in three weeks that Isaiah Williams was at wide receiver in the Redbox Bowl back in December and caught three passes. That tells me he's at least open to the idea of "just get me on the field, coach". So my ideal scenario for the Nebraska game in Ireland is Deuce Spann at QB and Isaiah Williams in the slot (where he throws a touchdown pass to Brian Hightower on a reverse LET'S GOOOOO).
Say that happens. Where does that leave Collier? True freshman looking up at a redshirt freshman starter? That's a tough spot. Wait four years for a chance to start as a redshirt senior?
OK, I'm way ahead of myself. I'm assuming the 2021 starter and then making assumptions on what happens with the rest of the QB's on the roster. And I haven't even looked at the transfers we pursue next spring. Let's back up to the whole "compare Collier to Spann" thing.
I'll just be blunt. There's a lot to work on QB-wise.
Compare Collier's throwing motion...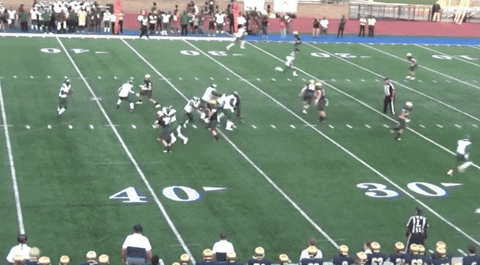 To Spann's throwing motion: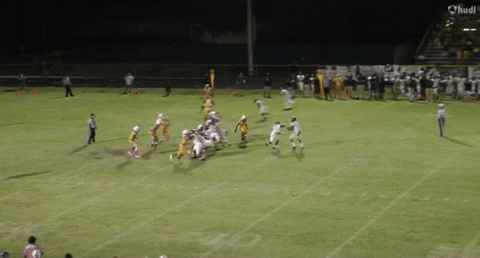 See how Collier has to wind up and keep his body moving forward and drive the ball with that forward body motion? And how Spann keeps his base and uses torque to fire a 35 yard pass? The second Spann clip in the gif also shows him throwing while moving forward. He doesn't bend his knees and drive the ball with his body - it's a quick twist and a natural toss.
These are just mechanics. They can be taught. Throwing motions can be corrected. But if you want to know why I gave Spann 4 Cruises while Collier... will not get 4 Cruises, well, it's in those clips.
Now, playing quarterback is about 13 other things. If Collier can read a defense and Spann can't, throwing motion schrowing schmotion. And this debate might just be moot because Isaiah Williams wins the job and runs and throws for 200 every game (let's GOOOO sorry I really need some football). But this is an evaluation of a recruit, and my evaluation of this recruit is that he needs a lot of refinement.
Which makes my comp here Matt Robinson. Both Robinson and Collier can run. Both are athletic QB's. The question is whether they have the arm (and can develop the throwing motion) for the job. Against Northwestern back in November, the answer was an unfortunate "no" for Robinson (although, let's be fair, just a redshirt freshman). The answer for Collier is TBD.
Although, I do need to note, I went digging for more Collier film (more than just his best plays compiled on his highlights). I found a long set of highlights from the DeSoto-Southlake Carroll playoff game. Unfortunately, there were several plays like this: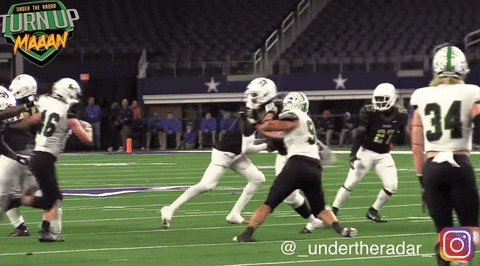 Look, Joe Burrow probably has high school film where he was scrambling and threw a lob into quadruple coverage. But I'm evaluating film here, and the highlights of that game aren't the best. Which is fine - coach it out of him - but this does give us some insight. The highlights from that game say "has work to do". I'm not saying "shouldn't have offered" here. Just saying "developmental recruit".
If he doesn't prove to be a QB could he play somewhere else? Watching him run on film, I'd say the answer is absolutely "yes". This is your "best athlete on the team plays QB" situation, I think, so I'd love to see Samari Collier, wide receiver in a few years. Give me all the Texas athletes we can acquire. Of course, I'm entering year three waiting for Coran Taylor, Strong Safety, so sometimes you can't always get what you want.
I think I'll follow Robinson on Tom Cruises here. Robinson got two Cruises - Collier gets two Crusies.
Samari Collier - Two Tom Cruises.