Looks Like University Of Illinois - Prince Green
Robert
May 8, 2020
[]
[]
1 Comments
You have currently viewed 1 story this month.
IlliniBoard now offers two free stories per month, for more please subscribe.
My first thought watching his film: nope, not a WR, must be a DB recruit. My first thought after that is "cornerback?", and that's followed my "man, we are so set at cornerback". And even though Nate Hobbs and Tony Adams will have graduated by the time Prince Green gets to campus, I'm still going to start his LLUOI post by talking about cornerbacks.
This season - if there's a season - our "position that looks most like a team that could win the Big Ten West" is cornerback. Tony Adams and Nate Hobbs both have 20+ games starting experience. Devon Witherspoon was the best freshman on the team last year. Marquez Beason probably would have been the best freshman on the team but he got hurt in camp and had to redshirt. But the emergence of Witherspoon and the presence of Beason moved Quan Martin from cornerback (where he started 12 games his first two seasons) to safety. And that's the same logic that tells me Prince Green is eventually a safety.
Not that it's some "if you can't cut it at corner, play safety" rule. Safety is much "harder", in my opinion, because one wrong move and a nothing play is a touchdown. See: the South Florida game in Chicago. A good safety must keep everything in front of them... but the moment they sag off and let everything happen in front of them, the opponent picks up chunk play after chunk play. So a good safety has to live directly on the razor blade of getting beat deep.
What am I even talking about right now? Yes - safety vs. corner. Corner requires you to change direction six times in one play, so the best, most fluid athletes go there. Safety requires you to read everything perfectly while still delivering blows - get a 100 out of 100 on a test because 98/100 means you're losing 14-0. So when evaluating defensive backs, I'm generally "guy who makes up for mistakes with elite athleticism goes to corner; guy who makes up for mistakes with 'delivers the hit in the right place at the right time' goes to safety".
Right now, when I look at our underclassmen (putting Nate Hobbs and Sydney Brown and the other upperclassmen aside), we're fairly heavy on "makes up for mistakes with fluidity" and fairly light on "delivers the hit in the right place at the right time". Which is why I'm probably going to look at every "ATH" recruit the next 18 months as "the staff must see him as a safety".
The issue with Prince Green and this theorem: there's a play on his film where he lets a guy run right past him. It's hard to say "I see this guy as a safety" + "safeties can't make mistakes" and then watch film of him getting beat deep. I should just get to the gifs I made and then explain myself.
Here's the play for Green. He included it in his film because he makes the interception. He makes the interception because the WR throwing the ball on this reverse throws it 2 seconds too late and leaves it woefully short. All of these things are fairly typical on high school film - a corner biting on a reverse, a poorly executed reverse - so this is not "oh man check out this play he sucks". I just want to use it to compare and contrast to other film so I can show you why I might rate one guy higher than another.
Here's the play I'm talking about with Prince Green. Bites on the reverse, WR flies right by, underthrown, Green makes the interception:
Now compare that to a similar play on Devon Witherspoon's film:
Different plays, yes. One is a WR throw on a reverse, the other simply a fade. But watch how Witherspoon plays it. Engages with the receiver physically in the first five yards, then beats him to the spot and makes the INT. That's why I gave Devon Witherspoon a higher-than-usual-for-a-0-star-recruit 2.5 Cruises. If both passes are thrown on time, the top gif is a "nobody within 5 yards of him when he scores" touchdown and the bottom gif is never going to be completed.
So I think the coaches looked more at plays like this and said "this kid likes to deliver hits - the kind of hits that prevent a wrapped-up receiver from getting an extra half-yard - so he can play safety for us":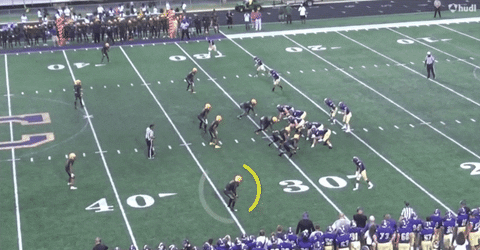 (Green is the cornerback at the bottom standing on the 35 yard line as the play begins.)
Overall - and I always feel the need to apologize when I say this - the film is not great. And when I apply that to his offer list, I think it makes sense? I read it this way.
Athletic kid from Georgia plays varsity as a sophomore. Clearly an athlete. That spring, as assistant coaches come through his school, he begins to pick up offers. Kentucky offers. Kansas offers. Minnesota offers. He's obviously on Power Five radar.
Then he plays his junior season and the film says more "athlete who is a project" than "this is a P5 wide receiver" or "definite P5 cornerback". Kentucky and Minnesota back off (guessing here), and his post-junior-year offers aren't like his post-sophomore-year offers. According to his Twitter timeline, this spring it was just Illinois, South Alabama, Coastal Carolina, Western Kentucky, and Liberty. He verbals to Illinois in early May and that's that.
I do wonder about Coronavirus and recruiting with a kid like this. There are plenty of players in the past who have gotten big offers as sophomores, those schools backed off a bit after junior film (which is often "it's not a no, but we'd love to see you come to camp in June"), they have one good camp (be it a regional camp or a school camp) and suddenly their offers take off again. With all camps canceled, that's really not possible right now. This recruiting cycle is going to be completely devoid of in-person evaluation. If there's high school football in the fall, there are going to be a lot of undiscovered players who would have been discovered in May and June. If there's not high school football, man are things going to get weird.
All of that to say... it's possible that Green could have grabbed several more offers (and re-ignited interest from Kentucky and Minnesota) with a few good camps. We'll just never know. I will say - and this is just my read - from the junior film that's out there, I do think I understand the difference between his sophomore offers and his junior offers.
My comp here is Kerby Joseph. Clearly an athlete, but is he a football player? And what's his position. Joseph was tried as a nickel corner and then he was tried as a safety - I'm guessing we might see Green all over the place as well. Best case scenario (for both Joseph and Green): they have a Stanley Green-like awakening and provide quality snaps as an upperclassman. Worst case scenario - it's a similar roster of safeties to what Lovie inherited and he hands the next coach the same problem.
I think I'll match the Kerby Joseph Tom Cruises as well. Athlete, project recruit, we'll see if he's a football player.
(Prove me wrong, kid.)
Prince Green - One and one-half Tom Cruises.