Looks Like University Of Illinois - Patrick Bryant
Robert
Jun 18, 2020
[]
[]
6 Comments
You have currently viewed 1 story this month.
IlliniBoard now offers two free stories per month, for more please subscribe.
Maybe it's just me, and maybe it's just the Illini places I visit on the internet, but I'm not sure I can recall a solid recruit picking Illinois with this little fanfare. I wasn't expecting Twitter to explode, and I didn't think my phone would completely blow up, but I didn't expect radio silence. So this will be one of those Josh Baskin posts where I just sit there silently and then say "I don't get it. ... Yeah, but I don't get it."
Let's start with numbers. Some comps. Patrick Bryant's offer list is impressive (Penn State, Florida State, Virginia Tech, Nebraska, Miami, Iowa), but let's just go by the numbers. 247 has taken their composite rankings from the last 15 years or so and compiled them into "all-time" rankings for each team. In those rankings, for Illinois, Patrick Bryant is #127 (all-time). The players immediately behind him:
128: Johnny Newton (2020)
129: TJ Neal (2012)
130: Kievan Myers (2018)
131: Lere Oladipo (2017)
I'm not trying to make player comparisons here. I'm not saying "Bryant is somewhere between TJ Neal and Lere Oladipo". I'm talking about the fanbase reaction to a recruit picking Illinois (as I perceive it). Most of this is Twitter-based (people reaching out to discuss the commit or just generally discussing it in a place where I will see it), but some is also perusing message boards. I remember when Newton, Neal, Myers, and Oladipo all committed to Illinois. I remember the Twitter reactions and the message board reactions. All four were a pretty big deal. Now we land a WR of the same pedigree and it's mostly shrugs? I don't get it.
Let's take this further. There's been a lot of grade inflation over the years in those composite rankings. Each year, the recruiting sites inch the grades higher and higher. Matt LaCosse had a composite score of .8610 and he was #528 in the 2011 class. Kyron Cumby had a nearly identical composite score of .8581 and he was #908 in the 2019 class. Total grade inflation.
So let's go by overall ranking then. In the composite rankings, Patrick Bryant is listed as the 935th-best player in the 2021 class. Here's other players who were ranked around that spot in their own classes:
The aforementioned Kyron Cumby (#908)
Jamal Milan #898
Tony Adams #913
Deuce Spann #918
Khalan Tolson #933
Again, I'm not going for "I think he's equally talented to Tolson and Milan" - we'll get to the evaluation part in a minute. I'm going for "rankings-wise, this is the level of recruit we just landed" here. I remember landing Tolson (Michigan and Michigan State offers had us excited), Milan (signing day decision over Minnesota where I lost my mind), and Adams (head-to-head against Mizzou with him supposedly changing his mind three times). Spann and Cumby were both in the last few years (with Spann we were trying to figure out if the late Auburn offer was for real and with Cumby we were all convinced he was flipping to Texas Tech). I have a decent memory of all of those commitments, and the reactions for all were well beyond the reaction I've perceived here. Why?
This is probably one of those things I'll understand later on. As you may know, I'm a "wait for things to happen" guy, not an "I can already see that this is going to be a disaster" guy. I was at the Ohio State game in 2011 and wrote a long post when I got home about how we were #16 in the country and booing the coach on the third play of the game. I was in the moment, celebrating being #16 in the country (yes, Illinois football, in the previous decade, #16 in the polls), in disbelief that the crowd was booing. We lost that game and 71 of the 104 games since, so I understood. It will take a lot before Illini fans can ever trust again.
But I still don't understand the lack of excitement over a commit with those offers who is ranked in the Milan/Adams/Spann/Tolson range. We were bad when those recruits committed, and they were celebrated, but only a few shrugs for Bryant?
I don't get it.
OK, I can't spend this whole post ranting. Let's get to some gifs.
Fluidity is key. The little move to get past the hapless DB and then the curl towards the pylon = fluidity:
In press coverage, win the hand battle (and then use one of those hands to make the catch):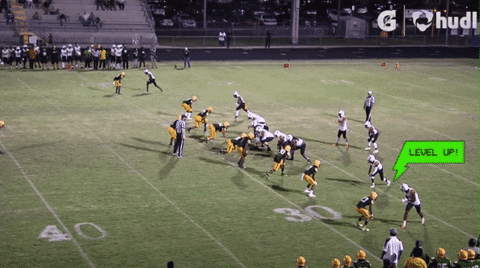 Snatch the ball out of the air, keep your balance, fight off the tackle, and go:
One more from Twitter. Just fantastic body control:
ITS ALL GOOD...ANOTHER DAY ANOTHER DOLLAR 🗣🤦🏽‍♂️ pic.twitter.com/oIYseRUpeE

— 𝑷𝑨𝑻 𝑩𝑹𝒀𝑨𝑵𝑻 ¹³ (@duvalpat3) August 25, 2019
Now let's talk offers. As always, I do a Twitter dive to find the timing of the offers.
June of 2018, which would be the summer after his freshman year, he gets his first big offer from Miami. He's now suddenly on everyone's radar with three more years of high school football ahead.
After his sophomore season, more offers. Virginia Tech, Wake Forest, South Florida, etc.
That April and May, he talks about attending a bunch of regional camps. These are the April/May camps put on by Rivals or Under Armour (or whoever) where players can see their stocks soar. These are the camps that didn't happen this year.
After those camps, more P5 offers. Rutgers, Nebraska, and the big local one (for him) - Florida State. He tweeted photos from a Florida State camp that same weekend, so apparently he was offered on campus at one of their June camps. (No June campus camps happened this year, either.)
Last fall, it looks like he visited FSU for two games (and maybe Nebraska?). Then his tweets all focus on his injury - halfway through his junior season, a torn labrum. Most tweets are about his rehab from that injury. He talks about it in this article.
In November and December he adds Penn State, Indiana, and Syracuse. The article above said he planned visits to Penn State and Syracuse this spring. Not sure if he took those but I'm assuming Covid shut them down.
OK, so now we're in the big offseason. He's a rising senior, the period of time which is everything as far as offers and rankings go. He announces a top-6 in January of Florida State, Georgia Tech, Syracuse, Penn State, Virginia Tech, Nebraska.
After that top-6, he adds offers from Iowa, Virginia, Minnesota, Arkansas, Illinois, and Vanderbilt.
June 6th he announces that he's making his decision this past Sunday, a few days later he announces his final two are West Virginia and Illinois, and on Sunday he verbals to Illinois.
Did he still have the FSU offer? I doubt it. The offer (and his two visits last fall) happened under Willie Taggert, so who knows if Norvell offered as well. Doesn't look like it.
And, with the way recruiting has been going this spring (Covid uncertainty, schools racking up verbals faster than in the past), I'm assuming that some of those schools above got to the "we already have our three receivers for this class" earlier than usual. Perhaps some were concerned with the injury as well (although a shoulder doesn't usually make teams back off). Whatever the case, his 2020 offers were still strong, and his film is still strong, so this is a strong add.
For Tom Cruises, I'm stuck between 3.5 and 3.0, so I'm going to pull the Bobby Roundtree rating and go with 3.25 Cruises.
Patrick Bryant - Three and one-quarter Tom Cruises.