Looks Like University Of Illinois - Theodore Lockley
Robert
Jun 23, 2020
[]
[]
7 Comments
You have currently viewed 1 story this month.
IlliniBoard now offers two free stories per month, for more please subscribe.
Your team is recruiting a tiny recruiting class. Should you be A) pleased because they're all so fast or B) scared because they're all so small? I don't really know the answer. I just always go back to the Ron Turner/Andy Katzenmoyer quote at times like this.
That quote, which is just my paraphrase of the actual quote (which I cannot find) goes something like this:
Ron Turner is preparing for his first matchup with Ohio State. The roster handed him by Lou Tepper was.. not good. A reporter asks a question:
"Coach, how do you feel about facing an All-American Linebacker like Andy Katzenmoyer on Saturday?"
"Well, he's bigger than all of our defensive ends and faster than all of our wide receivers".
(It was true. Illinois had no defensive ends who weighed more than 255 lbs and no wide receivers who ran a 4.58 40.)
That's basically football. Aaron Donald is 285 lbs and ridiculously strong yet he can still run like a tailback. Reggie Corbin ran a 4.65 40-yard dash at his pro day; Aaron Donald ran a 4.68 at the Combine. When you're that big and you can move your feet like a tailback, game over. You can run through AND around offensive linemen.
Scale that for basically every position. Calvin Johnson runs a 4.35 at 6'-5", 236 lbs. Ballgame. Orlando Pace could do cartwheels and backflips at 325 lbs. Brian Urlacher is 260 lbs and could run a 4.5. It's all about the combination of size and speed. If speed was all that mattered, every team would take their three fastest cornerbacks and put them at linebacker. They can't because they're not big enough to shed a blocker and make a tackle.
Such is the uphill battle for all Mighty Mouse players. Kyron Cumby will try to overcome being 5'-7" with his 10.28-in-the-100 speed. In college, you can get away with just speed. But in the end, Ohio State and their linebackers who are bigger than your defensive linemen and faster than your wide receivers will pretty much always win.
Theodore Lockley isn't as tiny as Cumby. He's listed at 6'-0", so he's probably 5'-11", 170. He's an ATH recruit, which means CB or WR, and 5'-11" is perfectly fine for CB (and, if really fast, WR). I'm more taking this moment to point out that this class is shaping up as "speed over size". Moffitt and Rosiek are both a bit undersized at linebacker, but they're fast. Daniel Edwards is a bit undersized for a defensive back, but goodness is he fast. Theodore Lockley is yet another track guy known for his speed.
And it's great speed. According to this site, he's closing in on his high school's record in the 100 with the 10.74 he ran this spring before Covid shut down his junior track season. Using that conversion chart I posted a few weeks ago, that's somewhere around 4.45 40-time. That's legit speed.
And it shows up on film as well. I just made one gif for him, but it's a rundown tackle after a fumble on offense. The kid returning the fumble isn't fast, but still, this is some very nice closing speed. Especially since he needs to hit the accelerator a second time after getting blocked: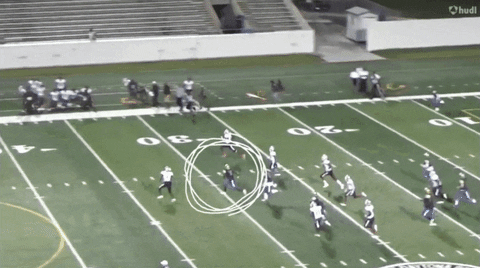 The issue I have with the film: a lot of it is straight line speed. If I had to guess, that's why his P5 offers were limited to Kansas, Rutgers, and Boston College. 10.74 speed will get just about any school interested, so when you have 10.74 speed and only four P5 offers, the concern is football fluidity. Football recruiting can't just be reduced to track speed. Take the top ten 100m times in the state of Florida last year and I'm guessing maybe only three of those guys play college football. There's a lot more to it than just "runs fast from A to B".
But coaches are allowed to build their rosters however they want - the Andy Katzenmoyers aren't coming to Illinois - and Lovie has leaned on speed at every turn for all four recruiting classes. I feel like I've written this two-dozen times over the last few years, but if there's one theme here, it's that nearly every skill position guy Lovie has recruited is a track athlete. We may be tiny, but we're fast. But also tiny.
Rutgers is at 21 verbals and Kansas has 3 ATH's committed so I'm guessing that's why Lockley's final four schools were Bowling Green, East Carolina, Boston College, and Illinois. With classes filling up quickly during Covid (there are going to be so many decommitments this fall), some guys are probably seeing their opportunities dry up. When a guy is down to those four, you gotta win that one.
Is he a WR? CB? Not sure it matters at this point. Recruit some ATH's and see what you have. Sometimes they have football speed, and that's when things get fun.
Can't go very high on the Tom Cruises, though. Just not sure what he brings besides speed, and his offer list suggests that other schools aren't sure what else he brings. As always, hope I eat my words.
Theodore Lockley - One and one-half Tom Cruises