Looks Like University Of Illinois - Joriell Washington
Robert
Jun 26, 2020
[]
[]
2 Comments
You have currently viewed 1 story this month.
IlliniBoard now offers two free stories per month, for more please subscribe.
I'm almost, like, ~done~ with offers. I can hardly stand it anymore. Most sites list Joriell Washington with an Oregon offer. If you're someone who wants to prove that Lovie is recruiting well, you say that the Oregon offer was completely legit (it probably wasn't). If you want to prove that Lovie isn't recruiting well, you say that the Oregon offer wasn't committable (it might have been). Only the Oregon coaches know their board, but everyone is out here saying for certain that they know the status of certain offers so they can reinforce their #stance.
It's starting to drive me crazy (which, again, usually just means I shouldn't read my Twitter mentions nor should I peruse message boards - there's a solution here, and I'm not taking it). Football offers have been, I don't know, weaponized by those with recruiting stances. Florida State will offer a kid in Chicago when he's a sophomore and it's "how is it that our coaches haven't offered yet?". Two years later, the kid will commit to Illinois and it's "well, the Florida State offer probably wasn't even legitimate".
Here at Citizens For Stance-Free Football Fandom, we try to just, you know, pull for our team and react to the information as it comes in. I don't need the Oregon offer to be legit nor do I need it to be uncommittable. I don't need convince you he's a future All Big Ten safety ("BOOM we found another sleeper") nor do I need to load him into my "this isn't working and I told you first" gun. I don't have any position other than "I really want my team to win".
I realize that this is just a "the world has passed me by" way to start a post. I'm never going to defeat stance culture. Everyone is comfortable establishing a way to view the world and then customizing an online experience in order to confirm those views daily, so a guy wearing a "let's see where this goes" shirt is going to get laughed out of the room. I just really struggle with the volume of that confirmation process from Team BOOM and Team SOSI (Same Old Sorry Illinois).
Since we're talking about offers, let's go through the recruiting process for Joriell Washington. From all of my research, here's what I see:
He records this interview with his dad in September (they played at the same high school - his dad played in college at NC State). He has the Oregon offer by this point so his dad asks him to name is top five "besides Oregon". He names UCLA, Miami, Texas, and Ole Miss.
It doesn't appear that any of those schools accelerated their interest into legit offers. Starting in January, he tweets offers from Iowa State, Florida Atlantic, Toledo, South Florida, Illinois, Bowling Green, and Boston College.
He does note in a tweet in May (in reference to his recruiting profiles online) that he "doesn't post all of his offers". So it's possible he had several more schools offering this spring. Looking through those recruiting profiles, you also see offers listed from Kentucky and Purdue (plus Oregon, the offer he got as a sophomore), so that might be what he's referring to.
He started mostly tweeting Illinois stuff in June, so it appeared that he was centering in on the Illini.
I guess we don't know the "I don't post all my offers" offers, which might change the grade a little bit here, but from reading all of that, it feels like he was hoping to be in the Oregon-Texas-Miami range of college football opportunities and he ended up in the Illinois-Boston College-Iowa State range.
Which is fine. This is the kind of recruit you kind of hope doesn't have the best senior high school season. Offers and flips will be crazy this fall (with zero visits allowed all spring and summer, if visits start up again, watch out), so you don't want him to publish some great film and then see those Texas-Miami-UCLA offers come through.
My overall feeling here is that it's nice to see a safety. I think my comp here is Supo Sanni? Tall, lanky safety who likes to hit. It's been a while since we had a 6'-3" safety (maybe Sanni was the last?), so if he develops well, I think we'll see him as the rangy free safety. Wait, I just invented a position. Free range safety.
Film is very free range safety. How am I going to use that term? A single-high safety who sits back in center field and catches pop flies: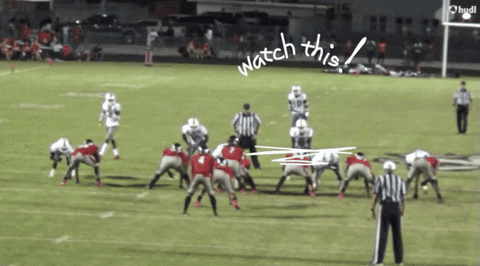 The key to playing that position: identifying the play and getting to the spot. Here he's the safety responsible for the right side of the field. The run goes left. So he has to get across the field and deliver the hit: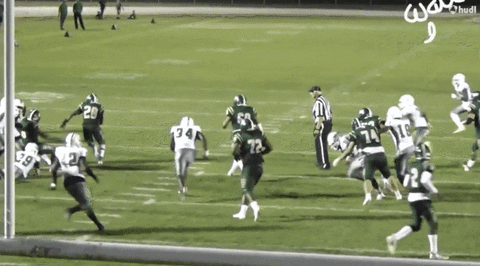 Run support is key. Just think of Stanley Green the last four years. Well, think of Stanley Green last year once he figured out that just flying around hitting people with his helmet was going to get him ejected. Stuff like this: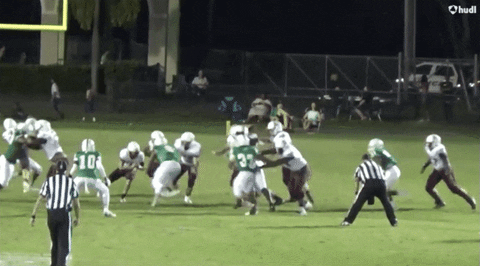 I'm going with 2.5 Tom Cruises here. A five out of ten. And knowing myself, I'm probably doing that to prove my point. A 5-out-of-10 player should never be stanced. Fell from the Oregon-Texas-Miami tier to the Illinois-Boston College-Iowa State tier. Decent film, dad played in college, ran a 22.96 200-yard dash this spring (he runs the 200 and the 400 which mean's he's a long-strider with speed, which is great for safeties). He's probably not a recruit who is going to take you to the Rose Bowl and he's probably not a recruit who would be better off in the MAC. Not BOOM, not SOSI, just.. the median. And the median gets 2.5 Cruises.
Joriell Washington - two and one-half Tom Cruises.