Looks Like University Of Illinois - Tyler Strain
Robert
Jul 30, 2020
[]
[]
1 Comments
You have currently viewed 1 story this month.
IlliniBoard now offers two free stories per month, for more please subscribe.
I'm way behind on these but let's start cranking them out. I believe I have four of these to do (two new verbals, two new transfers), and I've cleared out of my brain haze (honestly felt like I was hung over on Monday and Tuesday but hadn't had a drink since Saturday afternoon), so let's get to it.
Strain is a very similar player to Theodore Lockley, I think. They're the same height, same build - same kind of defensive back Lovie seems to love lately. Lockley recently decommited (perhaps because Strain came on board?), so let's use part of the Lockley LLUOI and then compare the two.
Here's what I said for Lockley (plus the gif I used):
The issue I have with the film: a lot of it is straight line speed. If I had to guess, that's why his P5 offers were limited to Kansas, Rutgers, and Boston College. 10.74 speed will get just about any school interested, so when you have 10.74 speed and only four P5 offers, the concern is football fluidity. Football recruiting can't just be reduced to track speed. Take the top ten 100m times in the state of Florida last year and I'm guessing maybe only three of those guys play college football. There's a lot more to it than just "runs fast from A to B".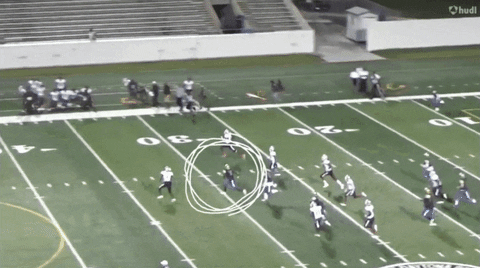 I guess that's not really a gif showing he only has straight line speed (it's just a gif showing he's fast), but his film is mostly just that. Fast from A to B.
That's good, and useful, and needed, but sometimes it doesn't exactly make a football player. Compare that to a few clips I pulled from Tyler Strain's film. The differences are very subtle, but the way I see them, they make Strain more likely to be a contributor in college.
Here's a few subtle changes of direction while maintaining speed covering a punt. The final little curl to make the tackle is so important: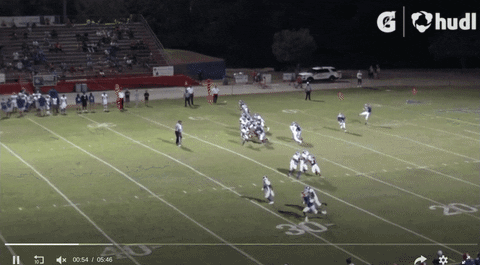 This one is subtle as well - you have to watch a couple times for his footwork as he comes into the frame (before the video pauses to circle him), but this is basically all there is to playing cornerback. You have to be able to halt your momentum ASAP and then refire the boosters. This is football, really. It's why everyone at the NFL Combine does the shuttle drills - starting and stopping (very specifically, stopping your momentum one direction and quickly restarting it in the other direction) = football. Strain isn't some 4-star elite athlete with NFL agility - I'm just saying that this is nice, especially the freeze frame on that plant foot: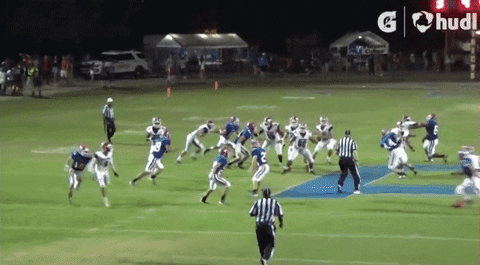 Again, this is not all headed for "Tyler Strain might be the find of the century!". His offers are South Florida, Tulane, South Alabama, UCF, and Illinois. I'm simply comparing him to Lockley here and pointing out that I like Strain a little better.
How much better? Hard to say. He doesn't have a 247 rating yet (remember, no-stars when they verbal >> two-stars when they verbal), so I'll look over Rivals and ESPN. Rivals has him as a 5.4 2-star (ouch) and ESPN gives him a 74 (mid-level three-star). ESPN has him as the 7th best player in a class of 14, and I'd lean a little closer to that ranking, but Rivals having him as a 2-star is a data point to pay attention to.
(Again, yes, I started Tom Cruises to get away from what I perceived to be lazy rankings for Illini recruits from the recruiting services. But where those services rank the players, especially if they're ranked before they commit, are data points I pay attention to.)
So then I look through my own rankings. I gave Sedarius McConnell and Joriell Washington 2.5 Cruises, and I don't think Strain is level with those guys. I gave Prince Green and Lockley 1.5 Cruises and I think he's definitely better than them. I gave Dylan Rosiek 2 Cruises and I think I like Strain a little more. I've never really gone to quarter Cruises for the lower-ranked guys (I've reserved that to delineate between the 3.5 and 3.75 upper-level guys in the class), but maybe I should start doing that for all rankings. I don't have a Tom Cruise symbol for 2.25 (I'll have to use the 2.5 one) but...
Tyler Strain - Two and one-quarter Tom Cruises