Looks Like University Of Illinois - Kalen Villanueva
Robert
Jul 08, 2020
[]
[]
4 Comments
Hey look at that - a football player commits, I had just finished what I was doing for the day, and I have all afternoon with nothing to do so I can write the LLUOI within 15 minutes of the verbal. Well, it won't be published within 15 minutes of the verbal, but I'm STARTING the post within 15 minutes of the verbal.
That means I'm going in blind here. Never heard his name before in my life (generally not a good thing). So let's learn about him together, shall we?
We'll start with a composite score - there isn't one. I kinda like that, because it means my rating will be blind. We'll come back to any individual Rivals or 247 or ESPN ratings later.
Let's go to his Twitter and look through his visits/offers:
Last summer (after his sophomore season, before his junior season) he camped at Duke, Princeton, East Carolina, and Columbia. No early offers (at least none he's noting there).
Two schools have him in for fall "come to our game on Saturday!" visits: Maryland for MD/IU and Duke for Duke/ND. He's from Virginia so that makes sense - those "come to our game on Saturday!" visits are typically within the five hour drive range.
First offer comes in December from William & Mary. He then attends junior days at W&M plus Liberty, Towson, and Fordham. None of them appear to offer him. OK, so that's a big data point right there - visiting FCS schools but they're holding off on an offer. Huge data point.
Then, a big offer the day before Covid shut down the world: Illinois gives him his first FBS (and P5) offer.
No other P5 schools follow that offer, though. He tweets some things that Wake Forest is sending him, but no offer. He gets two FBS offers from service academies - Army and Navy - but that's it for FBS offers. And remember, Army and Navy can bring in as many recruits as they want (every cadet is getting a "scholarship", so you can bring in way more than the NCAA-mandated 25 per class. Army brought in 82 recruits in one class a few years ago.
That deep dive through his Twitter did reveal a few other data points (and reminds us why the player rankings for the 2021 class will be the worst we've seen in a long time). Why the worst? Because this is a camp-less year. Yes, that means no school camps on campus in June, but it also means that all of the regional camps in April and May - the place where the talent evaluators build their rankings - did not happen. I'll use Milo Eifler to explain why that's important. There's a post where I interviewed Eifler to discuss this (during training camp last summer I think?) but I'm on a roll here and I don't want to go find it and listen to it again so I'll just sum it up.
Eifler wanted to play basketball. His HS coach, some guy named Hardy Nickerson, convinced him to go out for football the following year (Nickerson left for the Buccaneers before he had a chance to coach him). Eifler started training with the football players that spring and summer so he attended one of those regional camps for The Opening. At that camp, he tested out as the highest-rated linebacker at the camp.
What's "rated"? The Opening tests you on five things - speed (40-yard dash), vertical jump, power ball (while kneeling you two-hand toss this heavy ball), agility (shuttle cone drill), and "peak power" (I believe this is a combination of body weight plus vertical jump - if you're 325 lbs and you jump 46 inches they just move you up to the NFL no questions asked).
Eifler had otherworldly numbers at his Opening camp and, simply based on that, started to get interest. Eifler took a visit to Washington before he had ever played a single down of actual football. It was all based on his numbers in that combine. If you're that fast and that big and can jump that high and are still ridiculously agile, schools will volunteer to teach you the football part.
Here's Villanueva's numbers on that test (from May of 2019) when he got an invite to The Opening regional in Washington DC:
Have a great performance @TheOpening. 4.52 for 40 yard dash is my new PR. pic.twitter.com/QALayUvqin

— Kalen Villanueva (@KalenVillanueva) May 6, 2019
And if you're wondering how that number compares, here's the scores for that regional. The #1 guy has a fairly amazing score there - he was also the #1 recruit in the country for the 2020 class and is headed to Clemson.
Whole lotta talent showed out today in the DMV, starting at #1👀👀
Overall 3⃣1⃣ go 💯➕ - here's the top unofficial Football Ratings from testing @TheOpening D.C. regional today! pic.twitter.com/0uokIDd1kd

— Brian Stumpf (@Stumpf_Brian) May 6, 2019
OK, so that's a solid data point. Athleticism is athleticism. They're not Eifler numbers, to be sure. Eifler followed up his numbers at that combine with a solid (first) high school season that fall, great camps the following spring (to be fair to Villanueva, all those post-junior-year camps were canceled for him), and then a 4-star rating and a verbal to Washington the following summer. We're a year after Villanueva put up those numbers at an Opening regional and his best offers are Illinois, Army, and Navy. But still, combine numbers are combine numbers. That's not some high school coach telling coaches he has a linebacker who runs a 4.4 and can bench 225 fifty-nine times - they're actual tests that can be compared to other recruits. They're the reason you'll see some junior (in a normal, non-Covid year) suddenly get 11 offers in May out of nowhere.
Then we go to film. Villanueva's commitment video says "linebacker committed to Illinois" at the end so this is a tough eval. You're watching running back and defensive back highlights and wondering how a kid might perform at linebacker. Here's the best I can do.
I'll just link all three gifs I made and then talk about the thing I see: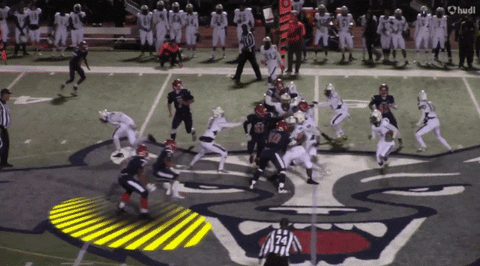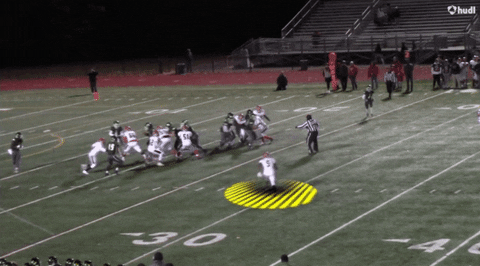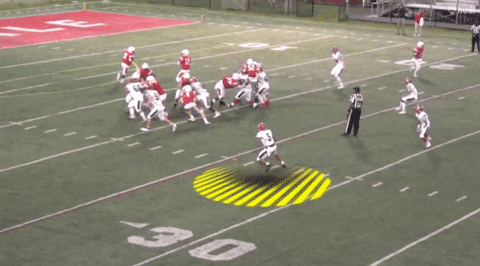 Hoooo boy that's some high tacklin'. If the low man wins, well, he'd better be tackling Kofi with that technique. Yes, technique can be taught, but if I'm going to say "really tackles well" on Trevor Moffitt's film I have to say "really doesn't tackle well" on this film. Yes, he's a high school RB/DB who will be playing LB in college and needs to be taught, well, everything, but still, you want to see some natural instincts on film and this is the old "grab around the shoulders and fall to the ground" tackling technique.
OK, what's left? Other ratings? Rivals and 247 both have him as a 2-star recruit. Now THAT'S a data point. These services will give out three stars to more than half of Akron's class. For a guy to only get 2-stars from both (and to not have a profile on ESPN), woof. We might be venturing down to 0.5 or 1 Cruise territory. Yes, I started Tom Cruise ratings because I didn't feel like Rivals and Scout really evaluated Illini recruits all that much, but it's still something to pay attention to when only 2-stars are given out by two services.
That brings us through just about everything I use when putting together a Cruise rating. Yes, I know that I've been giving away my methods lately and that just leads to copycats but hey, I just reached six months giving away posts for free so why not give away my means and methods?
Tom Cruises seem to settle around 0.5 or 1 here. Offers, film, ratings, etc. The combine numbers are interesting, though, so I think I'll bump this one "up" to 1.5. I'm OK with coaches offering some projects they like - we're just now full on projects (while only being halfway done with the class). To hit the target I was hoping for with this class, pretty much every recruit from here on out needs to be 3 Cruises or higher. Wheeeeee.
One last thing. Let's check to see how we did here. He committed around 12:30 and I started this post at about 12:45 so... just over two hours and publishing at 3:00. Not bad at all.
Kalen Villanueva - One and one-half Tom Cruises.