The 90 Illini #56: Christian Bobak
Robert
Aug 7, 2020
[]
[]
1 Comments
You have currently viewed 1 story this month.
IlliniBoard now offers two free stories per month, for more please subscribe.
OK so here's how this will go. The first game has moved up to September 3rd. That's the day I should be posting #1 on this list. I had aligned it for September 26th, thinking that was going to be the first game, but then the new schedule game out and we have a game in four weeks.
So I adjusted again, took several days off from the 90i (until the countdown was at 28 days), and now I'll do two per day, starting with 56 and 55 today, until the season starts. I'll attempt morning and evening every day, but you know it won't work out like that. I'll get them up whenever I can.
Also, I probably won't "pin" them all. I have the ability to pace a post in one of the main four spots on the site (main story at the top, three articles underneath), so so some of these 90 Illini post will likely go straight to the list below. Meaning, there will be a new 90i post, but you'll have to scroll to find it because I don't want a bunch of 90i posts cluttering the top of the page.
I suddenly have a lot more writing to do. So let's get to it. #56, Christian Bobak.
56. Christian Bobak
Defensive Back
Uniform number: 29
Year in school: Senior (1 year to play 1)
Height: 6'-0" -- Weight: 200 lbs.
Hometown: Hinsdale, Illinois
High School: Hinsdale Central HS
Five best offers: n/a - walkon
Tom Cruise rating: n/a - walkon
2019 statistics: Played in all 13 games on special teams, 3 tackles.
Background
I'm a huge, huge fan of walkons who take to coverage teams as "that's my starting spot and I'm not giving up". That's how walkon Christian Bobak has treated kickoff coverage. And it's paid off.
I mean, can you imagine the accomplishment you feel when you walk on to a football program, fight your way past all these scholarship guys, and then are out there on kickoff coverage for the biggest "just one more tackle, guys" play in recent history? Watch his determination here. Devon Witherspoon trips up the ballcarrier, and Tarique Barnes finishes him off, but Bobak (29) is right there. Even if both tackles were missed, he had him.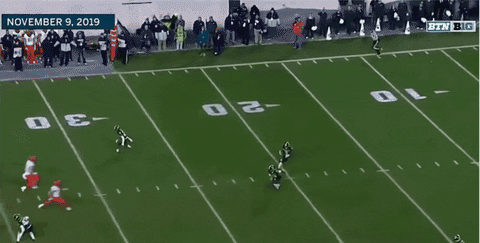 He's basically been on kickoff coverage for four years. I looked back through my tweets and I noted that he was on kickoff coverage in his first game as a redshirt freshman in 2017:
And he takes a lot of pride in our coverage teams. Check out his tweet when someone ranked the top-12 special teams units in college football for 2020 and didn't list Illinois (4th nationally in kickoff coverage last year, plus Blake Hayes, plus James McCourt).
2020 Outlook
More of the same, really. Get out there for kickoff coverage and punt coverage. I mean, you can really build a legacy as a walkon by doing that. Imagine telling your kids you sent Broncos WR KJ Hamler flying through the air back in college (photo at the top).
So yeah, this is how you do it when you walk on somewhere. That earns you #56 on this list. Take that special teams role and make it yours.
He has 15 special teams tackles so far in his career - let's see 10 more as a senior.