The 90 Illini #47: Seth Coleman
Robert
Sep 25, 2020
[]
[]
3 Comments
Your nightly reminder that 1) I'm just slowly writing free 90 Illini posts until all of the subscription bugs are worked out, 2) your "I'm having trouble with this portion of my subscription" emails aren't a hassle - they help us find said bugs, and 3) all of this will be humming along soon and a lot of #content is coming.
Let's start this one with a quick reminder at what kind of athlete we got when we recruited this defensive end. This is a defensive end: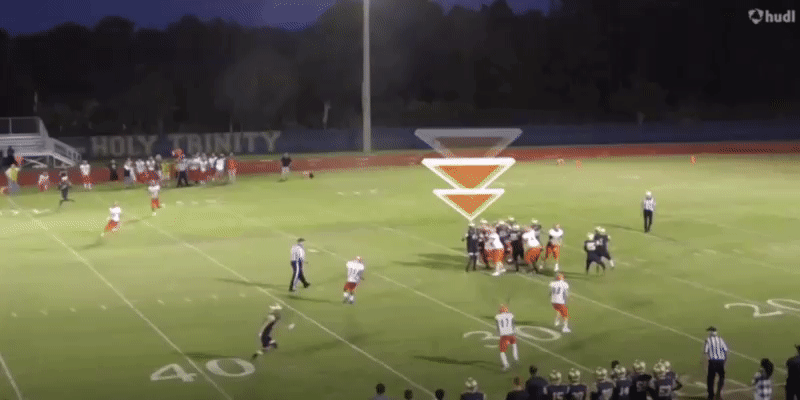 47. Seth Coleman
Defensive End
Uniform number: 49
Year in school: Redshirt Freshman (4 years to play 4)
Height: 6'-5" -- Weight: 230 lbs.
Hometown: Melbourne, Florida
High School: Holy Trinity Episcopal Academy
Five best offers: Nebraska, TCU, Utah, Baylor, Pitt
Tom Cruise rating: 3 Cruises
2019 statistics: Played in 3 games and redshirted.
Background
Coleman was a satellite camp discovery. The coaching staff found this kid who had only played one year of high school ball and offered him a scholarship. He committed. Then he had a big senior season and blew up a bit with big pushes from Nebraska and TCU to get him to flip. He stuck with Illinois.
The issue was that he was around 210 lbs in that high school video above. So he'd need to get to 235-240 to play defensive end in the Big Ten. He's at 230 now, so he's almost there.
He did get on the field last year, but he only played in three games so he could redshirt under the new "four games or less and you can take a redshirt" rule. Now, with the new Covid rules where the 2020 season doesn't count towards eligibility, he'll have this season and four more seasons in an Illini uniform.
2020 Outlook
This will be interesting to watch. He's still probably a year away, but he might be needed this season. Ayo Shogbonyo, the main starter at weakside defensive end last year (Isaiah Gay also started some games), graduated and move on despite having one year of eligibility he could have used. So now the spot is open. Gay is almost certainly the starter, and the race for his backup is wide open.
Unless one of the true freshmen completely surprises everyone, that camp battle for the backup spot is likely between senior Marc Mondesir and Coleman. If Mondesir has a Shogbonyo-like fourth season (after three years of nothing, Shogbonyo came from out of nowhere to be the main guy at WDE last year), then Mondesir is the guy and Coleman has another year to learn in the background. If Mondesir doesn't make a leap, it could very well be Seth Coleman getting 35% of the snaps at WDE.
Is he ready for that? Looks like he's gained the weight, but I'm not sure he's there yet. But then again, we already covered Mondesir on this list and now Coleman is at #47, so......