Looks Like University Of Illinois - Zach Barlev
Robert
Sep 28, 2020
[]
[]
2 Comments
You have currently viewed 1 story this month.
IlliniBoard now offers two free stories per month, for more please subscribe.
I'm four LLUOI posts behind after The Great Pause Of 2020 where I didn't write much for several weeks (attended a wedding, attended a funeral, then we launched this thing after that). So I'm in catchup mode. This week, the plan is two 90i's, a LLUOI, and an actual regular post per day. Two 90i's down, LLUOI up next.
We'll start with Zach Barlev. And how I read recruiting timelines.
If you go to Barlev's 247 profile it has the following items in his timeline. I'll list them all in order:
2/2: Illini offer
2/13: Illinois State offers
4/5: Harvard offers
4/5: SEMO offers
4/8: Columbia offers
4/8: WIU offers
7/4: Bowling Green offers
7/4: Barlev commits to Bowling Green
7/24: Barlev decommits from Bowling Green
7/24: Barlev commits to Illinois
If you've ever said "wait, he has an offer but it's not an offer?" out loud, then this post is for you. Please note that I do not know any of this to be true so this is 100% conjecture, but I'll use Barlev as an example of what that sometimes means.
When you read the timeline above, the first thing you think is "he had and Illinois offer in February but didn't commit but then when Bowling Green offered in July he jumped on it the same day?". Well, maybe. Sometimes the Bowling Green offer came months before but it never found its way into recruiting databases until he committed and then they had to add a quick "Bowling Green offered" before they add a "committed to Bowling Green". But with the flip to Illinois 3 weeks later, here's my guess on the timeline.
Illinois offers on February 2nd. If he wanted to commit that day, he probably couldn't have. But he had an "offer". Then he gets more offers through the spring - some FCS, some Ivy (also FCS), Rivals shows additional offers from SIU and EIU - and at some point he gets a second FBS offer from Bowling Green. He decides he's not going to wait for Illinois to firm up their offer, so he commits to Bowling Green.
Illinois misses on a few OL targets through this time (a lot of them, actually). So at some point - perhaps immediately after they saw that they lost him to Bowling Green - the offer is firmed up. You have a spot if you want it. That's good for him (heck, maybe he even used Bowling Green to get there), and he flips to Illinois three weeks after committing to Bowling Green.
Again, I don't know that to be the case, but that's sometimes how these things go. Griffin Palmer grew tired of waiting for Illinois to offer so he committed to Miami (Ohio). Then Eric Eshoo picked Northwestern, Illinois immediately turned to Palmer and said "offer is committable now", and he flipped to Illinois. The players often don't mind - they want that Big Ten offer - so while it's uncomfortable, that's often what happens. There are offers "hey, we're really interested - let's see how this goes" and there are offers "we're holding a spot for you" and there are OFFERS "we will show an All American the door if we need to find a scholarship for you". My guess here is that after the Bowling Green commitment, our staff decided to move him to "we're holding a spot for you".
(It's also possible he simply picked Bowling Green over Illinois and then changed his mind three weeks later. Again, this is conjecture while trying to explain how these things sometimes work.)
That's probably a good transition to begin discussing Barlev the player. It's a player who picked Illinois over Bowling Green. That sets the stage here, I think. In the composite rankings, he's 44th in Illinois behind players going to Western Michigan, Northern Illinois, and Air Force. There's quite a lot of ground to make up between "44th best player in Illinois" and "Big Ten offensive lineman". (You already know what paragraph comes next.)
LUCKILY, OL recruiting is a crapshoot. 4-stars show up (Ryan Nowicki) and find themselves third string behind some walkons. You're taking a 17 year-old kid and projecting what kind of lineman he'll be when he's had four years in the weight room and he grows into his body. It's probably the hardest position to rank coming out of high school.
The same recruiting principles apply, however. Bring in five 4-stars and there's a really good chance you'll have some good ones. Bring in all 2-stars and there's a really good chance you won't. It's a crapshoot, and there are probably more NFL 2-stars at OL than any other position, but still, recruit the guys other Big Ten teams are recruiting and you'll likely have success. No other Big Ten programs were recruiting Barlev, so that's a data point.
He does have that one thing I like, though: a wrestling background. I had two sons who wrestled, and in the dozens of wrestling meets I attended over the years, I saw two different heavyweights (both lowly-ranked as football recruits but great wrestlers) go on to have much success at Missouri playing football. One, Justin Britt, just ended a six-year run as a Seahawks starting offensive lineman). That kid was such a beast on the wrestling mat. And a 2-star offensive lineman with only one offer - Missouri.
So I am in the "just recruit great wrestlers like Kendrick Green and Hugh Thornton" camp when it comes to offensive linemen. Nick Allegretti should be in there as well. You just learn so much footwork when you're grappling (the lightweights wrestle - the heavyweights grapple). If I was a college football coach, I'd chase track kids for defensive back and wrestlers for offensive linemen.
I'll just do one gif from his film. This is some solid "take the guy where you want him to go":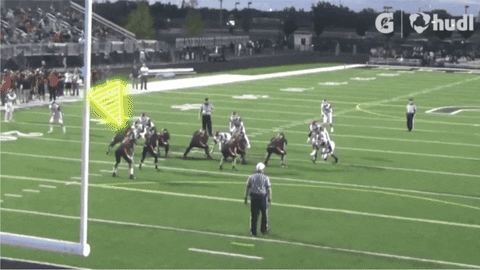 The main issue - that's a pretty small guy. The test will be whether he can do that against bigger/stronger/faster defensive linemen and linebackers from Iowa.
For Tom Cruises, I can't go very high. Feeling 1.5 here, but I think I'll add a .25 bump for "all-state wrestler".
Zach Barlev - 1.75 Tom Cruises