Looks Like University Of Illinois - Chase Hayden
Robert
Jan 14, 2021
[]
[]
0 Comments
You have currently viewed 1 story this month.
IlliniBoard now offers two free stories per month, for more please subscribe.
I've decided that sometimes these posts will simply take a long time to put together. When making the move to doing this full time, I noted how I'll be able to evaluate recruits the moment they commit (and I have, sometimes), but other times I need to let it marinate. I could do some quick research and knock something out trying to play the "FIRST!" game, or I could let my thoughts settle around not only what kind of player is committing, but also what it might mean in the grand scheme. This is one of those posts.
I've been watching Chase Hayden highlights over the past week. Digging into his story at Arkansas. Watched several interviews with him. Read everything I could about his time at East Carolina. And a very interesting theme emerges. I think the best place to start is this tweet from his mom when he committed to Illinois:
It began with you @BretBielema and I know for certain it was God's divine plan for an incredible opportunity to finish with you! Coach B you have never wavered from the words you shared with our family the moment we first met you! 👇🏽 pic.twitter.com/NNe1cCdyTb

— ChaToya (@haydenhuddle) January 7, 2021
As I dug further I realized - this is a very important recruit for Bret Bielema. This is, as suggested by Hayden's mom right there, a promise kept. This goes beyond Bret Bielema looking at his inherited roster and thinking that he might need an additional running back. This is the side of recruiting we don't talk about.
Let's start at the beginning. Hayden is the son of former Tennessee running back Aaron Hayden. And when Chase was in high school, many thought it was a done deal that he would commit to Tennessee. Tennessee offered him at the end of his sophomore year of high school football (and there were immediately Crystal Ball picks of Hayden to Tennessee).
But he went through the full process. Camps before his junior year of high school. Several game-day visits on Saturdays that fall. A few junior days after his junior season. A bunch of offers that spring during Offer Time when assistant coaches are out on the road (fun fact from his recruiting timeline: the coach who visited him from Missouri that spring was Ryan Walters). Then a few more camps, a few more unofficial visits, and by July he was ready to commit. But it wasn't his father's school he committed to. It was Arkansas.
(At the time, I held out hope that we could get him to Illinois. There was a connection between Lovie and his dad - Lovie was an assistant coach at Tennessee when Aaron Hayden was a player there. But, well, he didn't pick Illinois.)
Chase Hayden still takes some visits that fall (it appears, from his Twitter timeline, that he was really thinking about flipping to Michigan), but he stuck with Arkansas and signed on Signing Day. He enrolls and is immediately in the Arkansas lineup that fall. He was actually Arkansas' leading rusher through their first six games but then he breaks his leg in the seventh game and is out for the season. And after that season, Bret Bielema is fired.
Hayden stays at Arkansas for two more seasons under Chad Morris. Juco transfer Rakeem Boyd is the starting tailback (you might remember him from the third season of Last Chance U on Netflix) and Hayden only gets 57 carries in 2018 and 12 in the first four games of 2019. He decides at that point to announce his transfer (if you remember, Arkansas was a disaster at the time and Morris was soon fired after going 4-18 and winless in the SEC in two seasons). That decision - Hayden was on track to graduate in three years so he sat the final eight games and saved a participation year - means he'll have two years of eligibility at Illinois, not just one. I'll get to how that works in a bit.
In the offseason Hayden transfers to East Carolina. And because he transferred after graduating and had redshirted in 2019, he was still a 2-to-play-2 player (had he not sat the final eight games of 2019 he would have been a 2-to-play-1 player at Illinois). Then, of course, Covid came along and 2020 doesn't even count as a "season". So he'll enter 2021 as a 2-to-play-2 player again. Which means he'll play here in 2021 and 2022.
His time at ECU, uh, doesn't go well. He rushes 16 times for 62 yards in the first two games. In the third game, he doesn't get any carries and only plays on special teams. So after that third game he tells the coach he's taking the Covid opt-out. In December he puts his name in the transfer portal, eleven days later his old college coach gets the Illinois job, and here we are.
Now let's go back to his mom's tweet because I think that's important. Specifically this sentence:
Coach B you have never wavered from the words you shared with our family the moment we first met you!
This is very important so I want to type slowly to get this right. You won't know this but it will probably take me 20 minutes to write these next few paragraphs. Getting the words exactly right is very important. (Some additional insider information: when I need to get the words exactly right, I often turn to a specific song while writing that portion of a post. The choice for these paragraphs: Amos Lee - What's Been Going On.)
Recruiting is both complete sincerity and absolute bullshit (Robert swore!). Everything is a promise. Come play for me because you'll play right away (you won't get on the field for three years). We don't have any other cornerbacks worth anything (we have three and they'll all likely play in front of you). If you're not lying to kids, you're not going to land them. You have to exaggerate their potential value to your program or you're going to find yourself losing a lot of recruiting battles.
Because of that, my thoughts are always with the student athletes. PJ Fleck putting a kid in a room with an hourglass and telling him he has an hour to commit is so disturbing to me. Yes, nobody will care when the score is Minnesota 31, Penn State 26, and it's easy to "that's just how things are" it away, but still, I always feel for the kids tossed around by the college football machine.
And when they don't find a fit, the fans do this. While digging for information on Hayden's opt-out at ECU, I found the following on an East Carolina message board:
"Hope I'm wrong, but...".
"...if he was willing to work".
Congrats on all the thrones you've built for yourselves, Pirate fans. I'm so glad Jasper Strong ran to your sideline and tore apart that foam ECU sword (which was really just a yellow foam stick) while you booed him at the Liberty Bowl in 1994 after Illinois destroyed East Carolina 30-0. Eat a bag of sticks.
Chase Hayden could have chosen his father's school. He chose Arkansas instead. After one year - a season where he was the leading rusher up until he broke his leg - the coach who recruited him was fired. The new coach brought in a juco to be his featured tailback. That coach was also a complete disaster and was fired after a 0-14 start in the SEC. So Hayden opts out and transfers to East Carolina.
ECU plays three games but also has three canceled for Covid outbreaks. Hayden, taken out of the lineup after two games, decides to take the Covid opt-out exit door. First school, coach is fired and the new coach didn't use him. Second school, promise of playing time (the reason he chose ECU over P5 schools) didn't materialize. Here he sits, two years of eligibility, feeling chewed up and spit out by the college football machine. Where does he turn?
It began with you @BretBielema and I know for certain it was God's divine plan for an incredible opportunity to finish with you! Coach B you have never wavered from the words you shared with our family the moment we first met you! 👇🏽 pic.twitter.com/NNe1cCdyTb

— ChaToya (@haydenhuddle) January 7, 2021
THAT'S why this is such an encouraging recruiting story for me (we're finally to the "complete sincerity" part). Want to develop a reputation in recruiting circles? Have a parent tweet something like that. You made a promise in 2016 and you're still making good on that promise in 2021. If we sneak into a bowl the next two years and happen to play ECU, I'm writing a 9,000-word post on this subject alone. Title: Yo Ho Ho And A Bottle Of Run.
Look, we can be cynical. Chase Hayden has a kid brother who is a 2022 running back recruit. He's already named a top-4 of Oregon, Ohio State, Notre Dame, and Tennessee. If you want, go ahead and think that Bret Bielema offered Chase Hayden to have an inside track at Dallan Hayden. There's probably some truth to that. He's built (and is continuing to build) trust with this family.
But this one seems fairly cut and dry. Bret Bielema sat down in 2016 with the Haydens and told them their son was important to him. The family passed on an offer from his dad's school and trusted Bielema. And he was the featured tailback as a freshman (until he broke his leg). Bielema was then fired, Hayden was tossed around by college football, and now, in early 2021, he reunites with Bielema at Illinois for his final two seasons. Promise made, promise kept.
I guess I probably need to do the typical "here's what kind of player he is, here's where he might fit" part of these posts. Let's do this fairly quickly because what I wrote above is the important part.
The plan for the 2021 backfield, I would think, is the Chase Brown and Mike Epstein show. Tony Peterson, in his introductory press conference, said he only had a little time to watch film on his first day but he watched the Nebraska game and realized he had two tailbacks who could make this whole thing work. In rushing yards per game this past fall (per game is the only way to discuss it because some teams played 9 games and some teams played 6), Chase Brown was 9th in the Big Ten and Epstein was 15th. Most every other name on the list was the featured back in a Big Ten offense, so if you combine Epstein and Brown's stats, they would have been third in the Big Ten.
But what's not there is a power tailback. It was going to be Ra'Von Bonner but he opted out and then transferred to Temple. So I think that's the role Hayden fills. Here's a few highlights from his time at Arkansas and ECU.
As you can see here, he's a drag-the-pile tailback: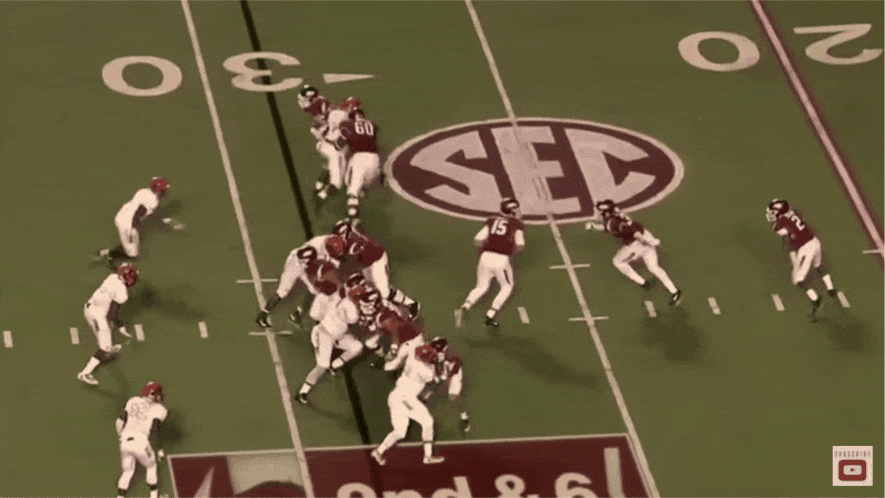 I could only find two Hayden runs on the ECU highlights I watched, so here they are. I think they both show that he's more of the Big Back type. First one is a fumble, though: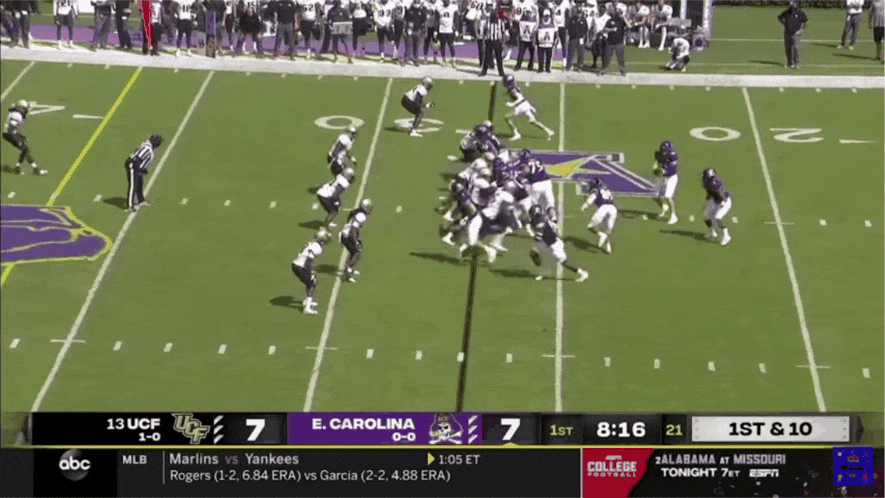 And then there was this run in the ECU-Georgia State game. Again, he had more rushes than these. It's just the the ECU highlights only show him twice. The point here - he's a bigger, thicker tailback than Brown and Epstein: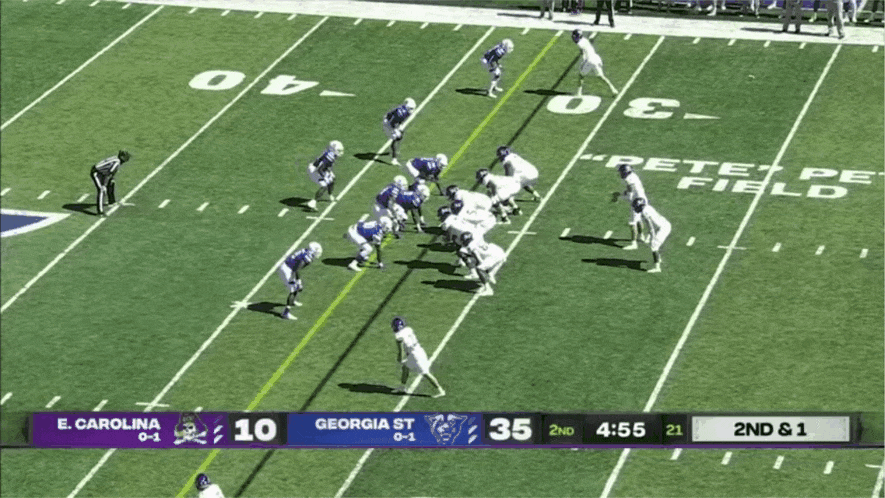 So my guess is that the offensive backfield the next two years is three-headed (not ready to call it a monster yet). Brown and Epstein get the 1-2 carries just like we saw this past season. And then Hayden gets the "changeup" carries where we go with a bigger back and try to Ron Dayne an opponent.
I'll know much more once we can see practice (if we can ever see practice again), but for now, that's how I see the backfield. Carries from three main guys, maybe some change-of-pace stuff from Reggie Love.
Finally, Tom Cruises. Hayden was a 4-star recruit coming out of high school. Him not winning the starting job at ECU probably tells us that he's not going to be a featured back at Illinois. But that doesn't mean he can't be useful. If this offense is going to be what I think it's going to be, we'll see a tailback like this on every roster while Bielema is here. So I think he'll be a very useful piece.
Where does that land on the Tom Cruise scale? Not sure why but 2.75 feels exactly right.
Chase Hayden - Two and three-quarters Tom Cruises