Looks Like University Of Illinois - DJ Johnson
Robert
Jan 27, 2021
[]
[]
5 Comments
You have currently viewed 1 story this month.
IlliniBoard now offers two free stories per month, for more please subscribe.
Going through these in order. Now that I completed the Max Rosenthal interview I'll go through each of the January commits in the order that they committed - Dwayne Johnson, then Eddie Smith, then Jafar Armstrong.
The three biggest needs when putting together the depth chart a few weeks ago: linebacker, safety, and wide receiver. The three January additions: linebacker, safety, and wide receiver. Not saying it's "fixed", but adding depth at these three positions is a priority. There will be a second wave of transfers at the end of the school year, and I think you can expect more additions at these positions.
OK, to DJ Johnson. First off, I think he's going to go by DJ, not Dwayne. When tweeting his commitment, so many responses from his friends were "way to go DJ" and "DJ is one of the best athletes I know" and "DJ is going to make some noise at Illinois". I'm guessing he goes by DJ because when your name is Dwayne Johnson people make The Rock jokes all the time. So that's why I'm choosing to go with DJ here. I'm guessing that when his name is added to the roster in June, it will say DJ Johnson.
Second, I find it interesting how we're hopping around the Gwinnett high school system in Georgia. Josh and Daniel Imatorbhebhe were from North Gwinnett HS. Missouri transfer Khmari Thompson is from Central Gwinnett HS. And now DJ Johnson is from South Gwinnett HS. I looked to see if there's an East Gwinnett HS and a West Gwinnett HS - there isn't.
Third, I already want to qualify my statement above. Jafar Armstrong arrives as a fifth-year player and Eddie Smith arrives as a fourth-year player. They're much more likely to fill the holes on this roster than a first-year linebacker. So I probably shouldn't lump those together. We needed three freshmen linebackers in this class (especially outside 'backers), we lost Trevor Moffitt, so the new staff added DJ Johnson. He'll take some time to develop. The other two - they'll play right away.
Let's start with the film because it informs the rest of this post. First, some of the bad. In these clips, at least, he's kind of a grabber. Here's what I mean: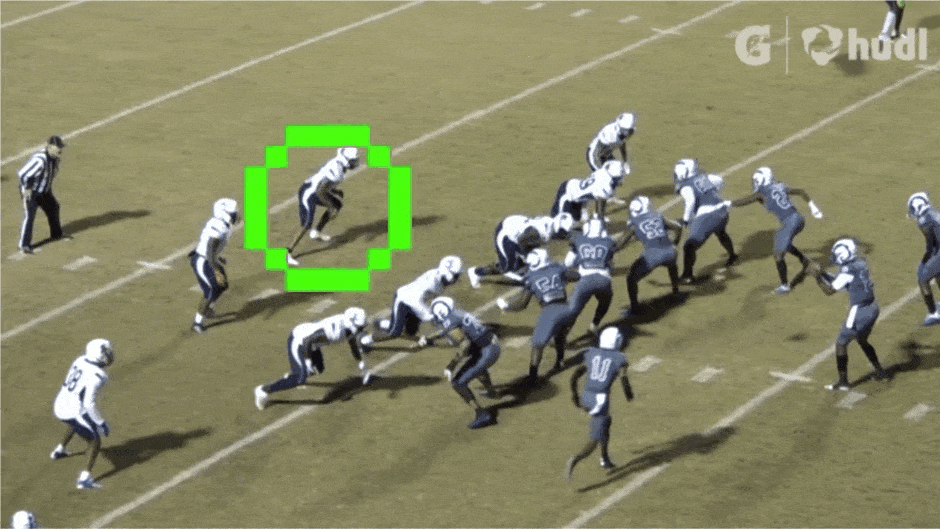 See how he grabs the player up high and then kind of falls down? That's what I mean by a "grabber". Tackling can be taught, and he does have some nice thumps later on in his film, but when I see someone grab like that, especially a tall linebacker, I think "gonna be an edge rusher". LaKeith Walls, Ayo Shogbonyo - LB recruits like this seem to always end up at DE.
Which is probably what the staff is thinking as well. Rivals lists Johnson as 6'-3", 247 lists him at 6'-3.5", and ESPN lists him as being 6'-4". If you're 6'-3.5"-ish and 225 lbs, you're probably headed for DE in college. Illini weakside defensive ends this season (Isaiah Gay, Seth Coleman, and Marc Mondesir) when they arrived on campus:
Gay: 6'-3", 210 lbs
Coleman: 6'-4", 195 lbs
Mondesir: 6'-2", 215 lbs
Yeah, Johnson is headed for the edge (which, depending on the scheme, might technically be a linebacker in this defense).
Does he look like an edge guy? I'd say he looks like an edge guy.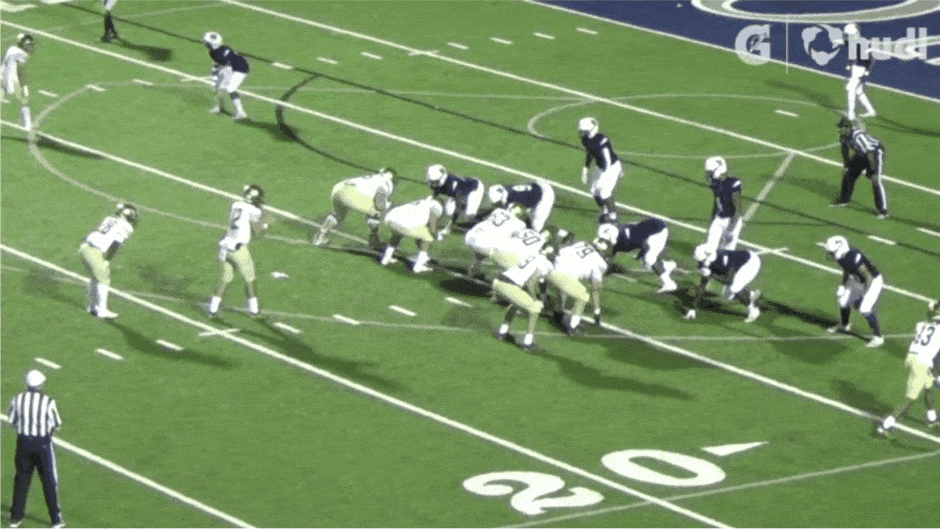 Yes, that's just a not-going-to-college tailback trying to stop a P5-offers linebacker on a blitz. So you can't learn much about Johnson's talent from this. But just watch the clip - that's a weakside DE, not a LB, right?
Let's see... is there anything else we need to cover before we get to Tom Cruises? Yes there is - some statistics. While googling information on him today, I came upon these very interesting statistics:
Been dreaming a long time about finding a 5'-4", 25-pound linebacker who was once committed "to the Army".
I'm not going to link that article. It's one of those bot sites where they write a program that writes news articles based on some subject and then inserts links to online casinos. I probably have seven viruses from simply visiting that page.
But if I do, it was totally worth it. I could honestly write a 1,500 word breakdown on just these two paragraphs the bot wrote:
He is not just prolific at his speed on the field but also his tackling in a game. He could quickly get to a ball carrier with his ability to pass through space. He is also good at dropping back into coverage to cover anyone he wishes to.

Johnson, on the field, seems like he has everything in his grasp as he can read and make quick reactions to what he is witnessing on the field. He seemed to always be a step ahead of the offensive players, with online casino slots willing to place odds on player for a successive campaign.
Yes, yes - I am aware that online casino spots are often willing to place.. odds on players for.. successive... campaigns. And I really do need to hear more about Johnson's ability to PASS through SPACE.
Tom Cruise time. Johnson had some nice offers in the spring (like Arkansas) but didn't seem to have much recruiting momentum this fall when he chose Army. He then decommitted from Army, got the Illinois offer, and picked Illinois. So with that plus his film, I'm probably somewhere between 1.5 and 2 Cruises. Since I have those new images, let's go right in the middle.
DJ Johnson - One and three-quarters Tom Cruises