Looks Like University Of Illinois - Eddie Smith
Robert
Jan 29, 2021
[]
[]
9 Comments
You have currently viewed 1 story this month.
IlliniBoard now offers two free stories per month, for more please subscribe.
I've been trying to use this 10-day break from basketball to get all of the January football articles completed. I still have two more LLUOI posts (this one and Jafar Armstrong) and then one more post (which I almost have complete) for tomorrow morning. So if I can knock this one out tonight, finish the other one first thing, then write Jafar, I can head to the basketball game tomorrow night with a free brain.
(By "write Jafar" I mean "send a letter to the bad guy from Aladdin".)
OK, on to the next guy. A guy we really, really needed to land. Probably my favorite guy we've landed since Rod Perry this summer. Safety is a RED ALERT position right now, so landing an Alabama transfer is perfect. Even if he ends up as a bust at free safety and becomes just a backup cornerback, we still need him. Athletes for the secondary are NEEDED.
When you land a high school linebacker like DJ Johnson, you're looking to the future (and speaking of "future" and "DJ Johnson", I hear there's another DJ Johnson in the Jackson, Missouri area who will play for the Illini in 7-8 years). When you land a fourth-year safety like Eddie Smith, you're looking at right now.
At the end of the season, safety was a dire situation. Tony Adams was sitting due to a positive Covid test before the Northwestern game, and Sydney Brown was one of four defensive starters injured during the Iowa game. The staff moved Kerby Joseph back to safety (he was at WR) as a backup plan. Then Derrick Smith was ejected from the Penn State game, so Illinois was down to Jartavius Martin and walkon Christian Bobak.
There's some thought (my thought) that the staff moves Derrick Smith to linebacker next season. Bodies are needed there too, and he's probably more of a linebacker than he is a safety. I also think that Adams goes back to corner for his final season (upperclassmen are needed there), and that would mean that the scholarship safeties are Sydney Brown, Jartavius Martin, and Kerby Joseph (plus freshmen DD Snyder and Joriell Washington). I doubt either freshman would be ready, so another safety who can play immediately is a must. Enter Eddie Smith.
Here's how I look at a recruit like Smith. I think Vederian Lowe is a pretty good left tackle. He's not the best left tackle Illinois has ever had, but he's a solid college player. If Vederian Lowe had picked Alabama out of high school, he would have never played. He would have been buried behind Alex Leatherwood and maybe four other great tackles. But that doesn't mean Vederian Lowe couldn't be a great player at Illinois.
That's why I never view these transfers as complete "busts". True, some just never have it and won't contribute much at their second school. But when you're talking about an athlete transferring from Alabama (the best college roster in the country) to Illinois (one of the 10-worst Power Five programs the last 30 years), you're probably seeing one of the best athletes on the team arriving in Champaign. Your rich uncle doesn't want his $4,000 sectional anymore, and it would look great in your apartment.
I went back to watch his high school film and I really only needed to make one gif: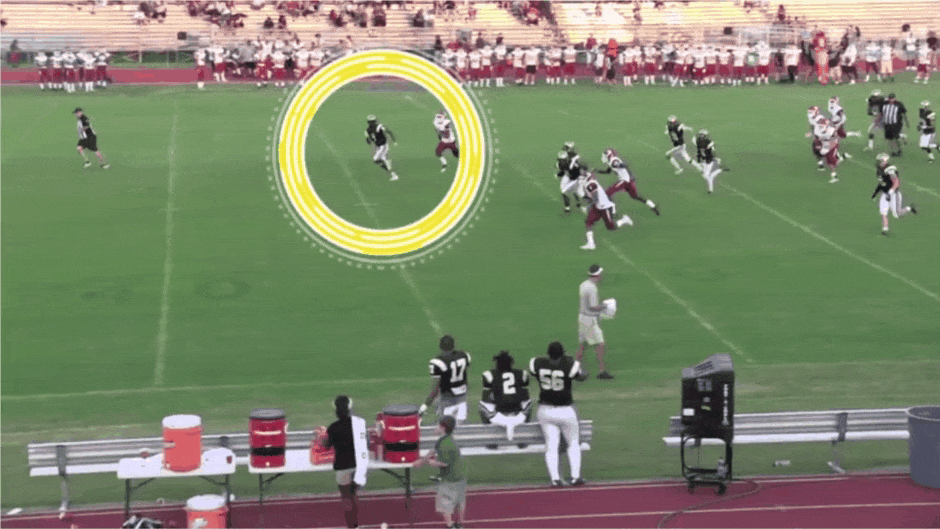 If you can run, dive, and connect like that, you're 73% of the way there. Even if you bite on every play fake and flinch on a flea flicker, you probably still have the fluidity to change direction immediately and run the play down.
So that's why this is a fairly simple LLUOI post for me. I want him at safety and hope he starts, but honestly, I could see him at CB or maybe even WR. I see this as an ATH recruit so now it's time to figure out where he fits.
My guess for this fall: Tony Adams goes back to corner where he starts with Devon Witherspoon. The main backup there: Marquez Beason. At safety, I have Sydney Brown starting at safety and Eddie Smith starting at free safety with Quan Martin backing up both. This defense needed a rundown guy - even if there's a mistake, he can change course and get there - and I think that's what Smith brings. (Also, I just thought of this, but how weird is it that we've brought in three transfer safeties the last three years and their names are Smith, Smith, and Smith. TreSean didn't make it into school, Derrick played this last season, and now Eddie is the third.
The best news is that this Smith arrives with three years of eligibility. He was a 2018 recruit at Alabama and he played right away as a freshman, appearing in six games. His sophomore year, in 2019, he redshirted. So he came into 2020 as a redshirt sophomore. 2020 didn't count for anyone, so he arrives on campus at Illinois in 2021 as... a redshirt sophomore again.
That makes this even better. Next year's roster at safety has three fourth-year juniors (Brown, Martin, and Kerby Joseph if he stays at safety) and then two first-year freshmen. Smith slides in there as a redshirt sophomore to fill the gap between the two groups.
So I'm quite happy with this pickup. Extremely athletic guy who redshirted in 2019 and couldn't crack the Alabama lineup in 2020 (who could?). So he transfers to Illinois and is eligible for the 2021, 2022, and 2023 seasons. That's nearly perfect.
And if he can't tackle and gets bumped from the defense to offense? I'm fine with that too. ATH, baby.
For Tom Cruises this one seems clear in my head so let's just get right to it.
Eddie Smith. Three and one-half Tom Cruises.