Looks Like University Of Illinois - Joshua McCray
Robert
Jan 7, 2021
[]
[]
13 Comments
You have currently viewed 1 story this month.
IlliniBoard now offers two free stories per month, for more please subscribe.
It has been a lonnng time since I wrote a Looks Like University Of Illinois post. I need to look this up. When was the last verbal in either football or basketball? Basketball hasn't had a commit since Luke Goode in the spring, so it would have to be football. The last football verbal was... Chevy Brenson on August 10th? Is that right? McCray committed yesterday so that's 148 days without a football or basketball commit. Will we ever see that happen again?
Anyway, Bret Bielema has his first verbal. And it's an interesting one. I say this a lot but... stay with me here.
I can't remember the last player we recruited like McCray. The closest I can remember was juco recruit Ainslee Johnson in the 2014 class. A "jumbo ATH' but not a tall jumbo ATH - a short jumbo ATH. We just haven't recruited anyone like that in a while.
If you recruit an ATH recruit, it means you're going to try them at wide receiver or defensive back. Maybe running back. You're getting an athlete and you'll figure out their position later.
If you recruit a jumbo ATH, it's usually either tight end or defensive end. If they outgrow TE or DE, maybe you even make them an offensive tackle (or a defensive tackle). Wisconsin is great at recruiting jumbo ATH's like David Edwards (a high school QB) and making them offensive linemen. The closest example to that at Illinois is probably Julian Pearl, a high school basketball player who was recruited as a jumbo ATH, tried at defensive end, and eventually moved to offensive tackle. Keith Randolph is also a jumbo ATH.
Short jumbo ATH? Northwestern takes kids like this and makes them "superbacks" (I hate even typing that word because it's a Fitzee word), but Illinois hasn't really recruited any offensive players like that over the last decade. "Short jumbo ATH" generally just means "linebacker".
And I don't really mean "short" here. McCray made the all-state team in Alabama and their release two weeks ago lists him currently as 6'-2", 220 lbs:
Enterprise athlete Josh McCray @goatmccray5 has earned first team All-State honors as an athlete. 1,819 all purpose yards and 19 total touchdowns this year. @EHS__Football pic.twitter.com/7DUAJwG3rQ

— Josh Boutwell (@joshboutwellsun) December 23, 2020
I'm just saying that 6'-2", 220 lbs in high school doesn't generally project as a running back in college. Feels like he'll be 245 after a few years in college, and that's not really a tailback.
Well, it can be. I need to stop thinking with my "Rod Smith's offense" hat and realize that we might be switching up what kind of tailbacks we recruit. There are a few comps across the Big Ten I guess. Zander Horvath at Purdue is 6'-3", 240 and he finished 10th in the conference in rushing. So it can be a thing.
Still, I just don't see a tailback when I watch this film. I see a very unique athlete. Big kid, runs like a small kid. There's a lot a coach can do with that (just maybe not tailback?).
Here you can see his "he can really run for a kid his size":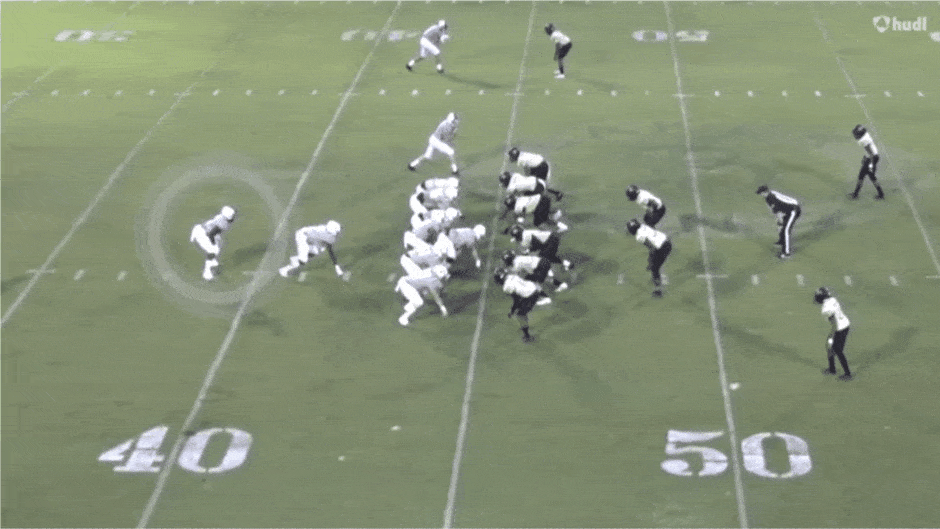 But it's not high-end tailback speed. Watch how quickly the defensive back closes on him here:
Remember, this is a "stay with me" post. Staying with me? Hang on.
When I watch that, film, I feel like he's going to be a linebacker. Maybe even a defensive tackle. Yes, defensive tackle.
Remember Rakeem Smith? Was a linebacker committed to Iowa, had to go to prep school, was a 4-star linebacker coming out of prep school, Zook landed him in the 2006 class. Body-wise, Rakeem Smith was very close to Joshua McCray. Smith was listed at 6'-1", 220 as a recruit in 2006. Smith spent one season at linebacker, moved to fullback for 2007 and 2008, and then spent 2009 at defensive tackle (playing at 265 lbs).
That's what I mean by "short, jumbo ATH". I remember Zeph Grimes coming in as a safety and eventually being tried at DT. I remember Ainslee Johnson playing tight end at 6'-2", 230 lbs (and he was probably closer to 6'-0"). It's not "short", just short for a jumbo.
Which is why I'm kind of fascinated here. He's clearly athletic for his size. Really rare that a 230 lb. guy can be as fluid as McCray when he's running these WR routes on film. That's the kind of athlete that P5 programs will offer and then figure out a position later.
I'm just not sure that position will be running back. I can't help but see a mike linebacker here. Maybe, if he does add 35 college strength program lbs, even a defensive lineman. There's not much difference between his body type and, say, Tim Kynard's body type. Kynard was 6'-3" 240, McCray is 6'-2" 220. I could see McCray growing into a 240 lb. defensive end, couldn't you?
(Or maybe this is simply our first glimpse at the type of jumbo ATH Bret Bielema wants to build his offense around.)
Other offers - it's hard to say. He didn't sign anywhere in December. So does that mean he didn't have any active offers in December? Not sure. It looks like Washington State was involved this fall, but that's it. So I don't get the best vibe reading through those things.
All in all, I think I can call this one a head-scratcher. Not a bad head-scratcher ("why did they offer him?") - more of a good head scratcher ("OK now that's an interesting first recruit"). Athletic kid playing running back in high school who I honestly believe could bulk all the way to defensive tackle. Or could stay slim and play running back. WHO KNOWS!
For Tom Cruises I don't think I can go very high. And I really hope I regret saying that. I hope he's this superbeast tight end who dominates the Big Ten and you all throw this post in my face in a few years. But for now...
Joshua McCray - Two Tom Cruises